Echoes of Syria: How real are new ISIS threats to Russia?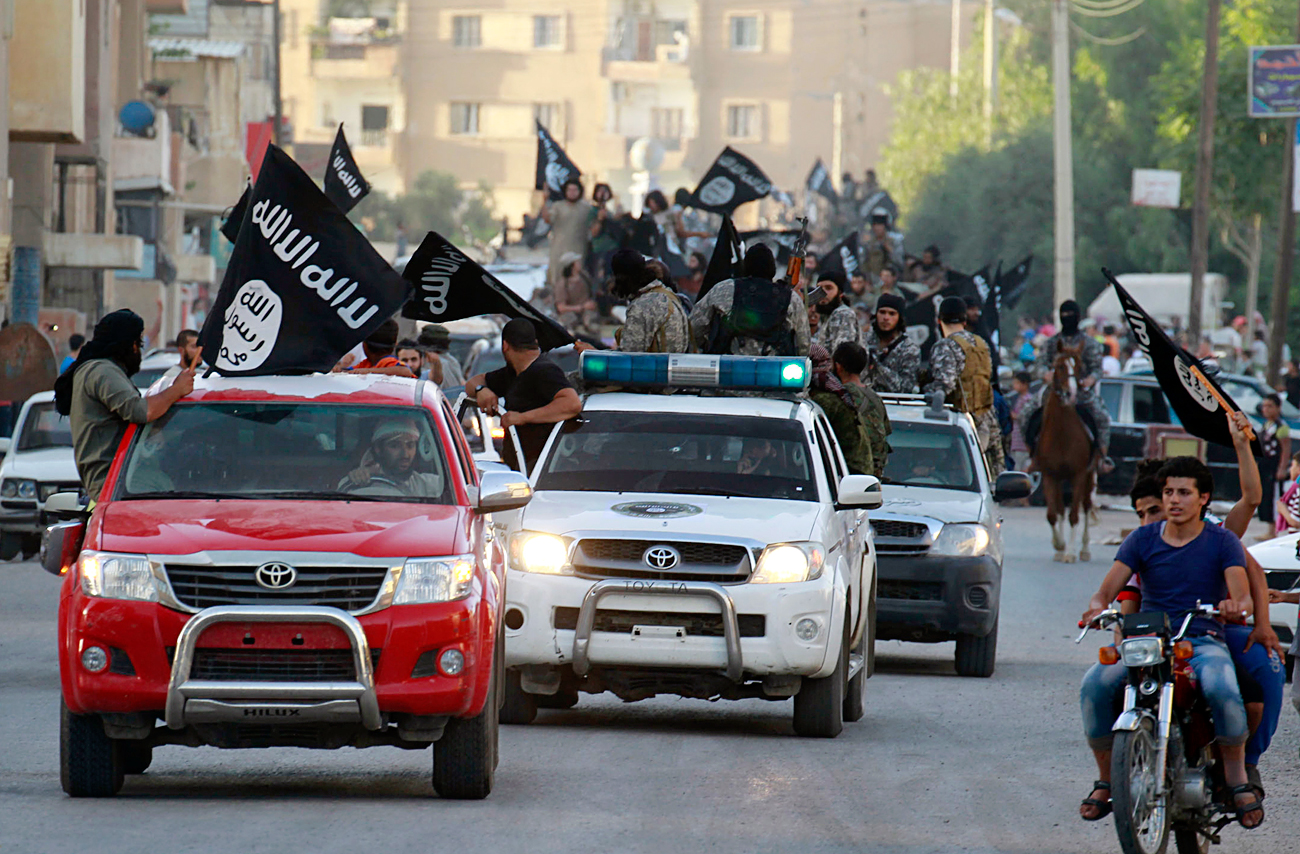 Militant Islamist fighters waving flags, travel in vehicles as they take part in a military parade along the streets of Syria's northern Raqqa province, June 30, 2014.
Reuters
Russian experts believe that the new threats against Russia coming from the Islamist militants can be attributed to the defeats they are suffering in Syria. At the same time, the threat of terrorist attacks remains quite real.
On Sunday July 31, Islamic State (ISIS) posted a new video on YouTube. In it, a man, his face covered, says to the camera: "Putin, can you hear? We'll come to Russia too and we'll kill you there too, inshallah." He then calls on Islamist militants to launch a jihad against Russia. According to Reuters, the link to the video was posted by a Telegram account linked to the militants.
The Kremlin has already reacted to the terrorists' message. "Threats like these cannot influence Russia's policy in the fight against terrorism," Putin's press secretary Dmitry Peskov said. He added that one should not be "making too much" of threats coming from terrorists whose "tail is being squeezed."
Why now?
Islamic State has decided to call on its supporters to launch a jihad against Russia because the operation being carried out by the Russian air force in Syria is doing serious damage to the radical group, according to Arabic scholar Vladimir Akhmedov, a senior researcher with the Institute of Oriental Studies at the Russian Academy of Sciences.
"ISIS has been seriously battered. According to various estimates, it has lost from 30 to 50 percent of the territory it had in Syria," he said.
This view is shared by Sergei Goncharov, the president of the international association of veterans of the Russian counter-terrorist unit Alpha Group, who links the threats against Russia to the wave of terrorist attacks that has recently swept across Western countries.
"Suffering defeats, ISIS is trying to move its terrorist activity outside Syria. This creates a threat for European countries, the U.S. and possibly Russia too," he said.
How real is the threat?
So far, ISIS has not carried out any major acts of terrorism on Russian soil. Its biggest attack was the explosion aboard the Russian Metrojet passenger aircraft above the Sinai Peninsula on Oct. 31, 2015 (which claimed 224 lives). Nevertheless, experts warn that the terrorist threat should be treated with utmost seriousness.
"There are from 2,000 to 4,000 Russian nationals fighting in ISIS ranks, mostly Chechens and representatives of other North Caucasus republics," said Vladimir Akhmedov.
As the group is suffering military defeats in Syria and Iraq, it is very likely that militants will be returning to Russia to carry out attacks there, he said.
At the same time, Russia is less susceptible to the terrorist threat than Europe, according to Sergei Goncharov: "European countries are flooded with refugees and migrants, including sleeper ISIS agents, who may become active at any moment. This is not the case with Russia," he said.
How is Russia tackling the threat?
Experts believe that on the whole the Russian special services are coping with the threat and are capable of preventing militants from returning to Russia.
"Our borders are under control. Agents in the field have a lot of data about those bandits and mercenaries who are fighting in Syria," said Goncharov.
On July 27, four days before the video with threats was posted, Federal Security Service (FSB) director Alexander Bortnikov told the TASS news agency that his department was carrying out systemic work aimed at preventing terrorist attacks.
"The number of potential pseudo-suicide bombers under operational control currently exceeds 220 people," he said.
The next day Bortnikov said that the FSB was cooperating with foreign secret services, including those in the U.S., as part of the fight against international terrorism.
Russian observers are convinced that despite the ISIS threats, the operation in Syria should be continued as, according to them, it is the only way to defeat the group and to prevent further terrorist attacks.
"It is important not only to beat ISIS but also to strip it of its social base," said Akhmedov, who believes that if the terrorist group loses territory and support in Syria, its popularity will start to wane.
Subscribe to get the hand picked best stories every week
All rights reserved by Rossiyskaya Gazeta.