Hollande says EU seeks to end sanctions against Russia as soon as possible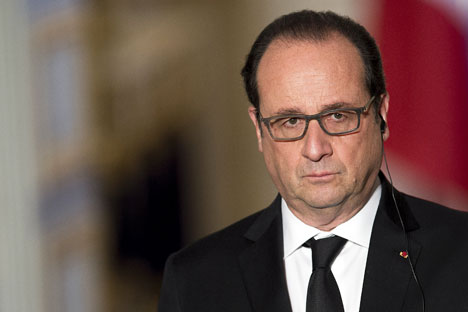 French President Francois Hollande.
Zuma / TASS
Russia and EU interested in normalizing relations, French president says
France, all of Europe and Russia are interested in ending sanctions and normalizing relations, French President Francois Hollande told an annual meeting with ambassadors in Paris on Aug. 30.
"All of us are interested in lifting the sanctions regime as soon as possible and in the best way," Hollande said, stressing that both sides are suffering from the current chill in relations. "This has a high price and complicates the dialogue," the president emphasized.
Paris always remembers the special character of relations with Russia, underpinned by the centuries-old history, he added. "There are many indications now proving that we can maintain them today."
"France is making every effort but Russia should play its role - both in Ukraine and Syria - to allow settling these crises," the French president remarked.
Moscow came under sanctions from the United States and many European countries after Crimea rejoined Russia in March 2014. The restrictive measures were ramped up following Western and Ukrainian claims that Russia was supporting the militias of the self-proclaimed republics of Ukraine's southeast and was involved in the destabilization of Ukraine.
As countermeasures, on Aug. 6, 2014, Russia imposed a ban on imports of beef, pork, poultry, fish, cheeses, fruit, vegetables and dairy products from Australia, Canada, the European Union, the United States and Norway. On July 1, the European Union extended the sectoral economic sanctions against Russia until Jan. 31, 2017. Reciprocally, Moscow has also lengthened the tit-for-tat embargo imposed two years ago.
Source: Tass.com
All rights reserved by Rossiyskaya Gazeta.