Putin will meet Obama and May at G20 summit in China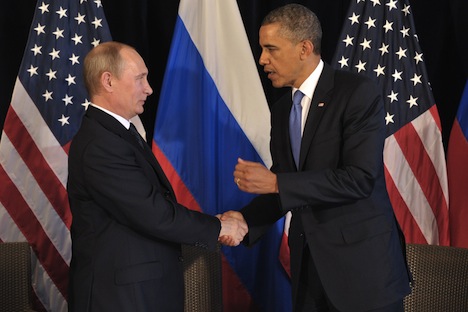 Vladimir Putin will meet Barack Obama in China.
RIA Nóvosti / Alexei Nikolsky
Kremlin confirms Russian leader to visit Hangzhou on Sept. 3-5
Russian and U.S. Presidents Vladimir Putin and Barack Obama will meet at a G20 summit in China on Sept. 4-5 and define the format of their talk themselves, Kremlin spokesman Dmitry Peskov said on Aug. 30.
"It is obvious that the presidents [of Russia and the United States] will meet at the G20 summit in one way or another within the framework of the forum, which traditionally takes place," Peskov told journalists.
The Kremlin spokesman reminded of last year's G20 summit in Turkey when Putin and Obama had talked for quite a long time, secluding themselves in the hall of a hotel during the break between the sessions.
"This is how it happened there: they made a decision, held a meeting and agreed about it themselves," the Kremlin spokesman said.
"So, they [Putin and Obama] will meet - this is obvious and further on we'll see what decision the heads of state will make," Peskov said.
U.S. Deputy National Security Adviser Ben Rhodes said that Obama counted on the meeting with the Russian president to discuss various issues.
"We also hope [for such an opportunity]," Peskov said.
Last time Putin and Obama met in late November 2015 on the sidelines of the international conference on climate change in Paris.
Russian president will also meet with Britain's new Prime Minister Theresa May for the first time on the sidelines of the G20 summit on Sept. 4, the Russian president's aide Yuri Ushakov told journalists.
He added that Russia was attaching great importance to Putin's forthcoming meeting with Theresa May in hope that it would give some kind of impetus to development of at least practical contacts between the two countries.
Russian President Vladimir Putin will visit Chinese Hangzhou on Sept. 3-5 to attend the G20 summit and hold an informal meeting with the leaders of BRICS member states (Brazil, Russia, India, China and South Africa). The Russian president will also hold talks with Chinese President Xi Jinping.
Source: Tass.com
All rights reserved by Rossiyskaya Gazeta.