Can Moscow stop Kim Jong-un?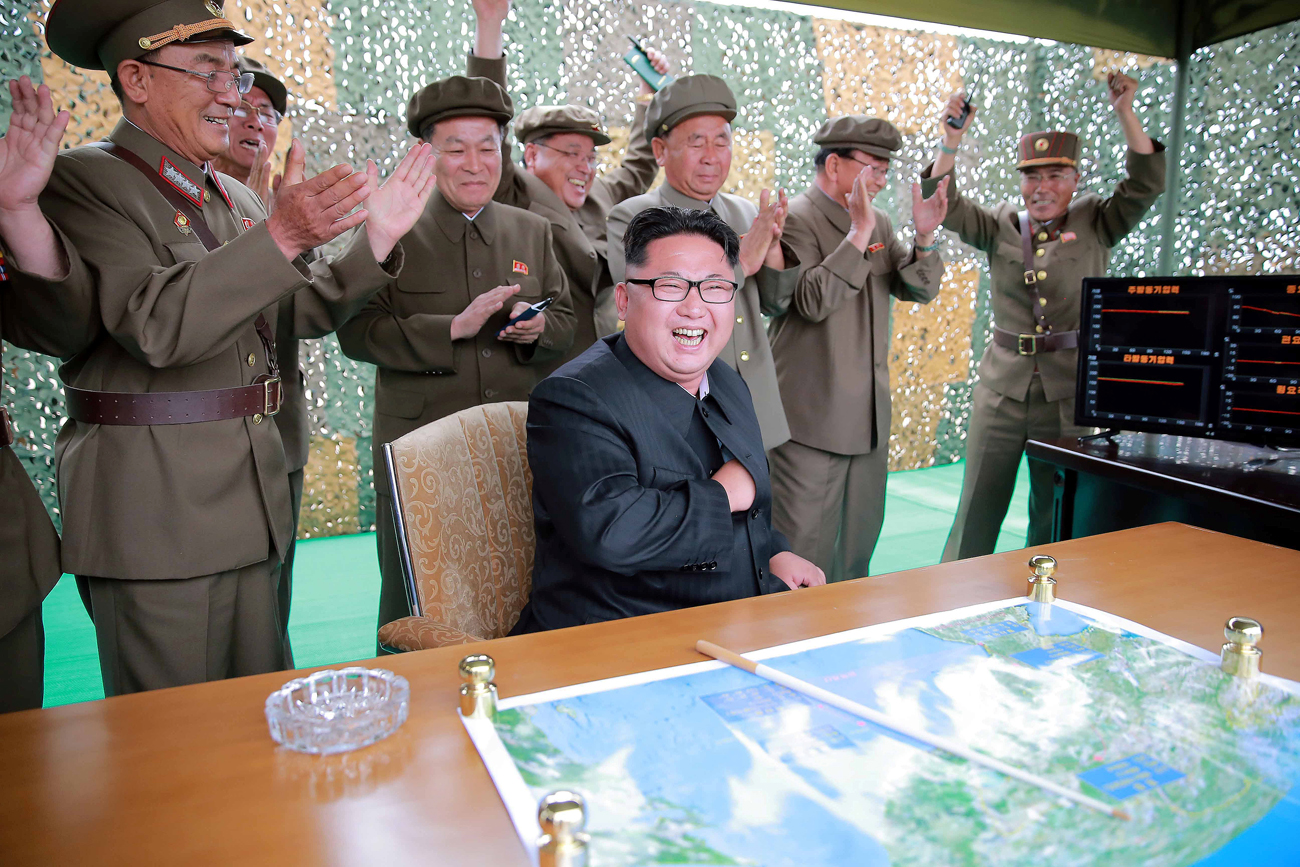 North Korean leader Kim Jong Un reacts during a test launch of ground-to-ground medium long-range ballistic rocket Hwasong-10 in this undated photo released by North Korea's Korean Central News Agency (KCNA).
Reuters
Asia experts in Russia tell RBTH that Moscow, unlike Beijing, has practically no influence over Pyongyang. They, however, believe that Russia should use its channels of communication with the North Korean leadership to help bring about a compromise.
On the morning of Sept. 9, North Korea conducted the fifth and biggest of its nuclear tests. The United States Geological Survey (USGS) and the Seismological Center of China recorded a powerful quake in the area generally used for nuclear tests. Later, Pyongyang officially confirmed the tests.
"This was not as surprise, because the North Korean leadership said they would conduct such tests as a part of their long-term program," Valery Sukhinin, former Russian Ambassador to North Korea told RBTH. Pyongyang's public intentions were dismissed and termed "bluff and propaganda" by the international community, Sukhinin said.
Moscow's channels may be ineffective
Last week, South Korean President Park Geun-Hye devoted a lion's share of her two speeches at the Eastern Economic Forum in Vladivostok to Pyongyang's nuclear program. She insisted that the North Korean nuclear program was the main threat to the economies of East Asia.
In his response to Park Geun-Hye, Russian President Vladimir Putin said Moscow retained its communication channels with the North Korean leadership and would try to help to normalize the situation on the Korean Peninsula.
Experts interviewed by RBTH agree that Russia does have high-level communication channels with North Korea. According to Sukhinin, these are primarily diplomatic channels, which include the Russian embassy in Pyongyang and the North Korean embassy in Moscow. A number of officials of the "deputy minister level" attended a recent North Korean reception in Moscow, Sukhinin added.
"However, despite having these channels, Moscow has been unable to stop Pyongyang from developing new capabilities or make Kim become more cooperative with the international community," Alexander Gabuev, Chair of the Russia in the Asia-Pacific Program at the Carnegie Moscow Center, said.
"Unlike China, Russia doesn't have economic levers of influence over North Korea and it's hard to see Russia becoming more influential and useful in solving the problem than it is now," Gabuev added.
George Toloraya, East Asia Section Director at the Institute of Economics of the Russian Academy of Sciences said economic pressure doesn't work. "North Korea has put itself in a position where it cannot be influenced except through the use of force," he said.
What to expect from North Korea
"North Korea will continue to enhance its nuclear missile potential," Toloraya said. "This is done both from the point of view of their security and to strengthen their negotiating position, because Kim Jong-un is waiting for 'the Americans to ask for mercy' and agree on negotiations."
Sukhinin said Pyongyang's has already stated that it would only stop the development of its nuclear program if there were global nuclear disarmament.
"I believe that we need compromise, we need constructive solutions and reciprocal steps," Sukhinin added. "We need to learn what's actually bothering Pyongyang and why they do it. Not too long ago, for example, they offered to stop nuclear tests if the U.S. and South Korea cancelled joint military drills. You need to try to find solutions at the negotiating table."
All rights reserved by Rossiyskaya Gazeta.