Russian diplomat: Moscow and U.S. have no 'plan B' on Syria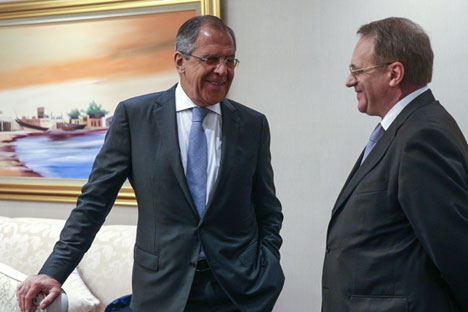 Russian Foreign Minister Sergei Lavrov, left, with his deputy, Mikhail Bogdanov.
Ria Novosti
'When we reach an agreement we say that's it, this should be implemented'
The U.S. should adhere to the agreements on the ceasefire in Syria reached with Russia because there is no "plan B," the Russian presidential envoy for the Middle East and Africa, Deputy Foreign Minister Mikhail Bogdanov, told the BBC.
"We don't have any 'plan B.' When we reach an agreement we say that's it, this should be implemented. We have no 'plan B' or 'C.' This is the only plan that is on the table and we call on everybody to implement what is written there," Bogdanov said when asked why the U.S. should trust Russia on the settlement in Syria.
At the same time, he pointed out that Russia and the U.S. had an understanding on the separation of the Syrian opposition from the terrorist groups. However, Russia is coming to "a point where it wouldn't be able to wait anymore" because the U.S. military and security services don't seem to be in a hurry to separate the "moderate opposition" from Jabhat Fateh al-Sham (earlier known as Jabhat al-Nusra, outlawed in Russia).
Last weekend in Geneva, Russia's Foreign Minister Sergey Lavrov and the U.S. Secretary of State John Kerry agreed on a five-document deal aiming at establishing a ceasefire in the ongoing five-year-old Syrian war, and providing ground for the restoration of a political process.
Source: TASS
All rights reserved by Rossiyskaya Gazeta.