Goa summit: Will Modi convince Putin to correct course on Pakistan?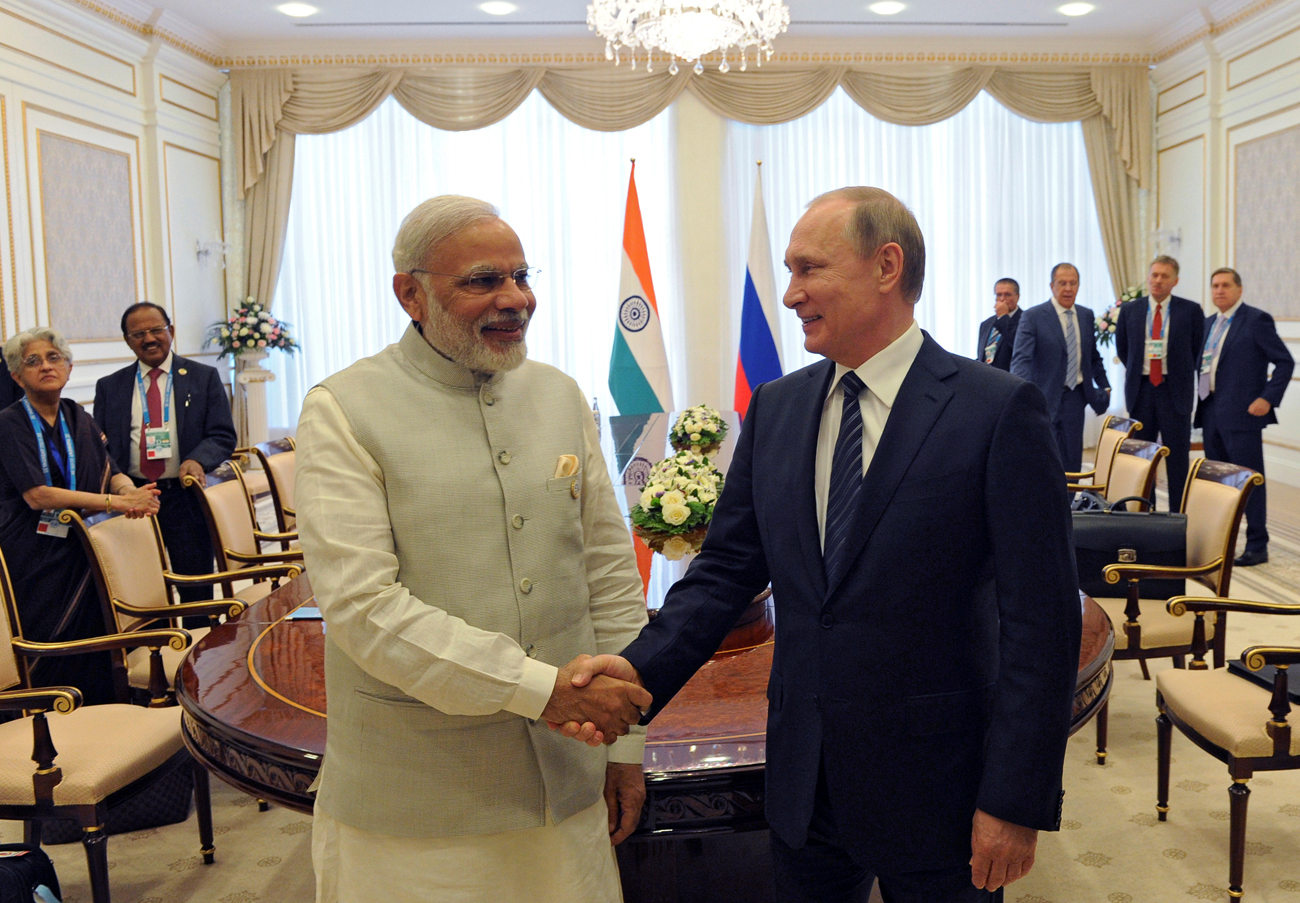 Russian President Vladimir Putin shakes hands with Indian Prime Minister Narendra Modi, June 24, 2016.
Reuters
One of the biggest intrigues of the 17th annual Russia-India Summit, which will be held before the BRICS meetings in Goa this weekend, is whether Narendra Modi will make it crystal clear to Vladimir Putin that New Delhi has very serious concerns over Moscow's growing military ties with Islamabad. India is also against Russia supplying arms to its neighbor. Experts say New Delhi needs to activate a pro-Indian lobby in Russia's military industrial complex and nuclear industry.
The 17th annual Russia-India Bilateral Summit will be held in the western Indian state of Goa this weekend, just ahead of the BRICS Summit. Russian experts told RBTH that during private discussions between Russian President Vladimir Putin and Indian Prime Minster Narendra Modi, the latter is likely to express his displeasure over Moscow's growing proximity to Islamabad.
The unpleasantness was triggered by the first ever Russia-Pakistan military drills, which were held just a week after an attack by Pakistan-based militants on an Indian Army base in the town of Uri in the Indian state of Jammu and Kashmir.
According to Sergei Lunev from the Moscow State Institute of International Relations (MGIMO) and Petr Topychkanov from Carnegie Moscow , New Delhi could accept Russia-Pakistan small scale anti-terrorist drills in the future if Moscow did not supply more weapons to Islamabad, or if drills were on a scale limited only to anti-terrorism activities.
According to Topychkanov, Moscow's defense cooperation with Islamabad is the result of strong lobbying by Russia's Defense Ministry and a group in the Foreign Ministry, while the pro-Indian lobby is mainly concentrated in Russia's military industrial complex and nuclear industry.
Topychkanov says the Goa summit "is the only chance in the foreseeable future for the Indian side to convey its concerns to Putin, because he is the only person in Russia, who has power to correct Moscow's policy in South Asia."
The final result, experts say, also depends on whether India will be effective enough to activate the pro-Indian lobby in Russia. They add that in order to predict the Goa summit's outcomes, one needs to understand, whether the Russia-Pakistan drills were part of a long-term plan or a mistake.
Strategy or mistake
This 16-day-long "Friendship-2016" drills were held at a special forces academy at Cherat, in the mountainous Khyber-Pakhtunkhwa province and included 70 personnel from Russia's Special Forces 34th brigade, which operates in mountainous regions, and Pakistan's special forces. Drills were aimed at sharing experience in fighting terrorists in remote areas and included only small arms.
Boris Volkhonsky from the Russian Institute for Strategic Studies (RISS) told RBTH, that drills were part of a big anti-terrorism strategy, because "Pakistan is a country, which is very important for regional stability."
He added, "This is one of the countries, which has leverage in Afghanistan. Afghanistan, in its turn, is a key to Central Asia. Which is why anti-terrorist drills were a positive step in bilateral ties."
Lunev has a different opinion when it comes to the drills. "Moscow is unhappy about growing India-U.S. cooperation, including in defense, and shows its discontent by developing ties with Islamabad," he said. Lunev thinks, that this policy could be successful and lure India back to Russia.
Topychkanov, however, believes that the drills had minor technical advantages, and that it was a big strategic mistake to go ahead with them. "Showcasing Russian military equipment and learning from the experience of the Pakistan special forces were the only advantages Russia got from them, but all this is not so important in the bigger political game."
Topychkanov added that he sees at least three disadvantages. "First of all, ties with India have been affected. Second, the drills demonstrated to the outside audience, that there is no unity in major decision making in Russia's foreign policy. And third, Russia now will find it much harder to get what it wants from Pakistan (more intelligence data about terrorist groups), because Pakistan saw how easy it was to get full scale military cooperation with Russia."
A course correction seems unlikely at the moment, as Sergei Shoigu, who in 2014 became the first Russian Defense Minister to visit Pakistan since 1969, recently gave the go-ahead for the "Friendship-2017" drills.
All rights reserved by Rossiyskaya Gazeta.