Russia, India sign major defense, energy deals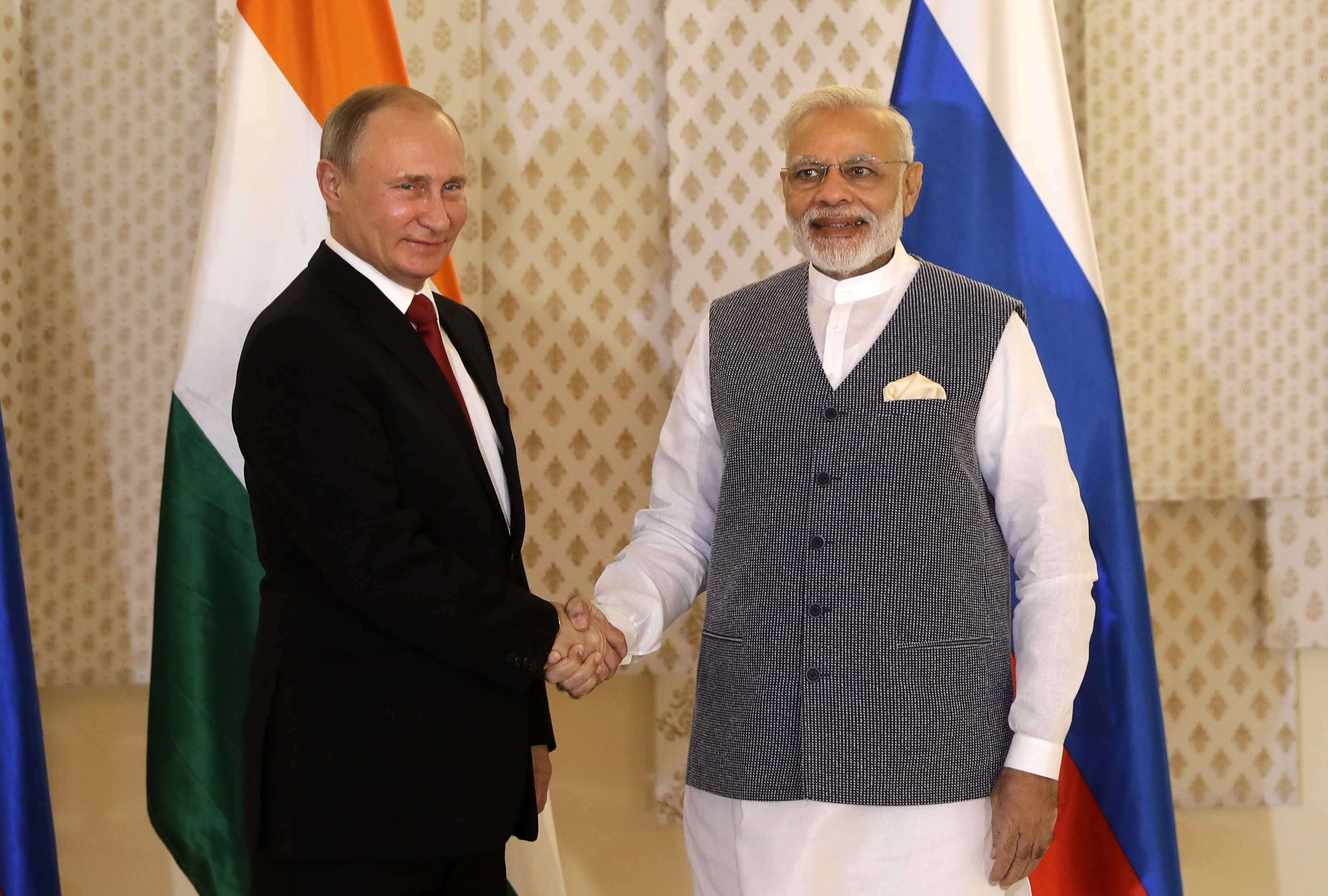 Indian Prime Minister Narendra Modi shakes hand with Russian President Vladimir Putin prior to their annual bilateral meeting, on the sidelines of the BRICS summit, in Goa, Oct. 15, 2016.
AP
India and Russia finally sign a deal for the S-400 Triumf air defense missile system. The countries also sign another 15 agreements ranging from energy to smart cities.
India and Russia, on October 15, signed a total of 16 agreements at the 17th annual bilateral summit in the western Indian state of Goa. The deals range from defense to energy to investment, including a highly anticipated agreement for the purchase of the S-400 Triumf air defense missile defense system.
Although immediate details of the contract to buy the missile defense system are not available, it is widely believed that India will be spending over $5 billion for the systems.
New Delhi also agreed to buy three Project 11356 frigates. India has six frigates of the Talwar class, the forerunner of Project 11356, which were built at the Yantar shipyard in Kaliningrad.
Make in India
In a boost to Indian Prime Minister Narendra Modi's 'Make in India' initiative the countries agreed to jointly manufacture 200 Kamov 226T multi-use helicopters in India.
"The agreements on manufacturing of Kamov 226T helicopters, construction of frigates; and acquisition and building of other defense platforms are in synergy with India's technology and security priorities," Narendra Modi said during a joint press conference with Russian President Vladimir Putin.
Pakistan
in the press conference, Modi said India deeply appreciated "Russia's understanding and support of our actions to fight cross-border terrorism that threatens our entire region."
The Indian Prime Minister started the press conference with a Russian saying: "An old friend is better than two new ones."
Energy and infrastructure
Russia and India also signed major energy and infrastructure deals.
Russian oil major Rosneft, along with its partners, bought India's Essar Oil in an all-cash deal, which is valued at almost $13 billion.
This is the largest ever foreign acquisition in India and the largest outbound deal ever made by a Russian company, according to Reuters.
Russia also agreed to step up investment in India's infrastructure. The Russian Direct Infrastructure Fund and India's National Infrastructure Investment Fund will each invest $500 million to create a joint $1 billon infrastructure fund for India. Russia has set up similar investment funds with China, including an agricultural fund in the Russian Far East.
Nuclear Cooperation
"Nuclear energy will make a very significant contribution to the energy security of India," Putin said. "It will give an additional impetus to the growth of the Indian economy."
The Russian President added that his country would continue to promote the further development of nuclear energy in India. "In the next 20 years, at least another 12 nuclear reactors could be built in India with Russian assistance," Putin said.
Putin also praised the economic cooperation between the countries. "Industries of both countries are improving cooperation; military and technical cooperation is also improving," he said.
Prioritizing energy and defense
"These agreements demonstrate that for the Indo-Russian relations, military technologies and energy sector are the main fields where we can have long term cooperation," Petr Topychkanov, South Asia expert and Associate in the Carnegie Moscow Center's Non-Proliferation Program told RBTH.
He added that India would benefit immensely from the acquisition of the S-400. "In the regional context the S-400 air-defense system is strategic. It will allow India to control all the air space of Pakistan."
This is an abridged version of an article, first published by the Russia & India Report
All rights reserved by Rossiyskaya Gazeta.