Moscow, Tokyo working on a peace treaty draft - senior Russian lawmaker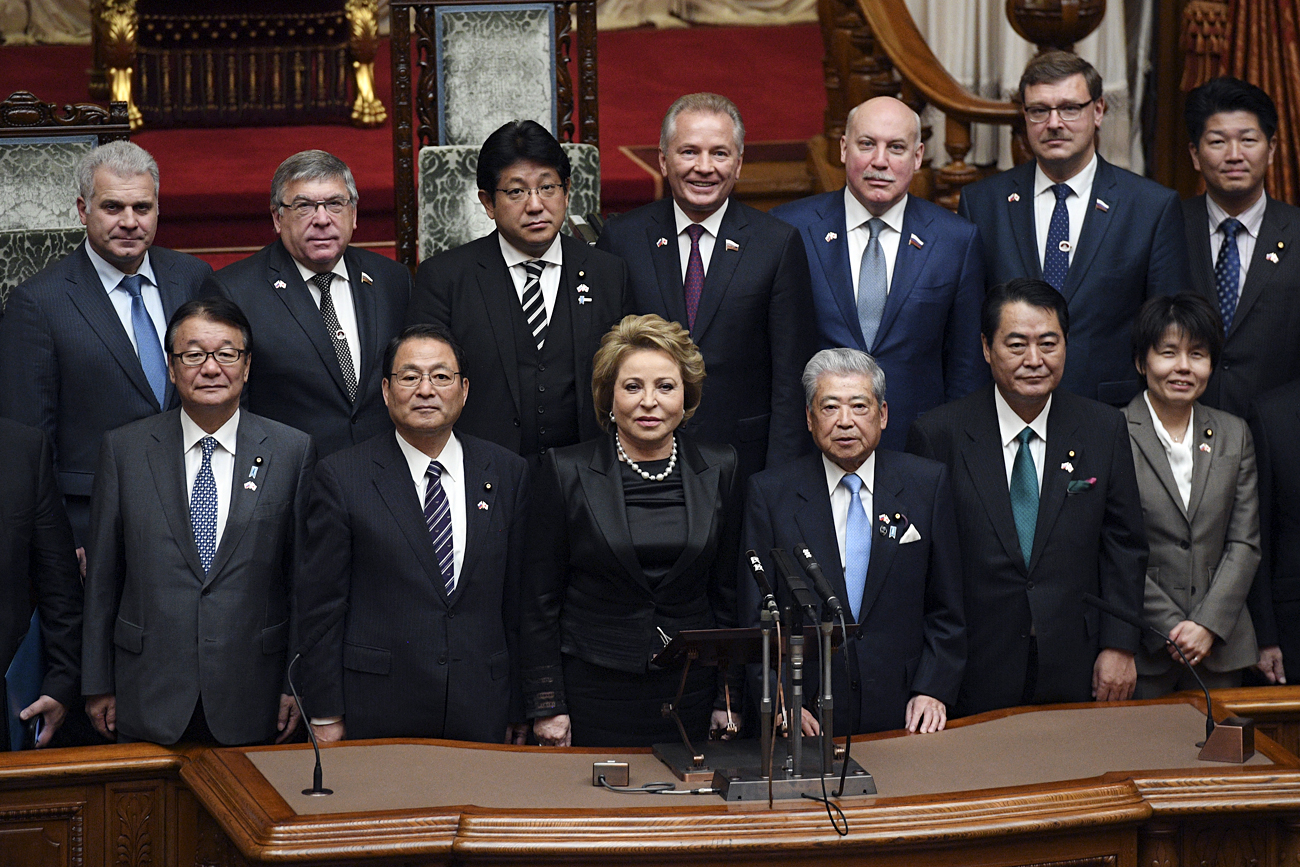 Valentina Matvienko (center) with Japanese and Russian parliamentarians.
Ramil Sitdikov/RIA Novosti
The chairwoman of the Russian upper house of parliament said Moscow would not compromise on the sovereignty of the Southern Kuril Islands but insisted that Russia and Japan could draft a "mutually acceptable peace treaty."
Ahead of the visit of Russian President Vladimir Putin to Japan on December 15, Moscow and Tokyo are working on the draft of a peace treaty, Valentina Matvienko, Chairwoman of the Federation Council (the upper house of the Russian parliament) told reporters in Tokyo on Nov. 1.
"There have already been a series of consultations at the level of Deputy Foreign Ministers," Matvienko said, adding that she was confident that Russia and Japan could "draft a mutually acceptable peace treaty."
She said Moscow would not yield to the demands of Tokyo on the transfer of even a few of the Southern Kuril Islands. "Russia's sovereignty over the Kuril Islands is indisputable, and a revision (of this stance) is out of question," she said.
Matvienko added that Russia is ready for mutually beneficial economic activities on the Kuril Islands. "Such activities can be undertaken under Russian jurisdiction with applicable Russian legislation," she said, adding that Tokyo has been apprised about the possible areas of cooperation.
The Southern Kuril Islands are called the Northern Territories in Japan, and comprise of Iturup, Kunashir, Shikotan and the Habomai archipelago. The islands became Soviet/Russian territory at the end of the Second World War.
Japan and Russia have not signed a World War 2 peace treaty on account of the former's claim to the Southern Kurils. On a few occasions, Russia has offered the islands of Shikotan and the Habomai Archipelago to Japan as a final settlement. These offers were rejected by Japan, fearing a political backlash, among former residents of the islands.
Matvienko also said that Vladimir Putin and Shinzo Abe could meet on the sidelines of the APEC summit in Lima, Peru on Nov. 19-20.
Visit to Nagasaki
On Nov. 3, the head of the Federation Council, who served for a long time as governor of St. Petersburg, will visit Nagasaki. Calling the area around the city a major industrial region, she said Russia would like to develop economic cooperation with Nagasaki.
Matvienko will visit the Atomic Bomb Museum in Nagasaki. She condemned the American nuclear strikes on Hiroshima and Nagasaki at the closing stages of the Second World War.
Matvienko also plans to visit the Russian cemetery in Nagasaki. "I want to express my gratitude to the authorities of Nagasaki for the way they cherish the memory of Russian sailors and the Russian military," she said.
All rights reserved by Rossiyskaya Gazeta.