Russian media: Is Mikheil Saakashvili planning new revolution in Ukraine?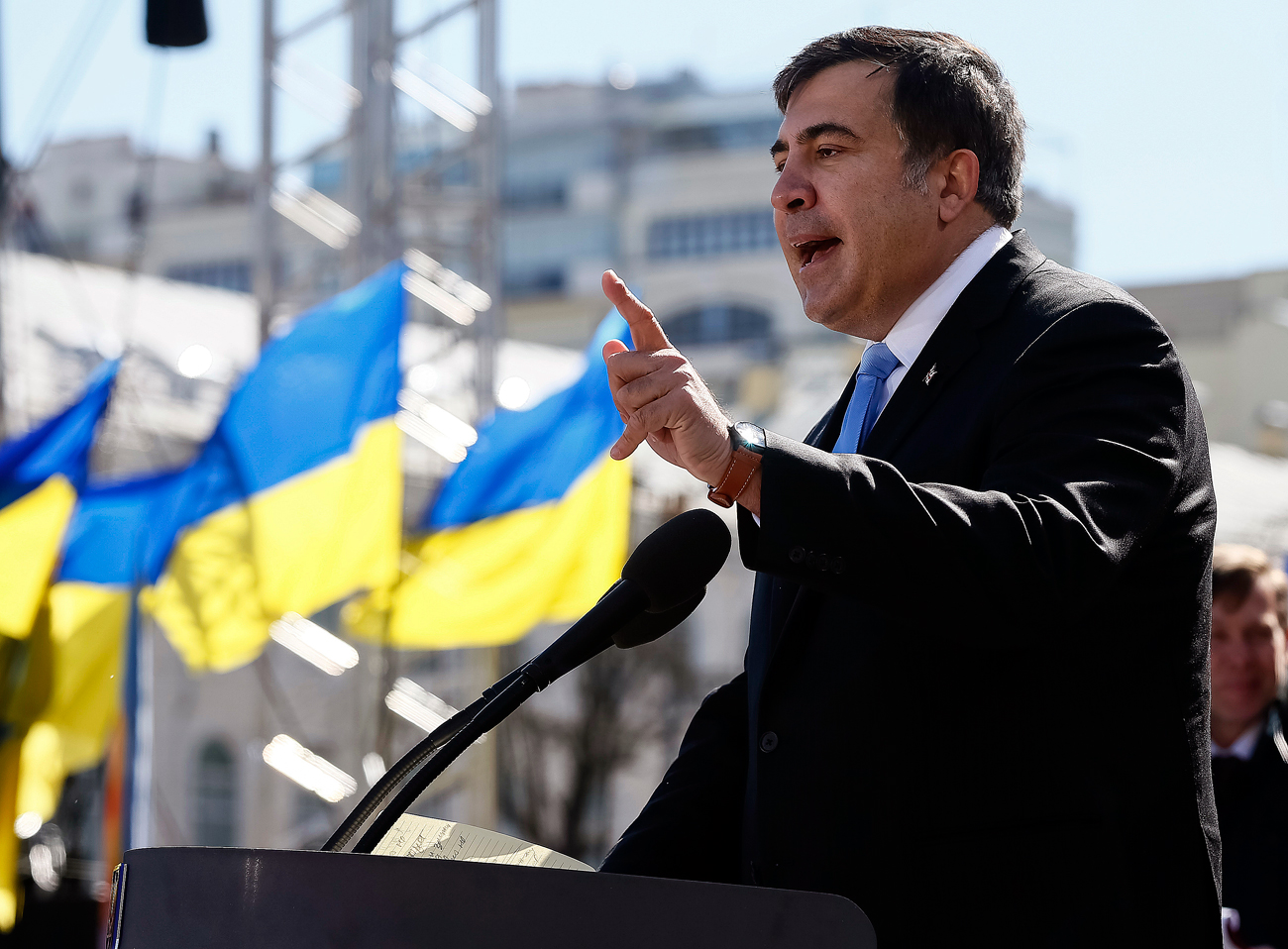 Former Georgian president Mikhail Saakashvili addresses members of a Batkivshchyna party during a meeting in central Kiev.
Reuters
The former Georgian president, under whom Georgia fought a brief military conflict with Russia in 2008 and who until recently served as governor of Ukraine's Odessa Region, has come into conflict with his Ukrainian associates. Russian media report that Saakashvili is accusing Ukrainian President Petro Poroshenko of condoning corruption in Ukraine, and is forming his own party to challenge the country's established elite.
Former Georgian President and ex-Governor of the Odessa Regional Administration Mikheil Saakashvili has said that he is ready to correct the "historical mistake" made after the Ukrainian revolutions of 2004 and 2014, "when the victorious powers were not able to fully replace the elite," according to Russian business daily Kommersant, which did not specify the origin of the comments, though it appeared to be quoting from an interview Saakashvili gave to Georgian TV channel Rustavi 2 in Kiev on Nov. 15.
According to Kommersant, Saakashvili has said that after resigning from his gubernatorial post he "felt reborn" and is now ready to work for the full replacement of the Ukrainian elite with the same methods that he used after the 2003 Georgian Revolution.
When asked if he was preparing a new revolution in Ukraine, Saakashvili responded evasively: "We'll see. Time will tell. Everything depends on the circumstances." Then he added, "The people here have been deceived and are angry."
For changing the elite
Saakashvili has also announced that he would be forming his own political party and intends to have early parliamentary elections called, writes Lenta.ru.
"Our aim is to change the so-called political elite, or rather the thieves and dregs of society that control the Rada, the Council of Ministers and all the branches of government in Ukraine. We aim to obtain early parliamentary elections as soon as possible, within a short time frame," the publication cites Saakashvili as saying.
nazalezhnost
(independence) at the all-Ukrainian referendum held on Dec. 1, 1991.
He claimed he was later directly involved in the Orange Revolution of 2004 when he allegedly told the then leaders Viktor Yushchenko and Yulia Tymoshenko "point by point what to do and how to do it."
"At that time Poroshenko was the liaison between me and them," Kommersant cites Saakashvili as saying.
Saakashvili's latest accusation against Poroshenko and his team appeared as an article that the Georgian politician wrote especially for The New York Times on Nov. 16.
Citizenship
Besides condoning rampant corruption in the country, Saakashvili also accused Poroshenko of planning to deprive him of his Ukrainian citizenship, which he obtained in May 2015 to head the rebellious Ukrainian region of Odessa.
Citing "a well-informed source," Saakashvili wrote on his Facebook page that Ukrainian President Petro Poroshenko intends to deprive him of his Ukrainian citizenship," reports Lenta.ru.
Earlier, wrote the publication, Vadim Rabinovich, a Verkhovna Rada deputy from the Opposition Bloc Party, asked the Ukrainian Prosecutor General and Interior Ministry to review the issue of the extradition of former Governor of the Odessa Region Mikheil Saakashvili to Georgia.
Subscribe to get the hand picked best stories every week
All rights reserved by Rossiyskaya Gazeta.