Russia and Saudi Arabia eye each other for investment opportunities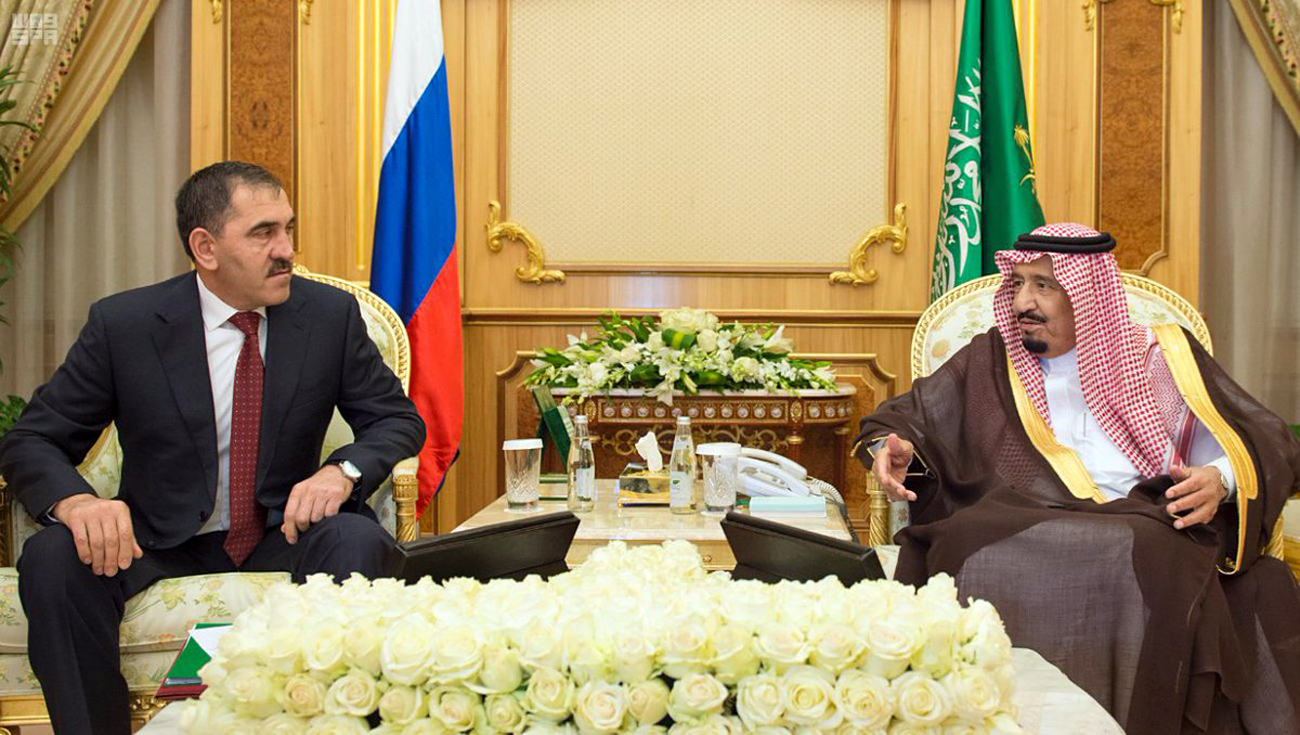 The head of the Republic of Ingushetia Yunus-bek Yevkurov in Saudi Arabia.
spa.gov.sa
Falling oil prices are pushing the Gulf monarchies to change their investment strategies. They are now looking for investors all over the world and are considerably less oriented toward the U.S. than they were several years ago.
Over the past 30 days, two official Russian delegations – both from the largely Islamic region of the North Caucasus – have visited Saudi Arabia. The first to visit was the leadership of the Republic of Ingushetia, including the head of the region, Yunus-Bek Yevkurov, followed by Chechen leader Ramzan Kadyrov with a group of officials from his republic. The agenda featured specific investment projects.
Bread and oil
First of all, the Chechen delegation had an opportunity to meet the president of the world's biggest oil company Saudi Aramco, Amin Nasser, and the Saudi Arabian minister for energy, industry and mineral resources, Khalid al-Falih, to discuss plans for the construction of a refinery.
For several years, Chechnya had been trying – to no avail – to get Russia's Rosneft state oil company, which produces oil on Chechen territory, to take real steps to restore the refining facilities that were destroyed during the wars with Russian state forces in the 1990s. Having given up on Rosneft, Ramzan Kadyrov has more than once declared that he would be looking for an alternative investor, and now this role may be performed by Saudi Arabia.
An even more remarkable project is the construction in Saudi Arabia of a grain terminal, which may be used for Russian grain supplies. In recent years, Saudi Arabia has almost stopped growing its own grain because it did serious damage to the country's scarce water reserves. As a result, Saudi imports of grain are constantly on the rise and Russia already accounts for a significant share of them.
According to the Federal Customs Service's data, in 2015 Russia supplied $547.6 million worth of grain to Saudi Arabia, making grain Russia's biggest export to that country. However, so far Russia has been supplying only barley to Riyadh, with wheat, corn and other cereals practically absent from the export mix.
In June this year, a delegation of the Federal Service for Veterinary and Phytosanitary Surveillance (Rosselkhoznadzor) paid a visit to Saudi Arabia, where it received assurances that there were no longer any obstacles for Russian grain exporters. Furthermore, with the grain terminal in place, their position on the Saudi market may strengthen considerably.
In addition, an agreement with another sovereign fund – the Saudi Arabian General Investment Authority (SAGIA) - was reached on a joint search for investment projects in Russia and on possible assistance to Russian companies in entering the Arab market.
The very possibility of reaching all these agreements arose after Russian President Vladimir Putin's personal meeting with Deputy Crown Prince Mohammed bin Salman at the St. Petersburg Economic Forum in 2015. Plans for more cooperation with Russia were once again confirmed in early 2016 by Saudi Foreign Minister Adel al-Jubeir, who said that the volume of trade between Saudi Arabia and Russia was not up to the size of the two economies.
The Islamic factor
"Russia and Saudi Arabia have been serious competitors on the world oil market since the 1970s. This competition will increase with the development of alternative sources of energy and the emergence of new sources of raw materials, primarily on such markets as Europe, the Indian subcontinent and China," said Fares Kilzie, chairman of the board of directors of the Creon Energy consulting group.
"Yet, at some point, the Saudis became more pliable. The first signal was the construction of Russia's Eastern Siberia-Pacific Ocean oil pipeline to China, while with the news of the Power of Siberia gas pipeline, their pliancy increased further," he said.
According to Kilzie, these two projects may mean in future the loss of a major market for Saudi Arabia since they envisage the transportation of a very large amount of oil and gas that can fully meet China's demand. Russia's entry to the Indian oil and gas market is also causing much concern in Riyadh, which has already had to cede the U.S. market and part of the European market to the U.S. That is why the Saudis have started reaching agreements with Russia.
As for possible points of entry for Saudi investment into Russia, Chechnya and Ingushetia look like quite suitable territories for that. It is obvious that a considerable role here is played by the Islamic factor.
However, it should not be expected that the promised Saudi investment will reach Russia, let alone Chechnya, in the near future. Fares Kilzie recalled that at one time Saudi Arabia had big plans for cooperation with the Russian republic of Tatarstan, yet in the end not a single major joint project was implemented.
That said, it is now that Saudi Arabia and other oil-producing Gulf countries are raising the issue of attracting foreign investment, which has never happened before.
"It is a very serious sign that these countries find themselves in a tricky situation because of the current oil prices. Investment projects and public spending are being cut, many projects are being postponed indefinitely. That is why the Saudis are now interested in any foreign investment, be it ours or somebody else's," said Kilzie.
Subscribe to get the hand picked best stories every week
All rights reserved by Rossiyskaya Gazeta.