Russian souvenir makers turn to Trump for new ideas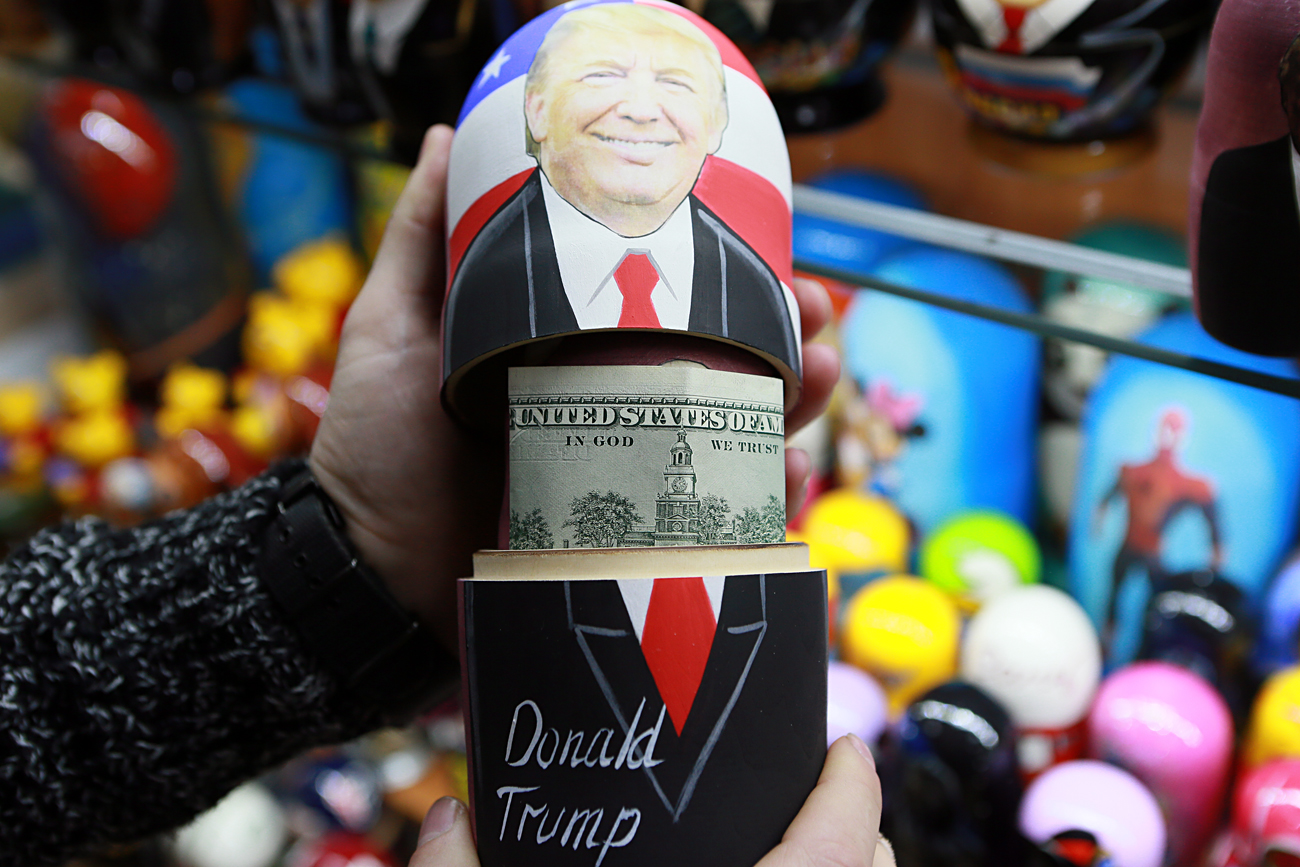 Politics is now one of the main drivers in the souvenir market. Photo: Russian matryoshka dolls with portraits of U.S. presidential candidate Donald Trump at a souvenir shop.
Anton Denisov/RIA Novosti
New ranges of printed garments featuring quotes by U.S. President-elect Donald Trump are on their way to the Russian market. The designers of the souvenir items hope for vigorous sales while the memory of Trump's election campaign is still fresh.
Manufacturers of souvenirs in Russia have responded to Donald Trump's victory in the U.S. elections by preparing new designs featuring the president-elect. Rospatent is now registering as trademarks a series of high-profile statements that Trump made about Russia and Putin.
Entrepreneur Viktor Tarasov is planning to release a series of printed garments demonstrating Trump's positive attitude toward Russia and Putin. He decided to monetize the following statements made by the American president:
"Putin is stronger than our president," "Putin is a strong leader. I cannot even imagine what I'd like to achieve more than having a friendly Russia," and "I'm not going to tell Putin what to do".
The quotes will be accompanied by a portrait of Trump.
In addition, Tarasov has decided to recall the docking in space of the Soviet spacecraft Soyuz-19 and American vessel Apollo, a milestone of friendship between the two countries that also became known as the "handshake in space," and to patent the trademark "Apollo Soyuz."
All trademarks are being registered in the "clothing, footwear, and headgear" class.
A fleeting opportunity
Anatoly Aronov, president of the Perviy patent company, says that it is unlikely that these trademarks will receive patent protection; however, the applicant has no intention of waiting for this registration.
"Registering takes about one year, and by the time that Rospatent makes a decision on this, the project would already have been forgotten. This should be understood by the applicant himself. Applications are filed, just to play it safe. Should any claims arise (which is unlikely, since Trump himself would have to apply), it will be possible to answer – that for now, state expertise is in process, which is seeking the permissibility of using such trademarks. Now they can calmly proceed with the work," said Aronov.
He noted that while the project will only be relevant for a few months, it could be quite successful.
"This is quick money; sales will be brisk for a few months, while everyone is still excited at the prospect of friendship between Russia and the U.S. As soon as this wave passes, people will stop wearing the shirts. However, in the short term, there is time to make some money," said Aronov.
A similar view is shared by Tatyana Komissarova, dean of the Graduate School of Marketing.
"This is a good idea. Such projects do not bring long-term income, but in the short term, this will work. And given the large margins [in general, such products are made in China], in a short time, they should be able to earn good money," she said.
Politics is the new black
According to Komissarova, politics is now one of the main drivers in the souvenir market.
"Souvenir manufacturers are always trying to take advantage of popular political trends. Actually, there is no politics involved here at all, this is just a business focused on selling souvenirs," she said.
T-shirts devoted to political themes have been a notable trend in Russia since 2014, when the AnyaVanya Company brought to the market a new collection called Vsyo Putyom ("It's All Going Well") which was inspired by current political events. The collection featured T-shirts with the image of Putin with the caption "The most polite of people," "They're not going to get us," and Crimea. According to media reports, total revenues from this collection amounted to 15.6 million rubles ($245,000).
Many other Russian brands have also released "patriotic" collections, which besides Putin have also begun to use images of other popular politicians, such as Defense Minister Sergei Shoigu and Minister of Foreign Affairs Sergei Lavrov.
However, current U.S. President Barack Obama has been much less popular with Russian T-shirt manufacturers.
First published in Russian by Gazeta.ru
Subscribe to get the hand picked best stories every week
All rights reserved by Rossiyskaya Gazeta.