Vladimir Putin and Shinzo Abe to talk trade, Southern Kurils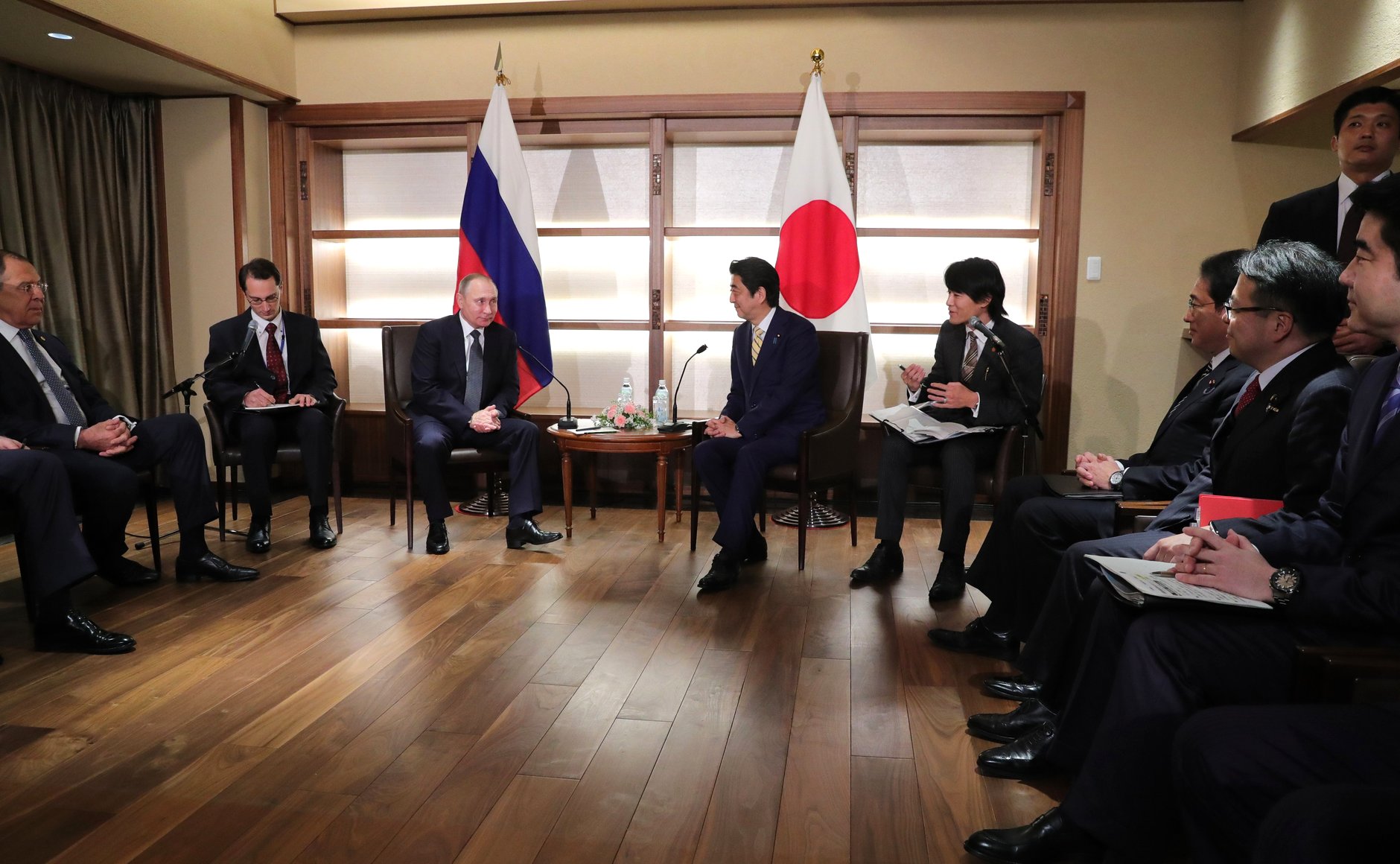 Vladimir Putin with with Japan's Prime Minister Shinzo Abe in Nagato
Kremlin.ru
Russian president has arrived in Japan for summit-level talks.
Russian President Vladimir Putin has arrived in Japan on a two-day visit. This visit is seen as historic and may pave the way for a World War II peace treaty.
The Russian leader's plane landed at the Ube airport in Yamaguchi Prefecture on Dec. 15, and he left for Nagato for talks with Japan's Prime Minister Shinzo Abe.
The meeting at the highest level will be held in the Otani Sanso hotel in Nagato, Abe's home constituency in the southwest of the Honshu Island.
Talks in Nagato will be held in three stages - the meeting of the leaders with the participation of several delegation members from both sides, a private conversation between Putin and Abe in the presence of interpreters, and a working dinner with the participation of leading ministers who are tasked with developing the relations between the two countries.
On Dec.16, the second day of the Russian president's visit, Putin and Abe will take part in joint events in Tokyo.
Russia has also presented a list of 58 promising programs of cooperation. In November, a list of 90 various projects was drawn up and a joint plan of work was agreed on.
After the Dec. 16 talks in Tokyo, 10 inter-governmental documents, and 12-15 important commercial agreements and another 50 business-related documents are expected to be signed in the presence of the two leaders.
During the negotiations, the leaders will exchange views on the key issues of international and regional agenda and map out further steps on coordinating foreign policy of Russia and Japan.
Currently, the most vital issue of Russian-Japanese relations is the territorial dispute over the Southern Kuril Islands and the related issue of concluding a World War II peace treaty between the two countries.
In an interview with Japan's Nippon TV and the Yomiuri Shimbun newspaper ahead of his visit, Putin stressed that Russia will work to conclude a peace treaty with Japan, but not to the detriment of its interests.
On the first day of talks, Russia's delegation will consist of First Deputy Prime Minister Igor Shuvalov, Foreign Minister Sergey Lavrov, Presidential Aide Yuri Ushakov, Kremlin Spokesman Dmitry Peskov, Minister for the Development of the Russian Far East Alexander Galushka, Minister of Industry and Trade Denis Manturov, Culture Minister Vladimir Medinsky, Energy Minister Alexander Novak and Economic Development Minister Maxim Oreshkin. In Tokyo, they will be joined by other ministers and several governors.
First published by tass.com
All rights reserved by Rossiyskaya Gazeta.