Kissinger could help Trump reconcile with Kremlin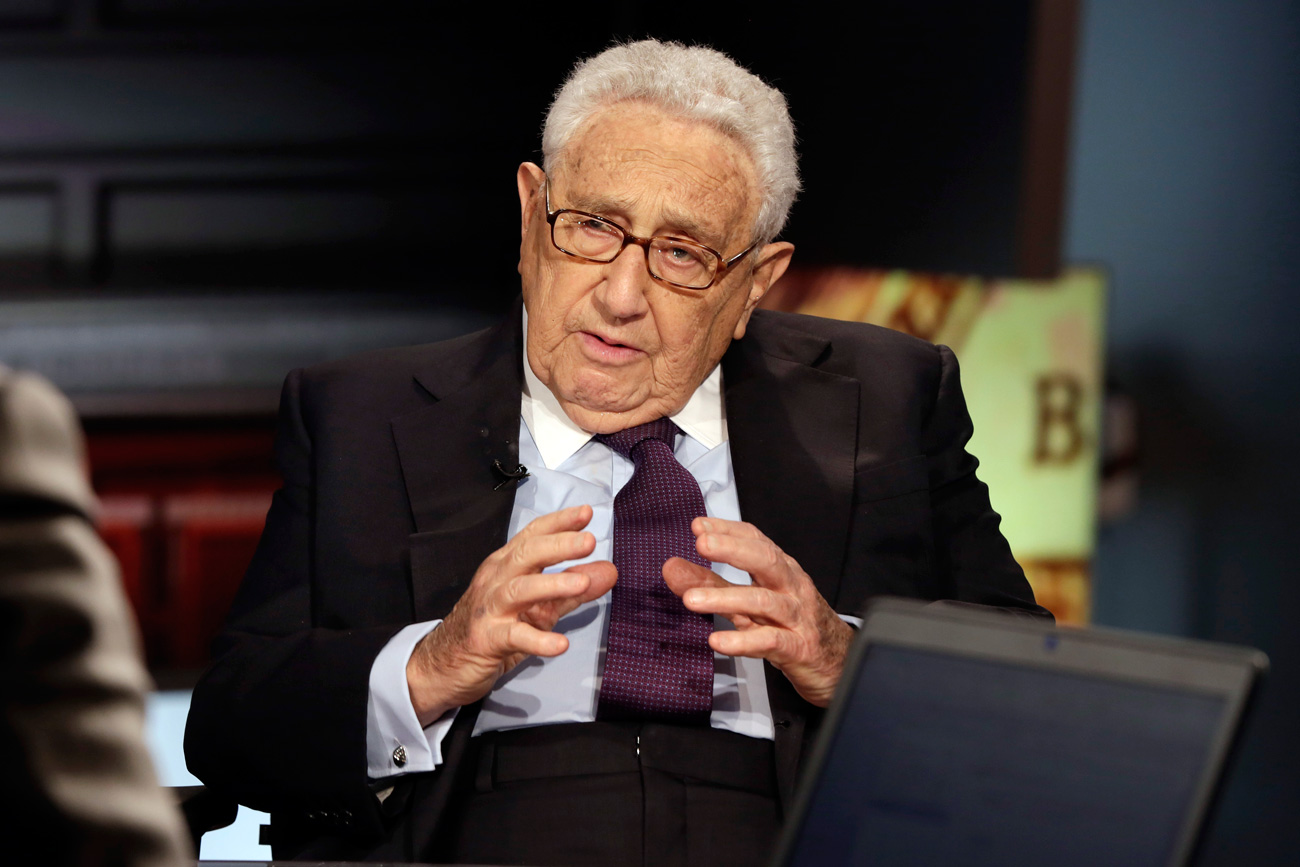 Kissinger has his own view on how to build relations with Moscow in a new way. Moreover, based on Kissinger's suggestions, Trump intends to lift sanctions against Russia.
AP
A popular German newspaper has published an article alleging that former U.S. Secretary of State Henry Kissinger has expressed his willingness to mediate between the Kremlin and Washington in order to help repair relations between Russia and the U.S. Russian observers say compromise on key issues such as Ukraine is possible, but only with Kiev's participation.
Former U.S. Secretary of State Henry Kissinger could become a mediator between Moscow and Washington after the inauguration of U.S. President-elect Donald Trump, according to German newspaper Bild. The publication cites various European special services, which in turn base their information on sources from Trump's team.
According to Bild, Kissinger has his own view on how to build relations with Moscow in a new way. Moreover, based on Kissinger's suggestions, Trump intends to lift sanctions against Russia.
The former secretary of state also has his own view on how to solve the conflict in eastern Ukraine and the issue of Crimea.
"[Kissinger's] key idea is that Russia will guarantee security in eastern Ukraine… In exchange, the West will not interfere in the Crimean issue," writes the newspaper.
Trump once said that in the event he is elected president "he will take a look at the Crimean issue." However, he did not say anything about recognizing Crimea as Russian territory. At the same time, a Gazeta.ru (in Russian) source in the Russian parliament said that he had recently met with members of Trump's team in Europe who told him that the new administration intends to "close" the Crimean issue. There is no talk about diplomatic recognition of Crimea, but in practice the U.S. will resign itself to such a state of affairs.
Is a 'Crimean consensus' possible?
Earlier, managing director of Kissinger Associates Inc. and former high-ranking collaborator at the George Bush Jr. administration Tom Graham told Gazeta.ru that the U.S. and Russia may form their own "Crimean consensus." In his words, this will be possible when both sides realize that "Russian-American relations" mean more than the Crimean problem.
According to Ivan Kurilla, a political analyst, America scholar and professor at the European University in St. Petersburg, it is possible for Russia to obtain certain concessions on Crimea.
"Many think that the U.S. may push Russia to regulate the situation in the Donbass in exchange for America softening its position on Crimea. I am convinced that there will be no 'recognition' of Crimea without Ukraine's agreement. But what is possible is the Baltic scenario, in which for half a century the U.S. did not recognize the USSR's annexation of the three countries [Estonia, Latvia and Lithuania], but the fact was not used in Soviet-American relations," said Kurilla.
The Kremlin indicates its approval
The Kremlin would welcome the participation of former U.S. Secretary of State Henry Kissinger in the restoration of Russian-American relations, according to presidential press secretary Dmitry Peskov.
"Kissinger still remains one of the wisest politicians, one of the most intelligent experts, who also has profound knowledge of Russian affairs and of Russian-American relations," said (in Russian) Peskov on Dec. 27.
Patriarch of world diplomacy
Professor Ivan Kurilla noted that in 1973 Kissinger was able to agree to the withdrawal of American troops from Vietnam, a territory that was essentially being fought for by the USSR and the U.S., who supported opposing sides.
"And the talks were held secretively, in Paris, while the press was fed all types of canards as to why Kissinger was flying there. The patriarch of world diplomacy is not a stranger to secret operations," explained Kurilla.
"Moreover, I remember with how much authority he said the following phrase during the celebration of the 200th anniversary of Russian-American diplomatic relations in 2007: 'Our relations are 200 years old. I have actively participated in 50 of them.'"
The former U.S. secretary of state, despite his advanced age (he is now 93), has indeed maintained his influence on American politics and has met with Trump, as well as other Republican candidates during the election campaign. Kissinger was awarded the Nobel Peace Prize in 1973 for his role in concluding the Paris Agreement to end the war and restore peace in Vietnam.
First published in Russian by Gazeta.ru
Subscribe to get the hand picked best stories every week
All rights reserved by Rossiyskaya Gazeta.