Why is Russia fighting in Syria?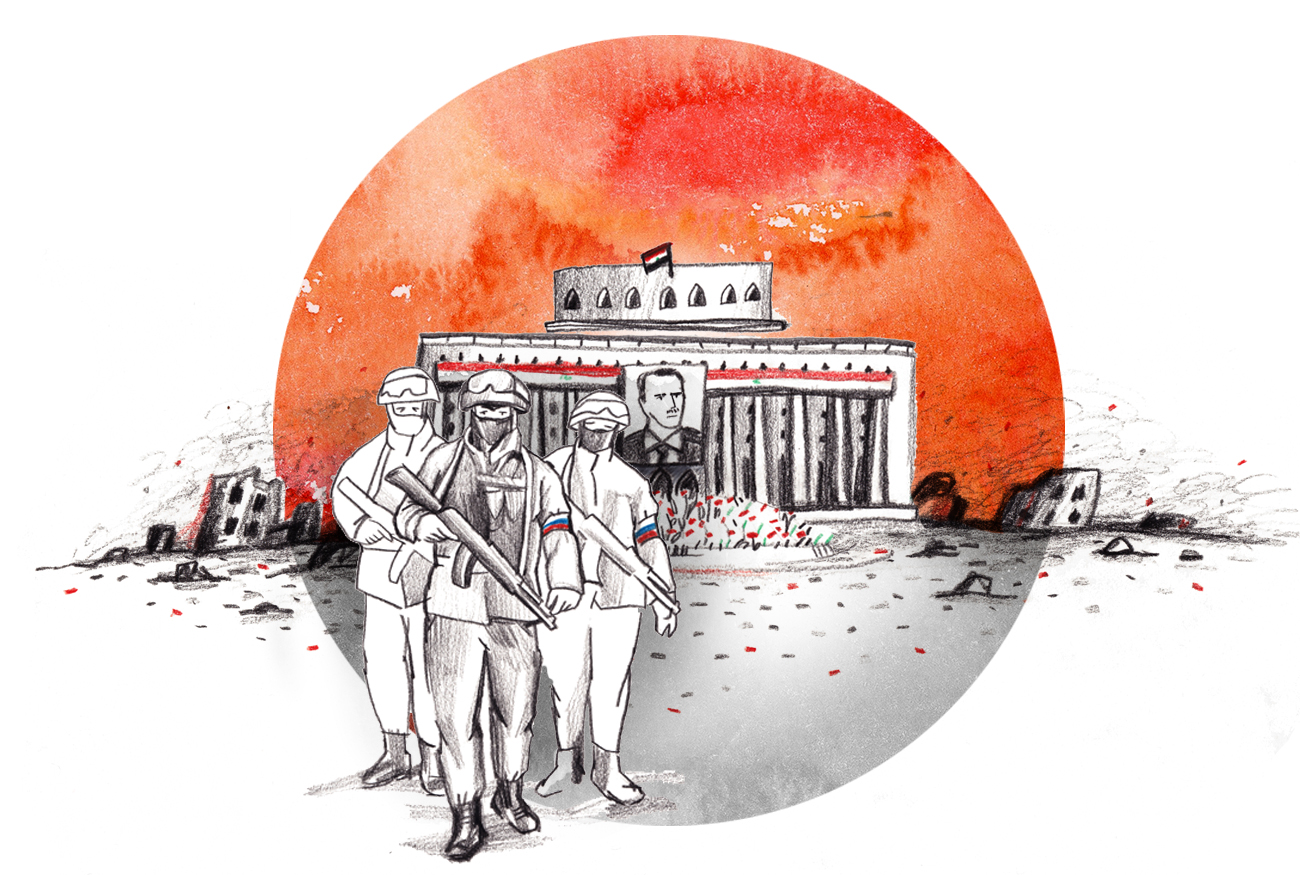 Why did Russia, which does not share a border with Syria, enter the conflict in the first place?
Varvara Grankova
"How is vodka…" "Why Putin…" RBTH has chosen some of the most popular search queries related to Russia and will answer each question in detail in a series of articles titled "Why Russia." Today we explain why Russia is involved in the war in Syria.
Russia has been conducting a military campaign in Syria since Sept. 30, 2015. Its Air Force has carried out airstrikes against Islamic State militants and other terrorist groups opposing the Syrian government. Western governments claim that Moscow's main objective is to protect Bashar al-Assad and that it is fighting against the opposition and not against terrorist groups. Furthermore, they claim that Russia's actions have led to the deaths of innocent civilians.
Russian officials have continuously denied these accusations, emphasizing that it is Russia that is correctly and effectively fighting terrorist organizations, unlike the Western coalition. But why did Russia, which does not share a border with Syria, enter the conflict in the first place?
Fighting terrorists away from home
Russian President Vladimir Putin provided the official narrative on Sept. 30, 2015, the day Russia's bombing campaign began. According to Putin, thousands of Islamist militants currently fighting in Syria "will come to Russia" through Central Asia and the North Caucasus if they are not stopped now and prevented from doing so.
Vladimir Akhmedov, a senior fellow at the Institute of Middle East Studies, says that this was a danger at the time and still remains a possibility. "The Caucasus Emirate (a terrorist group in the North Caucasus - RBTH) pledged allegiance to ISIS (in June 2015 - RBTH), and in 2015 several thousand people from Russia were already fighting in IS's ranks," explains Akhmedov.
Moreover, many citizens of Central Asian countries, with which Russia has an agreement on visa-free travel, have also joined ISIS. These militants are not well disposed toward Russia. For example, in 2015 ISIS released a video titled "Soon, Very Soon," in which the militants, speaking in fluent Russian, promised a sea of blood for Russian infidels.
A question of status
Another reason behind Russia's intervention in the Syrian War is an attempt to regain the status of a world power that influences global policy, according to Evgeny Satanovsky, president of the Middle East Institute. "Russia's actions helped it to return 'its face,' which it lost in the post-Soviet period" (when Russia lost the stature and influence USSR held in the region - RBTH). In a piece written shortly after Russia's military operation began, Satanovsky asserted that "the Middle East respects only the strong and the independent."
It is also worth noting that Russia's involvement in the Syrian conflict forced the West to reassess the situation and enter into a dialogue, which had come to a halt after Crimea became a part of the Russian Federation. "Sure, active involvement in one of today's largest international conflicts, which in many ways determines the world agenda, increases the clout of the country on the international stage," noted Fyodor Lukyanov, a political analyst and editor-in-chief of Russia in Global Affairs magazine. Lukyanov believes that the desire to force a dialogue with the West was not the only goal for Russia, but it was an important one.
This article is part of the "Why Russia…?" series in which RBTH answers popular questions about Russia.
If using any of Russia Beyond's content, partly or in full, always provide an active hyperlink to the original material.