Who is China aiming its nuclear missiles at?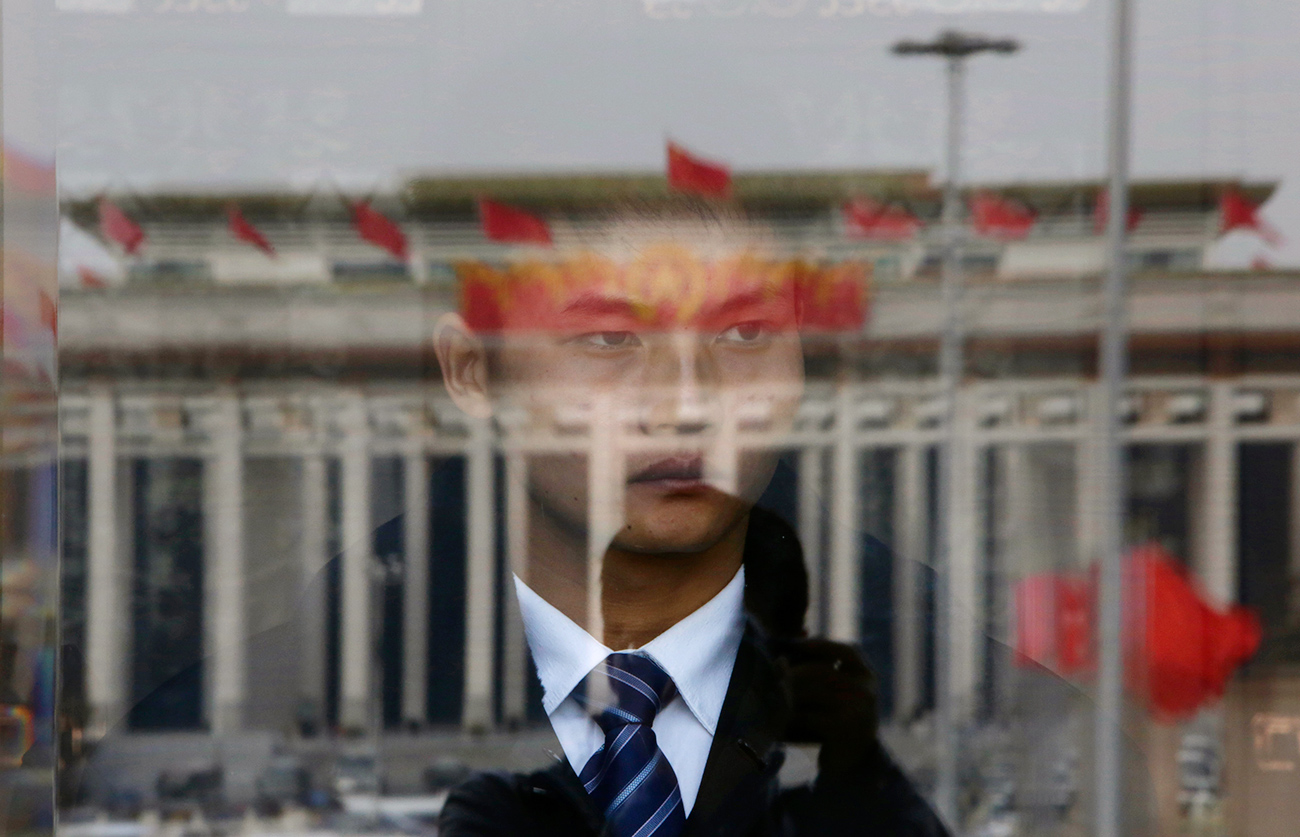 A soldier in plain clothes from the Chinese People's Liberation Army (PLA) stands guard behind an entrance of the Great Hall of the People, the venue of the annual session of China's parliament, as red flags are reflected on a glass door in Beijing
Reuters
China deployed its most modern intercontinental nuclear missiles in the country's northeast, close to the Russian border. Are they a threat to Russia, and how might this impact the Russian-Chinese partnership?
The Global Times, a Chinese daily newspaper, reported that photographs of the DF-41 ballistic missiles in the northeastern province of Heilongjiang appeared in the Hong Kong and Taiwanese press. Russian media also sounded the alarm with headlines about China's missiles near the Russian border, seeing this is a "Chinese threat" for Moscow.
The Global Times, however, believes this information was deliberately leaked as Beijing's response to U.S. President Donald Trump's anti-China rhetoric.
Mikhail Alexandrov, an analyst at MGIMO's Center of Military and Political Studies, said this is Beijing's reply to harsh statements from the White House.
However, this is not the first leak of its kind, said Victor Murakhovsky, a military expert and chief editor of the magazine, Fatherland Arsenal, adding that about a year ago photographs of the DF-41 missiles were published as they were moved to the Xinjiang Uyghur Autonomous Region, also near the Russian border. That was long before Trump's presidential campaign.
The DF-41 (Dongfeng, or "Eastern wind") is a third-generation, three-stage, solid-fuel intercontinental ballistic missile. It is believed to be equipped with a dividing head, and with 10-12 individual guidance blocks. According to various sources, the DF-41's maximum range is between 6,000 and 8,400 miles, meaning that it is capable of hitting New York City.
Our strategic ally
In April last year the military intelligence website, The Washington Free Beacon, reported that after successful testing China had prepared to deploy the DF-41 missiles without specifying in which regions. What was peculiar about the April test was that Beijing launched the missile into the South China Sea. This seemed like a demonstrative step in the context of friction between Beijing and Washington over China's artificial islands there.
All experts interviewed by RBTH are convinced that the missiles deployed by China are not directed at Moscow, especially because the two countries have close political ties. In general, the two countries' nuclear weapons have not been aimed at each other, emphasized Murakhovsky.
Also, several years ago relations became even warmer when Russia, after serious deterioration of relations with the West, made "a pivot to the East."
"China is our ally, our strategic ally… we don't see evidence that China's armed forces, or China's military construction, is a threat to our country," said Dmitri Peskov, Russia's presidential press secretary, commenting on reports about the deployed missiles.
Also, it's difficult to imagine that China would wish to start a nuclear conflict with Russia, which has more warheads in both tactical and strategic nukes. Also, Russia's nuclear arsenal is more sophisticated, said Alexandrov.
Proximity to the border
Murakhovsky specified that the missiles are located several hundred kilometers from the border, but overall, Russia should not worry because these are intercontinental missiles.
"Chinese missiles can reach Russia from any region in China, and in terms of our security it makes little difference where they're located," said Alexandrov.
"On the contrary, deploying missiles not far from the Chinese-Russian border most likely means that China doesn't see a military threat from Russia, and the alleged missile deployment is not in any case directed against Russia," speculated Petr Topychkanov, a researcher at the Carnegie Moscow Center's Nonproliferation Program. "When close to the Russian border, the missiles are in fact more vulnerable to Russian offensive weapons."
Topychkanov added this situation may lead to other concerns. In the unlikely event of an armed conflict between the U.S. and China, Washington will strike at the area where its enemy's nuclear weapons are located. Thus, this region's proximity to Russia becomes a problem because such a strike will certainly impact Russia's side of the border with environmental consequences.
Read more: Kremlin sees no threat in China's missiles near Russian border
If using any of Russia Beyond's content, partly or in full, always provide an active hyperlink to the original material.