Moscow may sell Mi-17 helicopters, assault rifles to Duterte - expert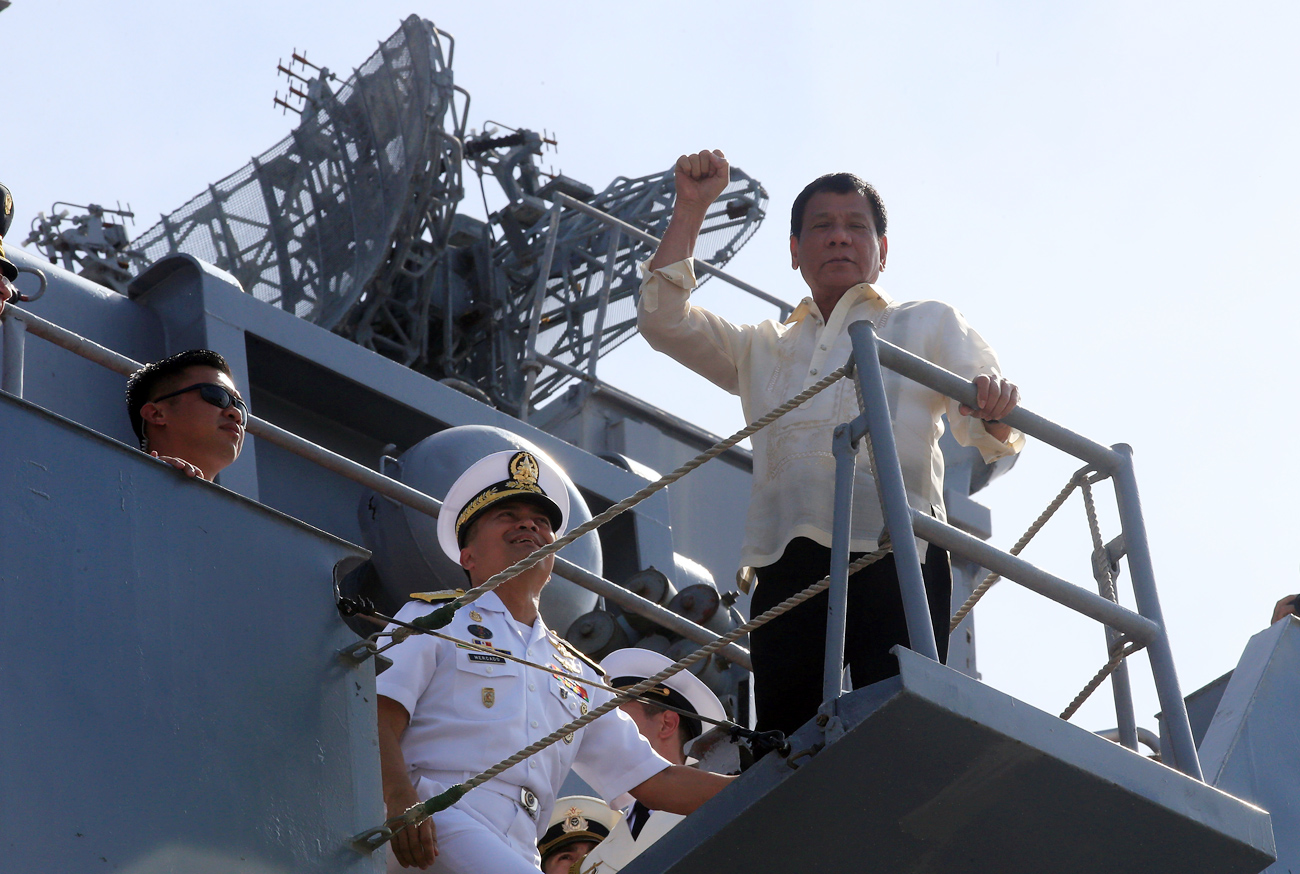 Philippine President Rodrigo Duterte has been making loud overtures to Russia.
Reuters
Russia does not have a special strategic military interest in the Philippines, but may sell a set of weapons that could be used for counter-terror and anti-insurgent activities.
Philippine President Rodrigo Duterte's spring 2017 visit to Russia may turn out to be a real path-breaker for the two countries that have generally shied away from each other in the past. While Moscow and Manila finally started discussing defense cooperation last year, experts believe that cooperation in this area is likely to remain limited.
No military alliance
Despite Rodrigo Duterte's welcoming rhetoric towards Moscow, Philippine Ambassador to Russia Carlos Sorreta told RBTH that the Defense Cooperation Agreement (DCA) that is now being prepared"is not an agreement that creates a military alliance."
He said the agreement "focuses on activities that are designed to build mutual understanding between our defense forces through visits, exchange of information, and training."
Besides the DCA, "a number defense related agreements" are being considered, the ambassador added.
The defense agreement is unlikely to be very deep, according to Anton Tsvetov from the Moscow-based high-profile Center for Strategic Research. "This is simply because this aspect of bilateral ties has never been a priority for Moscow and Manila, due to the latter's deep alliance with the U.S.," Tsvetov told RBTH.
This document may even be in the form of a memorandum, which could just "lay the basis for this new area of cooperation," Tsvetov added. "The agreement may provide for mutual observations of drills, perhaps even non-live fire drills, exchange of visits and port calls. It may also lay the ground for technical cooperation and arms deals."
NATO standards not an obstacle
When asked about the potential purchase of weapons from Russia, Ambassador Sorreta diplomatically said, "The Philippines is currently looking at military equipment that are available from a number of countries, including Russia."
He added that the country was looking for "small arms, surveillance drones, rotary wing aircraft and certain naval vessels."
Although Sorreta gave no further details, this list is enough to speculate about what specific weapons that Moscow could offer.
The fact that most of the Philippine military equipment was gifted by the U.S. should not be seen as an obstacle, Vasily Kashin from the Institute for Far Eastern Studies told RBTH.
"On the one hand, there are many examples of Soviet/Russian weapons systems being used by NATO countries, and on the other hand, a considerable part of the Philippine arsenal is old and not up to modern standards in any case," he said.
Rifles and helicopters
Kashin told RBTH, that the "small arms" mentioned by Sorreta could be rifles and machine guns of various types.
"Maybe they will get a small number of weapons for the special forces. For example, a new heavy sniper rifle caliber 12.7 mm – Vzlomshik (Cracker) or Vikhlop (Exhaust). Or the Vintorez-type silent machines for anti-terror units."
When it comes to rotary wing aircraft, Kashin says it could be "a number of Mi-17 multipurpose helicopters and a few Mi-35 attack helicopters," which would come to Manila's aid against terrorists and insurgents.
The Tiger armored cars and the Sukhoi Su-25 Frogfoot aircraft would also be of use to the Philippines.
"In some cases, the Philippines does not need the latest high-end weapons, so Russia can sell military equipment from the Soviet period, which only needs to be slightly modernized," Kashin added.
No strategic goals
However experts say that arms sales are a bonus for the Kremlin, because it does not have any serious strategic aim to lure the Philippines into Russia's orbit.
"If Manila gives Russia the opportunity to visit Philippine ports, that should be enough," Dr.Victor Sumsky, director of ASEAN Centre at MGIMO told RBTH. "Unnesessary tensions between the Philippines and the United States are not in the interest of Moscow".
If using any of Russia Beyond's content, partly or in full, always provide an active hyperlink to the original material.