Will 'friendly' fire deaths in Syria dampen Russian-Turkish relations?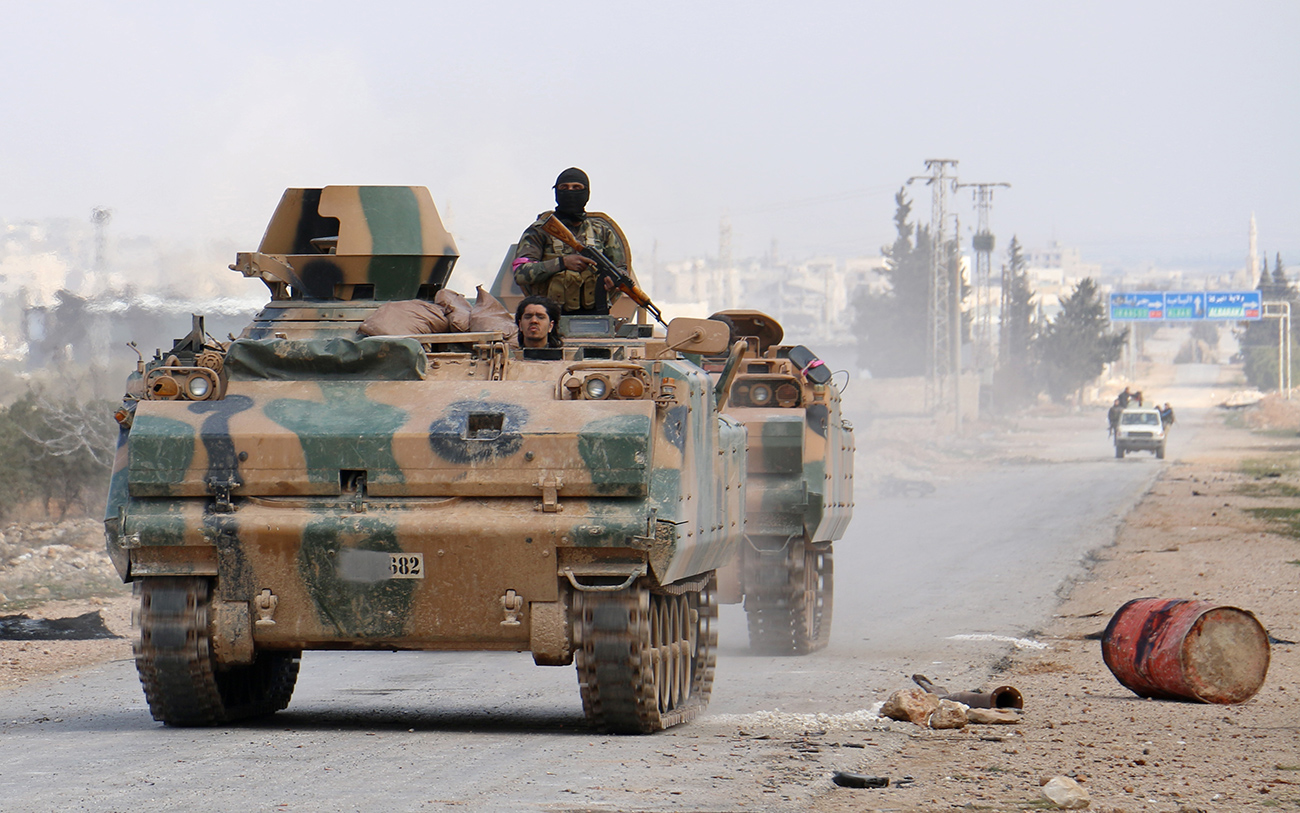 Turkey-backed-opposition fighters advance in an armoured personnel carrier on the western outskirts of the northern Syrian city of al-Bab in a bid to enter the city and retake control of it from the Islamic State group on Feb. 9, 2017.
Reuters
On Feb. 9, Russian warplanes accidentally hit a Turkish army position in north Syria, killing three soldiers. Both countries have remained calm, however, because their interests in Syria are too interwoven for relations to be ruined by the accidental tragic deaths.
"Russian military planes accidentally struck a building where Turkish servicemen were positioned," the General Staff of the Turkish Armed Forces said on Feb. 9. The incident took place near the city of Al-Bab, which is under control of the Islamic State. The city is the last ISIS stronghold in the north of Syria.
In January, Russia and Turkey made joint strikes on ISIS militants near Al-Bab and have been coordinating actions at the highest level, but this time the coordination clearly failed. Russian bombers hit a position where Turkish servicemen were stationed, resulting in three deaths and 11 wounded.
Kommersant cited Russian Defense Ministry sources as saying that the coordinates of the targets were agreed upon earlier, but the tragedy might have been due to "the uncoordinated movement of Turkish ground troops."
Restrained reaction
The previous Russian-Turkish incident that led to fatalities occurred on Nov. 24, 2015 when the Turkish Air Force shot down a Russian Su-24 bomber that allegedly violated Turkey's air space. Two Russian pilots died, and Moscow's reaction was extremely harsh. President Vladimir Putin called the attack, "a stab in the back by supporters of terrorists," and Moscow hit Turkey with economic sanctions. Relations remained exceptionally cold until Turkish President Recep Tayyip Erdogan apologized in June 2016.
This time, however, the situation was completely different. Turkish General Staff emphasized that the attack was unpremeditated and that Russian aviation was attacking ISIS militants. Immediately after the incident Putin called Erdogan and expressed his condolences. Ankara is satisfied with Moscow's reaction, reported TASS, citing a source in the General Staff of the Turkish Armed Forces. In his words, Russia and Turkey will form a special commission to "prevent such incidents in the future."
No serious consequences
"Turkey could have repaid Russia for Putin's harsh reaction to the downed Russian plane, but it won't," wrote Alexander Baunov, chief editor of the Carnegie Moscow Center webtsite, on his Facebook page. "Unlike in 2015, Turkey no longer has its own game plan in Syria."
In addition to joint airstrikes against ISIS, Russia and Turkey are trying to persuade both sides in the Syrian civil war to move towards a peaceful solution. Together with Iran, Russia and Turkey were co-sponsors of peace talks held in Astana, Kazakhstan.
"Russian-Turkish ties have a deep reserve of durability that allows the countries to distinguish real intentions from unfortunate circumstances," explained Yuri Mavashev, director of the political department at the Center for Modern Turkey Studies, adding that Moscow and Ankara earlier agreed on creating spheres of influence in Syria and these accords are respected.
Victor Nadein-Raevsky, a top specialist at the RAS Institute of World Economy and International Relations, also believes there won't be a radical deterioration in Russian-Turkish relations. "There definitely won't be a fatal rupture, but now it's important to strengthen coordination on the ground in order to avoid a similar incident in the future."
The knot around Al-Bab
Experts say the liberation of Al-Bab from ISIS is a matter of time. From the north Turkish forces and the Free Syrian Army (FSA) are attacking, while the Syrian Army backed by the Russian Air Force pushes up from the south. Syrian President Bashar Assad, however, is very unhappy with the presence of Turkish forces in Syria, and this creates potential for a conflict.
"The front where ISIS is opposing the Turks and the FSA, and the front where militants are fighting the government army, are moving closer together and are basically turning into one front line," said Ilshat Saetov, a Turkish affairs specialist at the Center for Middle East Studies that is part of the RAS Middle East Institute.
Saetov believes that such conditions create the strong possibility of unnecessary fighting and losses. On the other hand, neither Turkey nor the Syrian government want a full-scale war, and that's why even in the event of friendly-fire losses the conflict will not escalate.
"The military resources of the Syrian and Turkish armies are incomparable," said Mavashev. Also, Moscow has enough influence over Assad to stop him from taking action against the Turkish Army. On the other hand, Mavashev pointed out that conflict between front-line troops are difficult to control, especially as there might be volunteer units and mercenaries fighting on both sides.
If using any of Russia Beyond's content, partly or in full, always provide an active hyperlink to the original material.