Why did the Russian deputy prime minister abruptly cancel a visit to Iran?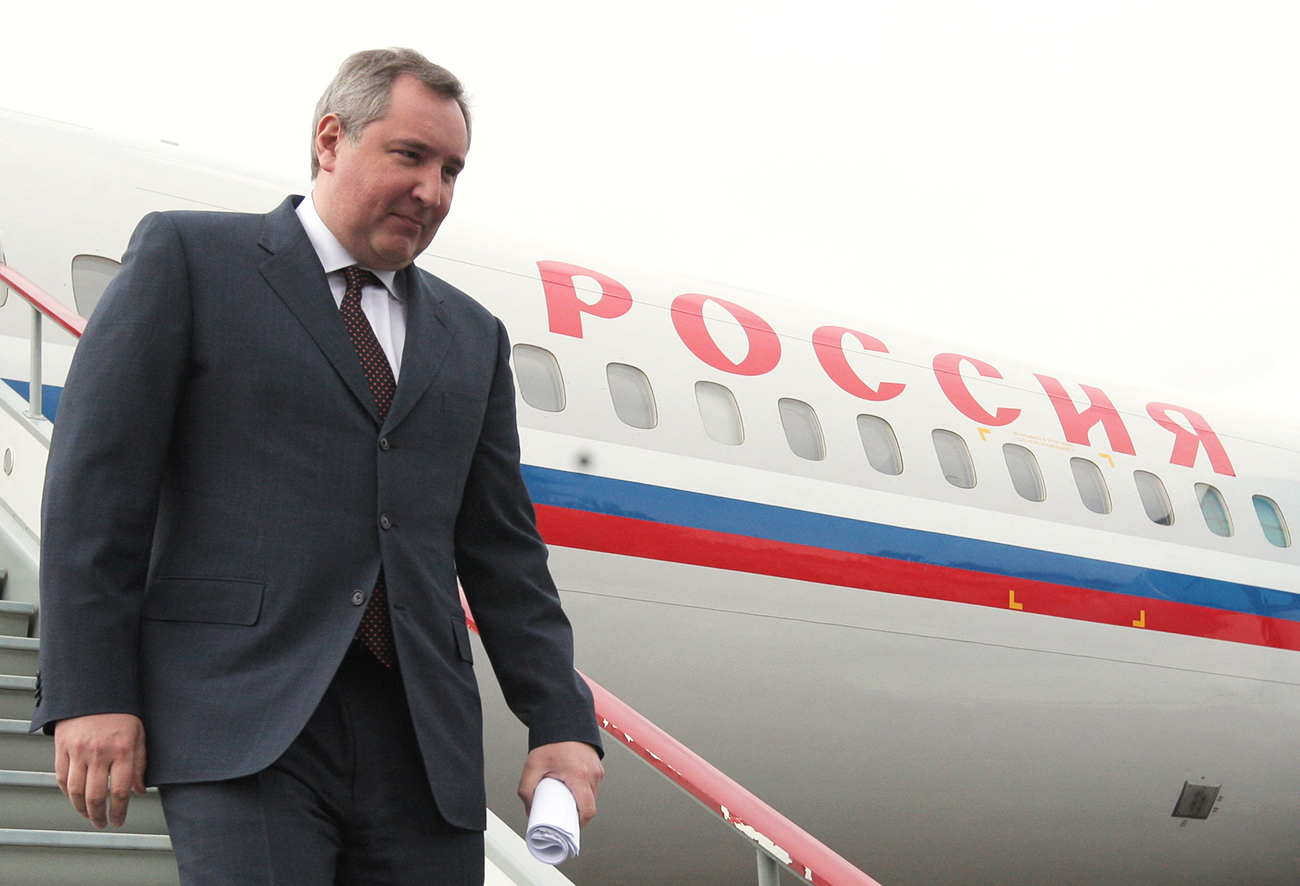 The plane carrying Rogozin and other officials was supposed to depart for Tehran early on Feb. 13, but the plane took off without the deputy prime minister.
Sergey Mamontov/RIA Novosti
Dmitri Rogozin's visit to Iran on Feb. 13 was officially canceled due to "technical reasons," but sources say the breach in secrecy was the real issue, and Moscow plans to slightly adjust bilateral relations with Tehran. The Kremlin now expects something back from Iran for all that Moscow has done, especially protecting that country from America's wrath.
Russian Deputy Prime Minister Dmitri Rogozin cancelled his trip to Iran at the last minute, reported (in Russian) Kommersant.
Rogozin was supposed to head the Russian delegation for talks to expand cooperation between the two countries, as well as to meet Sorena Sattari, the Iranian Vice President for Science and Technologies, and Hossein Dehghan, Iran's Defense Minister.
The plane carrying Rogozin and other officials was supposed to depart for Tehran early on Feb. 13, but the plane took off without the deputy prime minister, reported Kommersant. The other Russian officials continued with their visits. Rogozin's visit had been announced on Feb. 12 by Mehdi Sanaei, Iran's ambassador to Moscow, who said the Russian deputy prime minister might come to Iran "in the course of the upcoming month."
Desire for secrecy
Rogozin said the visit cancellation was due to "technical reasons," but sources say the real reason was Tehran's public announcement of the deputy prime minister's visit, which he requested to be confidential.
In addition to the committee of sciences and technologies session, the countries planned to discuss "rather delicate issues," including the reasons why Iranians are buying planes from Western countries.
"We give Tehran enormous help and they go and buy technology from those who belittle them with sanctions," said a high-ranking official.
Planes are paramount
In December, state-owned Iran Air signed a contract with Boeing to purchase 80 planes, and the company also has a contract with Airbus to buy 100 planes. The total value of these two contracts is close to $30 billion.
Economic cooperation with Russia, however, when compared to that with the West, is much more modest. In 2016, Sukhoi Civil Aircraft signed a memorandum of understanding with one of Iran's airlines to supply the Sukhoi Superjet 100, but the document is not binding.
Russian experts believe the Iranian market can accommodate 100 such planes. Cementing a full-fledged contract, however, depends not only on corporate negotiations but also on the U.S. Treasury Department. Its approval is needed to finalize the deal because American parts are used in the SSJ-100.
Iran is also interested in military planes, such as the Su-30SM, but at the moment they are restricted by UN Security Council Resolution 2231 that controls the supply of conventional weapons to Iran. The sale of military planes is possible only with the UN Security Council's permission.
A message to Teheran
The Russian Internet newspaper Vzglyad speculates (in Russian) that there might be other reasons for the cancellation of Rogozin's visit: "Owing to various circumstances, there is a window of opportunity for a certain reconfiguration of Russian-Iranian relations, and Moscow is using this moment to reset them to its advantage."
Moscow made an enormous contribution to reestablish Iran as a full-fledged geopolitical player on the international stage. Considering the current hawkish position of the U.S. administration, Moscow must do even more to protect Tehran politically and militarily, something that threatens the Kremlin with serious complications in its relations with the U.S., wrote Vzglyad. Thus, the cancellation of Rogozin's visit is a signal to Iran – compensate Moscow for losses incurred for supporting Iran's role as a geopolitical power.
"Reminding Iran about its preferences in airplane purchase shows how the Kremlin is ready to begin the discussion of Russia's continued support," wrote Vzglyad. "Now, we must wait for Iran's reaction. Experience shows that negotiations in the East are slow and entertaining."
If using any of Russia Beyond's content, partly or in full, always provide an active hyperlink to the original material.