Russia blames Washington hawks for Gen. Flynn's resignation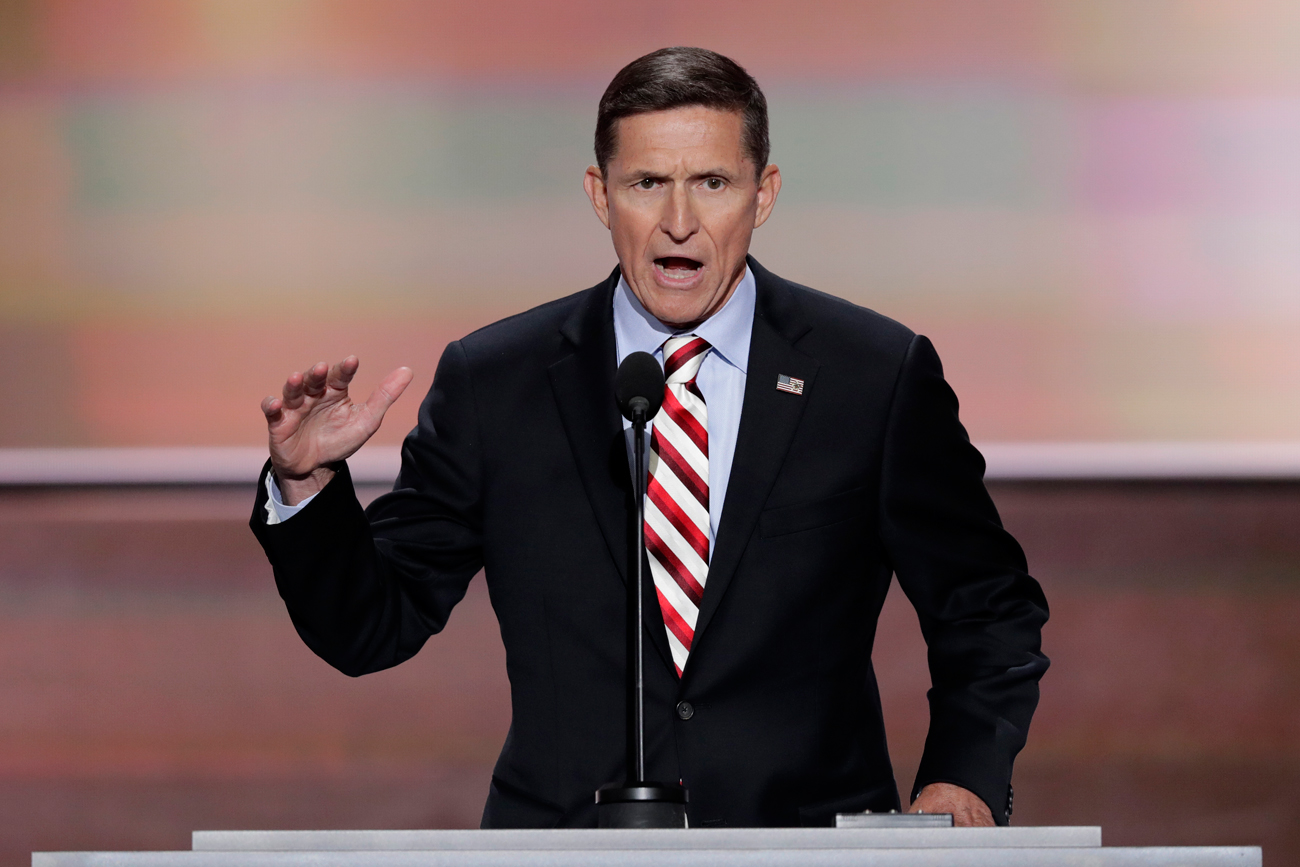 The story of Flynn's swift departure is seen as an attempt by far-right hawks to undermine Trump's presidency with accusations against one of his key staff members for having contacts with Russians.
AP
Russian officials believe that far-right hawks in the U.S. establishment seek to fan anti-Russian sentiments in order to undermine Trump's presidency and create more tension between the countries.
Lt. General (retired) Michael Flynn's resignation as National Security Advisor to President Trump sparked mixed reactions from Russian lawmakers, pundits, and government officials. While Duma deputies fault the rise of anti-Russian hysteria in Flynn's ousting, the Kremlin remained silent, leaving room for the expert community to speculate on a number of theories about Flynn's sudden departure.
Washington's Russophobia
Russian lawmakers expressed outrage over Flynn's unfortunate fate after less than a month as National Security Advisor.
"To expel the National Security Advisor for his contacts with the Russian ambassador, which is a usual diplomatic practice, is something far worse than paranoia," wrote (in Russian) Konstantin Kosachev, chairman of the Foreign Relations Committee at the Federation Council, the upper chamber of Russia's parliament, on his Facebook page. "Either Trump has not gained the independence he was hoping to have and is being cornered, or Russophobia has already infected the new administration from top to bottom."
The story of Flynn's swift departure is seen as an attempt by far-right hawks to undermine Trump's presidency with accusations against one of his key staff members for having contacts with Russians.
"Hawks in Washington perceived the mere willingness to engage in dialogue with the Russians as a thoughtcrime," wrote (in Russian) Kosachev.
Alexey Pushkov, a member of the State Duma, the Russian parliament's lower house, said Flynn fell victim to an aggressive media campaign that aims to exploit anti-Russian sentiments to undermine Trump's presidency.
According to the lawmakers, the powerful anti-Trump forces in Washington aim to exploit the image of the Russian menace and to uncover compromising facts about the White House, which would pave the way for Trump's possible impeachment.
Experts split
Russian experts are split regarding Flynn's resignation, and there are two thoughts on the matter: either Flynn's resignation is Trump's failure and an attempt at damage-control; or it's a clever move by the new administration to ease pressure from Congress, where anti-Russian sentiments prevail.
Dmitri Trenin, director of the Carnegie Moscow Center, said Flynn's resignation is the first major defeat for Trump during his brief time in the White House.
"Flynn's resignation is Trump's [first] major defeat, and not only in matters of personnel; opponents are striking back," wrote Trenin on Twitter.
Trenin added that foiling the rapprochement with Moscow is the real target of those behind Flynn's ousting, warning that Trump "may well concede to opponents on Russia," backing out of his initial attempt to reconcile with Moscow.
Others, however, say Trump's decision to push Flynn out shows how serious the president is about improving relations with Russia.
"If Flynn remained in office, then Congress and the mass media would have turned it into another Watergate, charging that a high-ranking U.S. official discussed lifting sanctions with the Russians, and that Trump's administration is prepared to make concessions to Russia without gaining anything in return," said Dmitri Suslov, program director at the Valdai Discussion Club.
In the U.S., the resignation's impact on bilateral relations is seen in less optimistic terms. "In all likelihood Flynn's resignation will set off a series of congressional investigations into Trump's ties or contacts with Russia and cripple the administration's ability to forge better relations with Russia," said James Carden, a contributing editor to The Nation, who previously served as an advisor to the U.S.-Russia Presidential Commission in the State Department.
On the other hand, the media frenzy about Flynn's contacts with the Russians may well be overrated, said Fedor Lukyanov, chairman of the Presidium of the Council on Foreign and Defense Policy.
"Trump's team has not yet been fully formed, and Trump will sack many of them and some will leave on their own; it will take months before the haphazard group of individuals will be able to transform itself into a coherent team of like-minded people," said Lukyanov.
The Kremlin refrained from comments on Flynn's resignation, possibly cautious of causing a new round of backlash in Washington.
If using any of Russia Beyond's content, partly or in full, always provide an active hyperlink to the original material.