Turkish business is anxious to return to the Russian market
According to RBTH's sources, once restrictions are lifted Russia will see the arrival of even new Turkish entrepreneurs, those who have never done business before in Russia.
AP
As Moscow and Ankara rebuild relations following years of tension over Syria, Turkish businesses hope to return to the Russian market. The journey back, however, will be rather complicated, and former market niches might already be occupied.
Turkish businesses have high hopes for President Recep Tayyip Erdogan's upcoming visit to Moscow on March 9-10, and they expect that the meeting with Russian President Vladimir Putin will reopen the Russian market for Turkish companies.
Sources in Turkish construction and vegetable businesses that export to Russia said the November 2015 downing of a Russian Su-24 warplane by the Turkish Air Force was the most serious blow to Turkish commercial interests in Russia in the post-Soviet era.
On Dec. 1, 2015, the Kremlin banned charter flights between Russia and Turkey, imposed a ban on package tours to Turkey, and declared a food embargo.
While the ban on package tours was lifted in summer of 2016, the food embargo and restrictions for Turkish companies in Russia have continued to be major problems for entrepreneurs.
Demand for seasonal goods
The international Internet trading center, All.biz, said that since sanctions were introduced and until now, the frequency with which Turkish companies visited the portal didn't decrease, but they did become noticeably less active.
"The number of orders from Russian companies has halved, and the number of requests for advertising and promotion of Turkish companies and goods in the Russian segment of the Internet also decreased," said All.biz.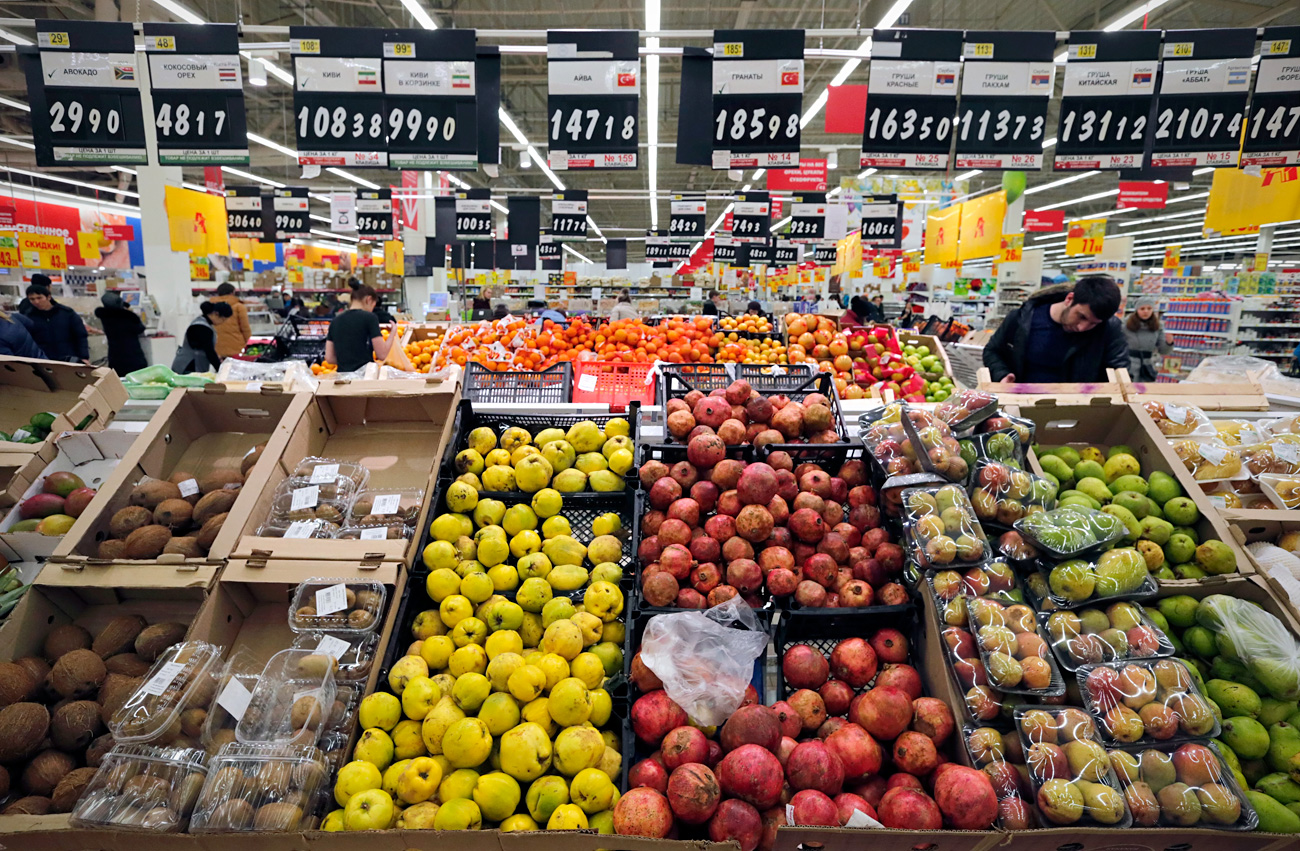 Turkish fruit and vegetables for sale in a supermarket in St. Petersburg, Russia. Source: EPA
At the same time, when Moscow and Ankara began to restore relations the Internet company noticed a positive trend in the seasonal goods sector. "These are mainly products for the summer: fabrics, ice cream, and vending machines selling water," said All.biz. The level of interest on the part of Russian companies is not down, while supply from Turkish firms is growing.
Restrictions imposed on Turkish companies naturally led to a mass flight of businesses out of Russia. Those who had to shut their business in Russia, or handed it over to their Russian partners, will return to Russia only if the state provides firm guarantees and declares its support.
Room fornewcompanies
According to RBTH's sources, once restrictions are lifted Russia will see the arrival of even new Turkish entrepreneurs, those who have never done business before in Russia.
The Aegean Young Businessman Association (EGİAD), for example, confirmed they're planning to develop new business projects in Russia. The head of the organization, Aydın Buğra İlter, said that despite the current sanctions and political crisis, relations between Russia and Turkey are improving. So, now is the time to increase cooperation between the two countries.
The Moscow Chamber of Commerce and Industry also sees growing activity from Turkish companies on the Moscow market. Its vice president, Suren Vardanyan, said there has been a marked increase in the activity of both those Turkish companies that remained on the Moscow market and those that want to enter it.
Increased local competition
"This year alone, the Moscow Chamber of Commerce and Industry received proposals from the Turkish Embassy in Russia, as well as from our partner organizations - the chambers of commerce and industry of Izmir, Bursa, and Istanbul," said Vardanyan. The proposals are not only about an exchange of business missions, but also about investment activities.
At the same time, Turkish businessmen working in construction and vegetable imports said that Turkish companies intending to return to Russia might face difficulties because their places are now occupied by local competitors.
"Demand for Turkish products and services remains, but they will now return to the Moscow market facing increased competition," said Vardanyan, adding that Turkish companies will also be affected by the consequences of the economic crisis because people's purchasing power has declined.
If using any of Russia Beyond's content, partly or in full, always provide an active hyperlink to the original material.