Russian pundits praise Trump's pick for new ambassador to Russia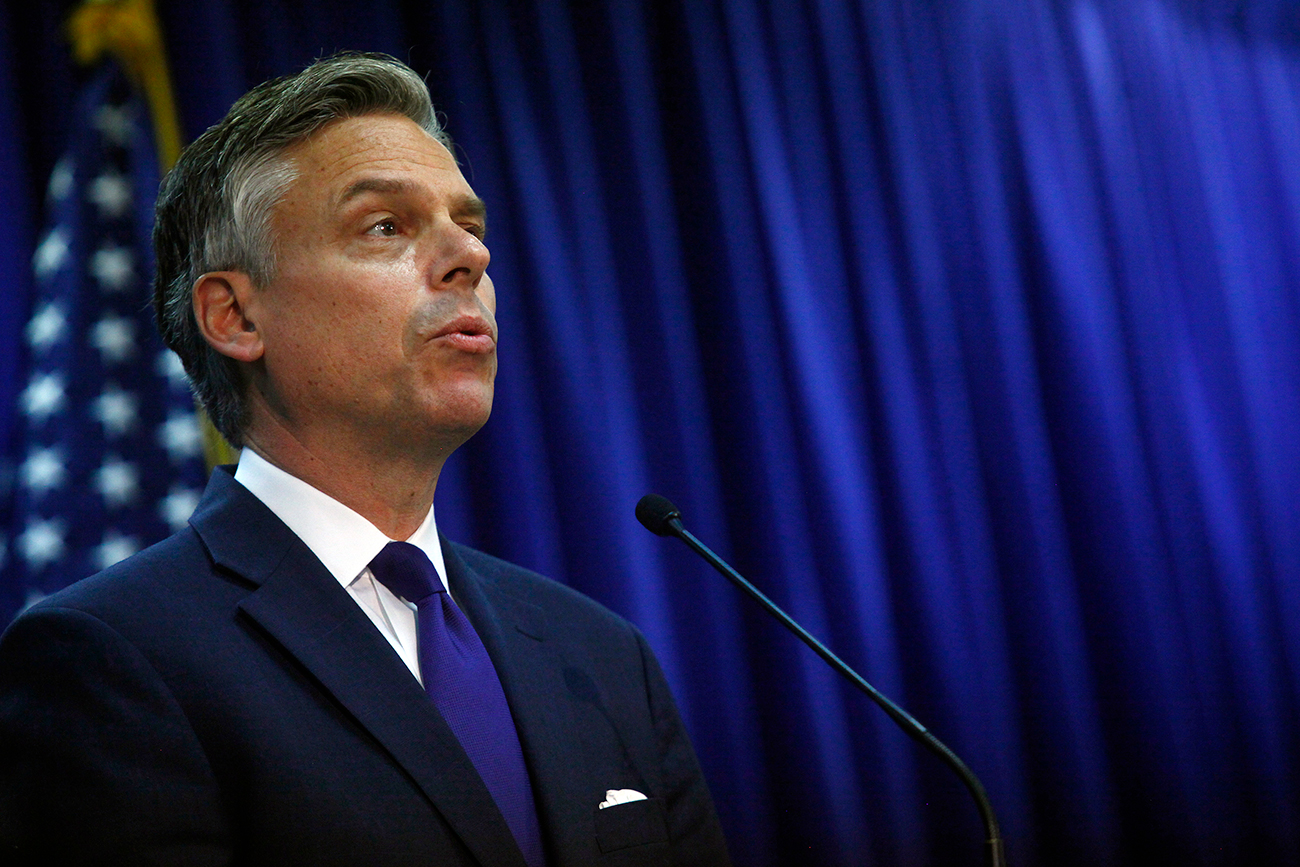 Russians are likely to view Huntsman as a stark contrast to Michael McFaul. Photo: Jon Huntsman Jr.
Reuters
Given the Russia-related political turmoil that has shaken his administration, Donald Trump had little choice in selecting a suitable candidate to serve as ambassador to Russia. However, experts agree that the reasons for choosing Jon Huntsman go beyond the Trump administration's internal policy considerations.
The appointment of Jon Huntsman as the new U.S. ambassador to Russia is designed to kill two birds with one stone for Donald Trump's administration, believe Russian policy experts. Besides distancing himself from the accusations of alleged ties to Russia that have rocked Trump's entourage since he was sworn into office, the appointment sends a number of signals to the Kremlin. Furthermore, it is designed to demonstrate a certain vision for bilateral relations to Russian leaders.
Great power games
"Being a former ambassador to China, Huntsman knows how to do business with great powers, and this is a very important signal. It means the Trump administration does not intend to democratize or adjust Russia in any other way to suit its short-term interests," said Dmitry Suslov, a professor at the Higher School of Economics and program director at the Valdai Discussion Club.
If this assumption is correct, Russians are likely to view Huntsman as a stark contrast to Michael McFaul, a former U.S. ambassador to Russia (2012-2014) and expert in the promotion of democracy who was widely disliked in the country for his policy positions and approach to diplomacy.
"Huntsman has a different approach a priori. He sees Russia as a foreign power with a different political culture," said Suslov.
By putting a former U.S. ambassador to China in Moscow, the appointment may also indicate a willingness by Washington to engage with Russia on a number of issues relating to Asia, a region in which U.S.-Russia interaction has been virtually nonexistent even though both countries previously announced "pivot to Asia" programs.
"Despite the fact that both countries had announced a willingness to refocus their foreign policy courses to Asia years ago, a Russia-U.S. dialogue on matters of the Asia-Pacific region has not been formed. Huntsman's appointment opens up the possibility to set a full-fledged Russian-American agenda in the Asia-Pacific region," said Suslov.
In addition to Huntsman's presumed ability to manage the dynamics of great power politics, his appointment is designed to shield Trump from further criticism domestically, say some experts.
Huntsman's Russia ties
"It's difficult to accuse Huntsman of having sympathies towards Russia of any kind," said Maxim Suchkov, an expert at the Russian International Affairs Council and a columnist for Al-Monitor's Russia Pulse.
Among other candidates who might have been considered for the post, Huntsman is the most shielded from accusations of holding pro-Russian sentiments. "Huntsman's appointment will not raise questions about alleged pro-Russian views, as could have happened if Dana Rohrabacher had been appointed," said Suslov, referring to a U.S. Congressman who is an outspoken critic of the Obama administration's approach to Russia.
Rohrabacher's vision for U.S.-Russia relations lines up with the one Trump has been drawing up thus far. Nevertheless, Trump has attempted to be careful not to provide his political opponents with further opportunities to accuse him of being soft on Russia's Vladimir Putin.
Even though Huntsman's family business owns Huntsman-NMG, a closed join-stock company based in Russia with branches in five cities – including in Moscow – Huntsman is believed to have avoided conflicts of interest since assuming public office.
"The company [Huntsman-NMG] has operated in Russia since 2007. Besides, its Russian partner's shares were bought out in 2012. This allows us to conclude that the company [its Russia branch] is successful. Otherwise, it would have left the market or limited its operations to selling goods produced in other counties," said Dmitry Baranov, a leading expert at the Finam Management company.
Baranov believes that operating a business in Russia is nothing unusual for a U.S.-based company. "This is not the only U.S. company that operates in Russia. There are tens if not thousands of those. It is a common practice that favorably affects the development of the entire industry, increases competition, and expands the range of goods that consumers can purchase," said Baranov.
Thus far, Huntsman's family business has not been depicted as an issue that would prevent him from accepting the nomination for ambassador to Russia. The nomination, however, is subject to U.S. Senate approval, and the issue of the family business in Russia may well surface during confirmation hearings.
If using any of Russia Beyond's content, partly or in full, always provide an active hyperlink to the original material.