A new front has opened in the Middle East, with Syria and Israel shooting at each other. On March 17, Syrian defense forces shot at (according to Tel Aviv) and downed (according to Damascus) an Israeli military plane intending to bomb Hezbollah positions on Syrian territory.
Several days later, the Syrians were able to down (according to both sides) an Israeli Skylark drone. Israeli Defense Minister Avigdor Lieberman then announced that if the attacks continue Israel will obliterate Syrian air defense systems from the ground. The Syrian president replied that no one has the right to tell his country not to defend itself and protect its borders.
"Defending our borders is our right, and it's our duty," said Syrian President Bashar Assad.
Of course, Assad is right, and Lieberman's statements seem extremely provocative. Not everything is so simple, however, because for years the Israeli Air Force repeatedly violated Syrian air space as Moscow turned a blind eye.
A gentlemen's agreement
Experts say that before the Russian Air Force began their campaign in the Middle East in 2015, Moscow tried discussing the rules of engagement and reaching an understanding with all participants in Syria's civil war. In part, Israel welcomed Russia's actions, because Moscow planned on eliminating enemies of the Jewish state in Syria.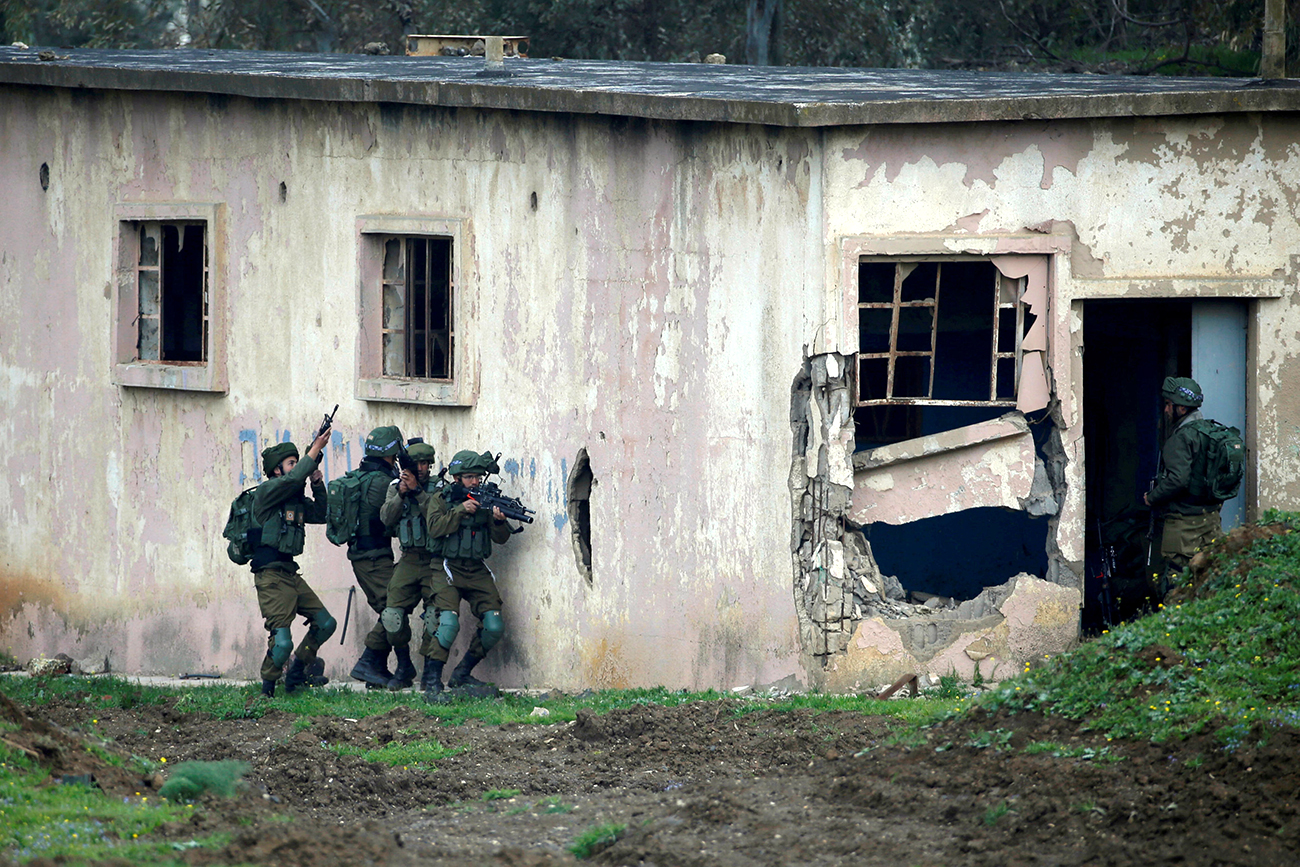 Israeli soldiers take part in an exercise in the Israeli-occupied Golan Heights, near the ceasefire line between Israel and Syria, March 20, 2017. / Photo: Reuters
At the same time, Netanyahu asked Putin not to hinder Israeli military operations against Hezbollah in the event the group strengthened and threatened the Golan Heights (Israeli-occupied Syrian territory that is crucial for Israel's defense), or received heavy-duty Russian weapons from the Syrian government. Thus, Russian air defense systems "did not notice" the Israeli planes that regularly bombed Hezbollah sites. The Israelis only had to avoid casualties among Russian servicemen.
Soldiers from Russia's ally, Iran, did not have such immunity, however.
"The gentlemen's agreement between Russia and Israel stated that Russia would disregard Israel's actions against Iranian convoys that brought weapons to Lebanon, as well as against Iranian forces located or possibly located in the Golan Heights. Tehran has lost up to 10 generals in Syria and some were killed by the Israeli Air Force because they got too close to Israeli borders," said Professor Vladimir Sazhin, senior researcher at the Middle East Institute in Moscow.
Naturally, Damascus wasn't happy, not to mention Hezbollah or Iran, but for a long time the Kremlin did not allow its disgruntled partners to ruin the deal.
Who stands behind Assad?
The situation has now changed, however, and Assad has begun downing Israeli planes. There can be two reasons for this. One is the Syrian leader's outright disobedience, which occurs from time to time. But experts believe the real motive is another: Assad is encouraged to take these steps by his other ally, Iran.
Iran has at least three reasons to hope Russian-Israeli relations will worsen. First, the goal might be to weaken Moscow, whose influence in Syrian affairs in particular, and in Middle Eastern affairs in general, has significantly increased. The Kremlin also does not intend to be Iran's loyal ally in its fight against Turkey and Saudi Arabia.
Secondly, Iran is interested in the disruption of relations between Russia and its archenemy, Israel, especially as American-Iranian relations sour and American-Israeli relations strengthen.
"Normal and even close relations between Russia and Israel, especially the rather warm relations between Putin and Netanyahu, who has been in Moscow four times in the last year and a half, are a headache for Iran," said Sazhin.
Thirdly, Iran hopes that a Russian-Israeli conflict will help bolster its positions in Syria. For example, at the end of 2016, Iran's Chief of the General Staff, Mohammad-Hossein Afshordi, announced Teheran's desire to set up Iranian bases in Syria.
At the moment these plans are questionable, and not only because of Israel, which will bomb Iranian bases as soon as they are built. The inadmissibility of Iran's military presence in Syria may become a part of the compromise between Russia and Assad's opponents.
"All of Assad's opponents, regardless of their political orientation and allegiances to foreign countries, are unanimously against Iran's presence in Syria. And after a period of relative stabilization, there will be the issue of getting rid of Hezbollah, as well as other pro-Iranian forces in Syria, not to mention the Iranian forces themselves," said Sazhin. However, in the event of a Syrian-Israeli conflict (or Russian-Israeli) Syria will ask Iran to deploy its forces on its territory.
Russia as mediator
As a result, Iran's actions have left Putin between a rock and a hard place. If Moscow tries to please Syria, it will ruin relations with Tel Aviv. If it tries to please Israel, it will lose its position in Damascus and will bring the issue of Iranian bases into the forefront.
The problem is that not only Russian-Israeli and Russian-Syrian relations are at stake, but also Russia's ambitions in the region. Moscow is trying to build a new security structure in the Middle East.
"The region is too conflictive and the interests of all sides at conflict with one another (Turkey, Israel, Iran, Saudi Arabia and others) now converge in Syria. And the Kremlin views this country as a firing range, where a compromise may be reached between all the Middle East adversaries, and thus a power balance system can be established in the region," said Vladimir Avatkov, director of the Center for Middle East Studies, International Relations and Public Diplomacy in Moscow.
Russia must play the key role of mediator in this system because it is the only country that maintains working relations with all Middle East countries. But if another big Middle Eastern war erupts in Syria, the local Syrian-Israeli conflict can quickly turn into a regional one, involving other countries, and then the Kremlin's hopes for peace and influence in the Middle East will crumble.
If using any of Russia Beyond's content, partly or in full, always provide an active hyperlink to the original material.