Will Boris Johnson be the go-between for Washington and Moscow?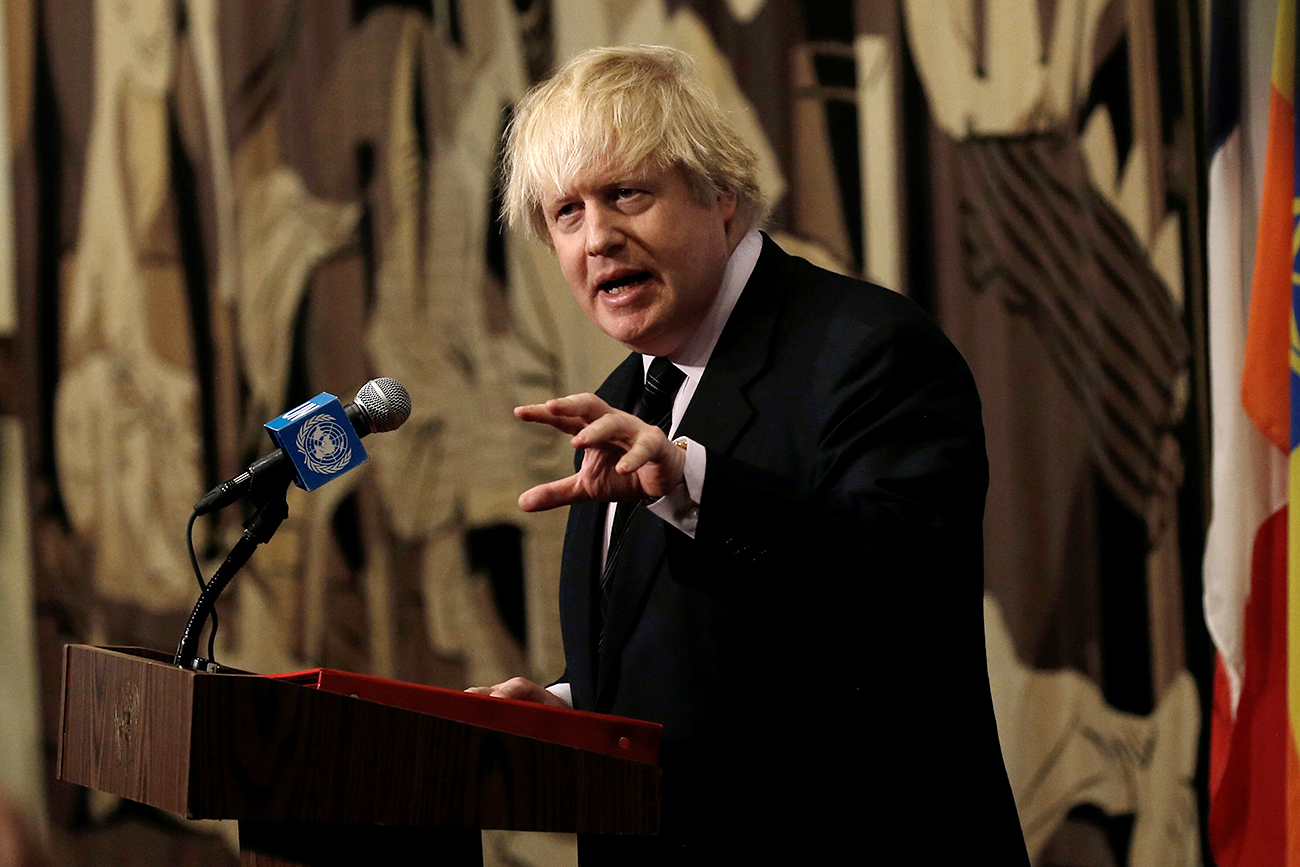 Boris Johnson's low-profile visit to Russia may have more significance than is widely assumed.
Reuters
Syria and Ukraine are said to be in the spotlight, but experts believe the trip is taking place for another reason.
The visit of the UK's Foreign Secretary to Moscow, which is reportedly (in Russian) taking place this week, hasn't made the front pages of the news in the UK or Russia. Bilateral relations between the two countries are tense and there's little hope Boris Johnson's trip will fix anything. However, some experts suggest his low-profile visit to Russia may have more significance than is widely assumed.
The British herald
The date of the trip has not been made public but it's thought Johnson will likely meet with his Russian counterpart right after his trip to the U.S. On March 4, the UK Foreign and Commonwealth office announced that Johnson has "accepted an invitation from Russian Foreign Minister Sergey Lavrov to visit Moscow in the coming weeks."
Some experts think the proximity of the UK Foreign Secretary's two outings indicates that the primary reason for Johnson travelling to Moscow is more related to U.S.-Russia relations, and less with Britain's policy towards Russia.
"Perhaps, Boris Johnson will play the role of a parliamentarian who could carry a message from the U.S. to Russia," said Oleg Barabanov, a program director of the Valdai Discussion Club and professor at MGIMO University.
He believes that Washington insiders prefer to delegate the role to a foreign national because for some time now, many U.S. politicians have preferred to avoid direct contact with Moscow. Johnson may be just the right person for the job.
"This is a man who has long had quite solid relations with Russia," said Richard Sakwa, also a member of the Valdai Discussion Club and Professor of Russian and European Politics at the University of Kent.
Good cop, bad cop
If the suggestion is true and Boris Johnson will indeed carry a message from the U.S. to Moscow, it might make sense given the UK has traditionally maintained close ties with the U.S. in the realm of foreign policy.
However, the special relationship is currently being tested by Trump's presidency, as it's not entirely clear how his stance on the EU, NATO, and Russia will play out. "The UK coordinates its policy with the U.S. very closely. The danger for London today, however, is that the U.S. policy is so confused that it makes it very difficult [to coordinate effectively]," added Sakwa.
Trump's unconventional foreign policy style, on the other hand, may prove a useful tool for Britain, who some believe might want to fuel the increasingly confrontational relations with Russia. "Britain and the U.S. may use a 'good cop, bad cop' tactic with Russia, where Britain takes a harder stance but allows for the dialogue to progress," said Barabanov.
This approach may indeed yield a result when the UK Foreign Secretary meets Sergey Lavrov in Moscow this week. The officials are expected to focus on the crisis in Syria and tense situation in Ukraine; two issues affecting both countries.
Preliminary information released by the Foreign and Commonwealth Office prior to Johnson's visit suggests there will be no love lost during talks. "Discussions will focus on the UK-Russia relationship and current international issues including Syria and Ukraine, where we continue to have significant differences. This is not a return to business as usual and the Foreign Secretary will continue to be robust on those issues where we differ."
Editor's note: Soon after publication the UK Foreign Secretary Boris Johnson informed Russian Foreign Minister Sergey Lavrov that his Moscow visit will be postponed for an unspecified amount time, due to rescheduling of the NATO Foreign Ministers meeting.
If using any of Russia Beyond's content, partly or in full, always provide an active hyperlink to the original material.