Russians celebrate Victory Day on May 9, commemorating the victory over Nazi Germany during World War II, which the country refers to as the Great Patriotic War. This day is not only a state holiday, but also something that touched the fate of nearly every family in Russia and other countries of the Former Soviet Union.
Along with the traditional parade on Red Square in Moscow, people march in public demonstrations wearing the St. George ribbon, which is the symbol of the victory over Fascism. The ribbon decorates storefronts, people's clothes and even cars.
New traditions also include the Immortal Regiment march, during which descendants of those who fought in World War II take to the streets with portraits of their ancestor soldiers. In 2016, President Vladimir Putin joined the march, and 700,000 in total turned out in Moscow alone.
'Immortal regiment' expands in the U.S.
The Immortal Regiment in the U.S. will be held on May 6, and over 20 cities in 11 states have already confirmed their participation, which is twice more than in 2016. The event will be held in the U.S. for the third time under the aegis of the Coordinating Council of Russian Compatriots.
The largest marches with veterans will be held in New York, San Francisco and Washington. Other cities include San Diego, Orlando, Jacksonville, Palm Coast, St. Petersburg, Seattle, Chicago, Denver, Philadelphia, Detroit and Portland.
In New York City, more than 500 people are expected to take part in the "Immortal regiment." The march will culminate at the WWII memorial in Battery Park, where hundreds of white balloons decorated with pictures of cranes - symbols of fallen soldiers - will be released. In addition, in honor of Victory Day, a plane with a huge St. George ribbon will fly over New York City.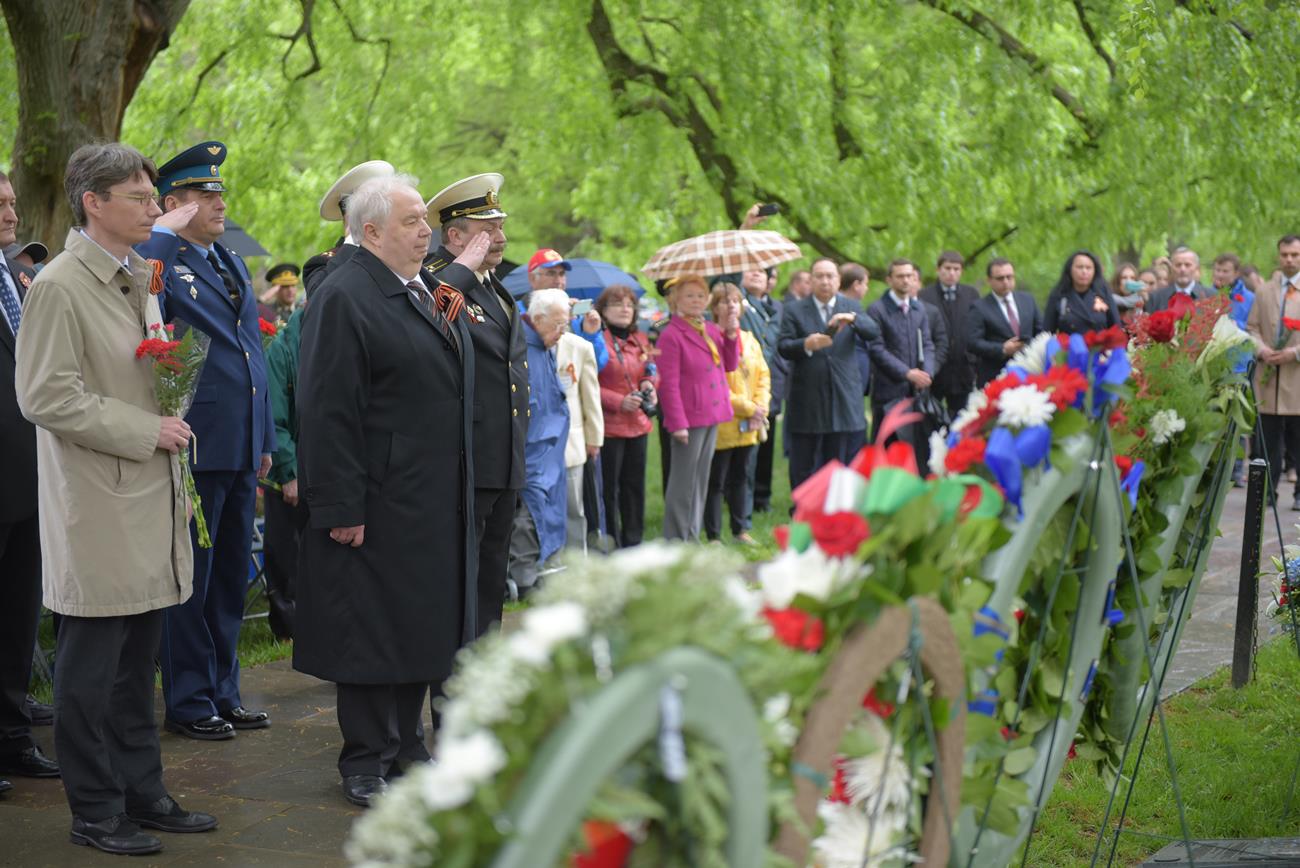 A ceremony at Arlington cemetery dedicated to Elbe Day, April 25, 2017. / Press photo
The St. George ribbon event was launched in Washington on April 25, following a ceremony at Arlington cemetery dedicated to Elbe Day. Volunteers in 30 U.S. cities will distribute ribbons to the general public, reminding them about the common history of Russia and America during World War II. Also, volunteers will visit veterans with gifts.
How to join the Immortal Regiment march>>>
Canada remembers
Russian compatriots also plan to hold the 2017 Immortal Regiment march in seven Canadian cities, including Toronto, Montreal, Winnipeg, Calgary, Vancouver and Victoria. In Toronto, there will be three marches (on May 6 and May 7).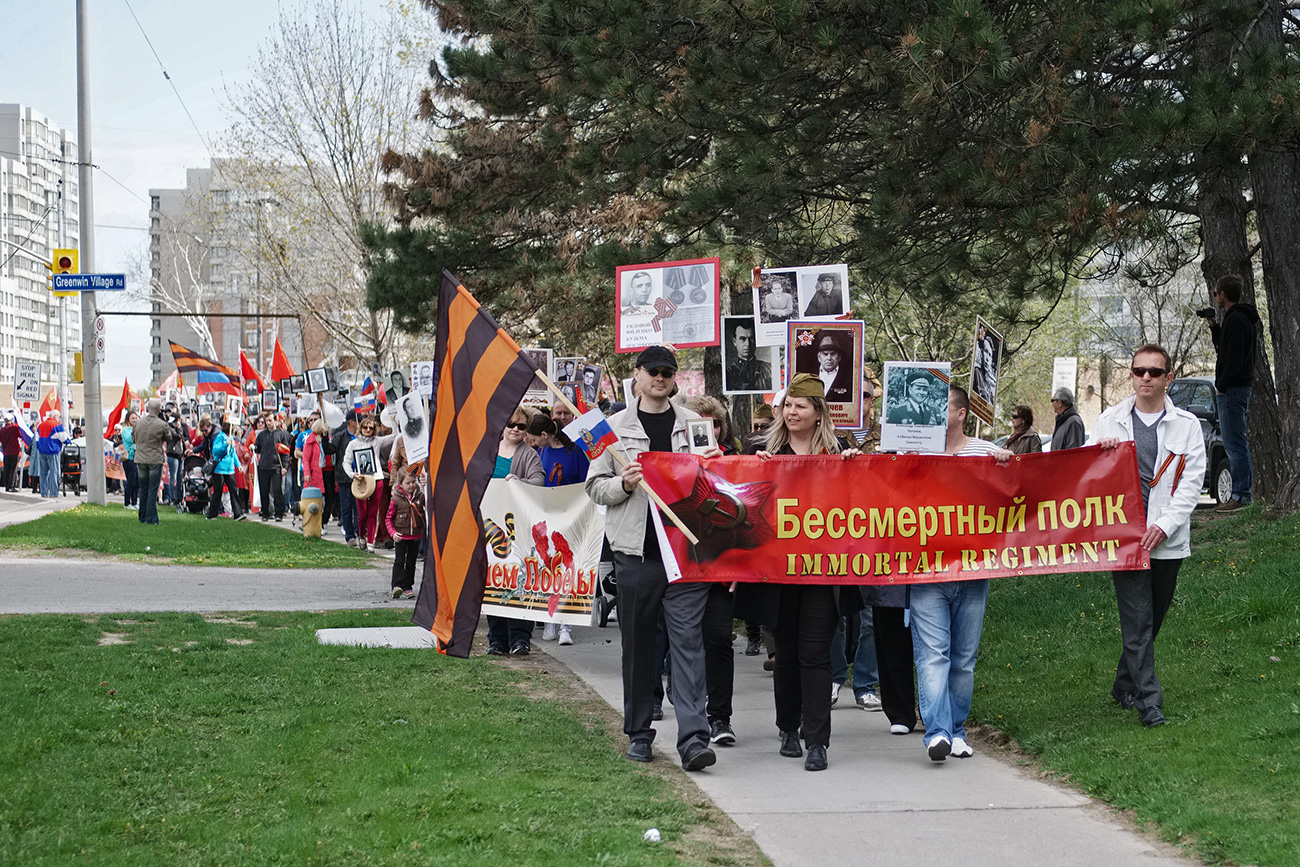 Immortal Regiment march in Toronto, 2016. / Photo: Sergey Zhernov/RIA Novosti
About 10,000 people are expected to take part in these events. In 2016, the Immortal Regiment marched in Toronto, Montreal and Calgary. In addition, among the May 9 celebration organizations of Russian compatriots will sponsor holiday concerts and festive dinners for veterans and children who lived during the war.
In Ottawa, participants also will lay wreaths and flowers at the National War Memorial and tomb of the Unknown Soldier the heart of Ottawa.
How to join the Immortal Regiment march>>>
Films and exhibitions in UK
The UK is celebrating Victory Day, and on May 6 there will be a London-Nottingam car rally and a Victory concert in the city of Wellow. On May 7, an exhibition dedicated to WWII opens in the Russian Arctic Convoy Exhibition Center in Scottish Achnasheen. On the same day, several war film screenings will take place in Brighton, alongside a talk by a survivor of the Siege of Leningrad, Anna Smirnova.
In London's Russian culture center, Rossotrudnichestvo, there will be a free exhibition of wartime posters from May 9 to May 16. Flowers will be laid at the Soviet War memorial near the Imperial War Museum in the morning, and in the evening there'll be a concert at the Under the Bridge club at Stamford Stadium.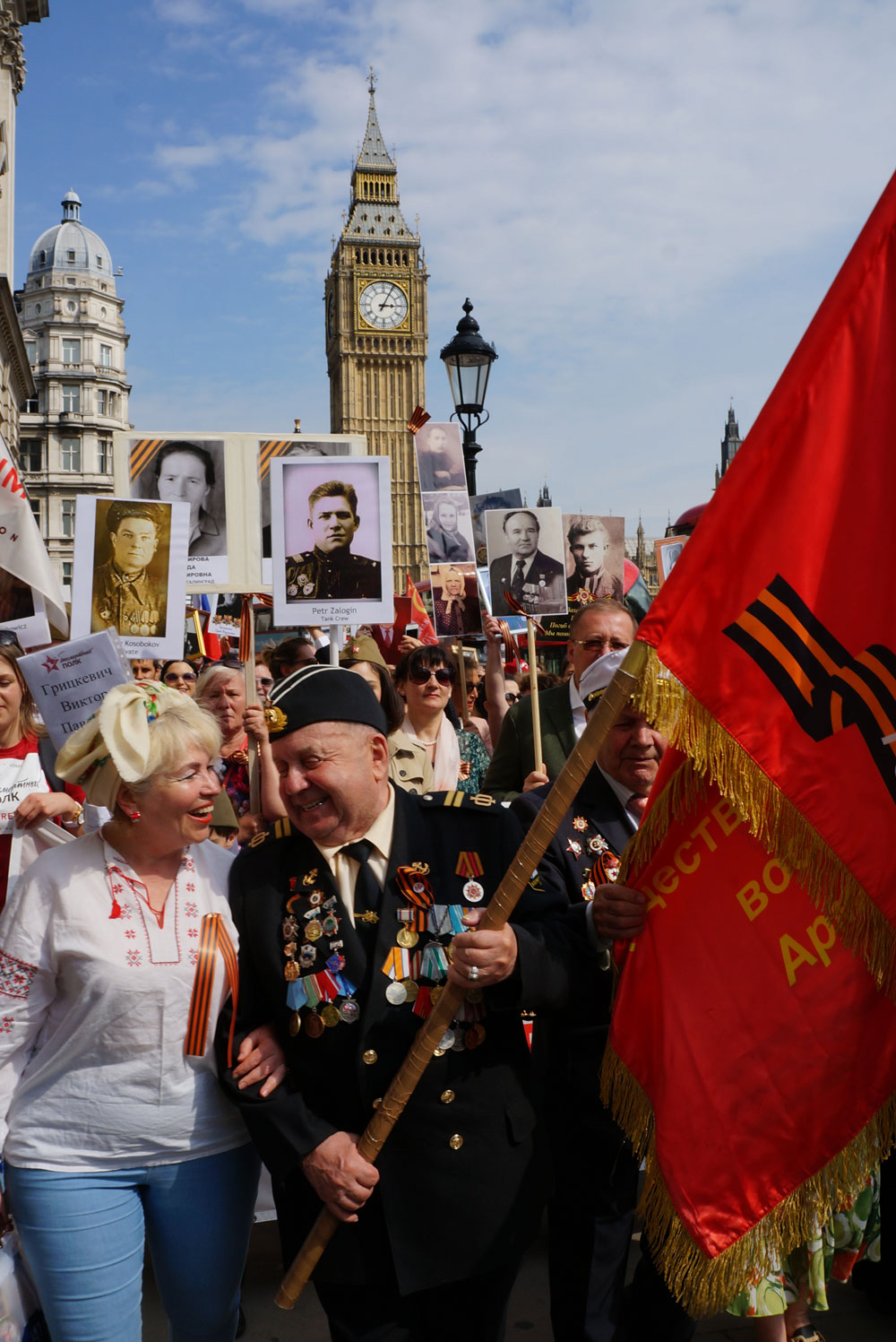 The Immortal Regiment procession in London, 2016. / Photo: Yelena Bozhkova
The Immortal Regiment will march in the UK, in Manchester, Derby and Mansfield on May 7, and in London and Cardiff on May 9. Last year, London's march gathered more than 1,000 people. Many people will, of course, wear the orange and black St. George's ribbon as a symbol of remembrance. In the UK, it can be obtained free of charge from the Russian embassy; applications with your postal address and self-addressed envelope with a 2nd class stamp should be sent by post to 6/7 Kensington Palace Gardens, London, W8 4QP.
For more information and links to the events click here>>>
If using any of Russia Beyond's content, partly or in full, always provide an active hyperlink to the original material.