Russia has no means to counter U.S.'s 'instrument of genocide' in Syria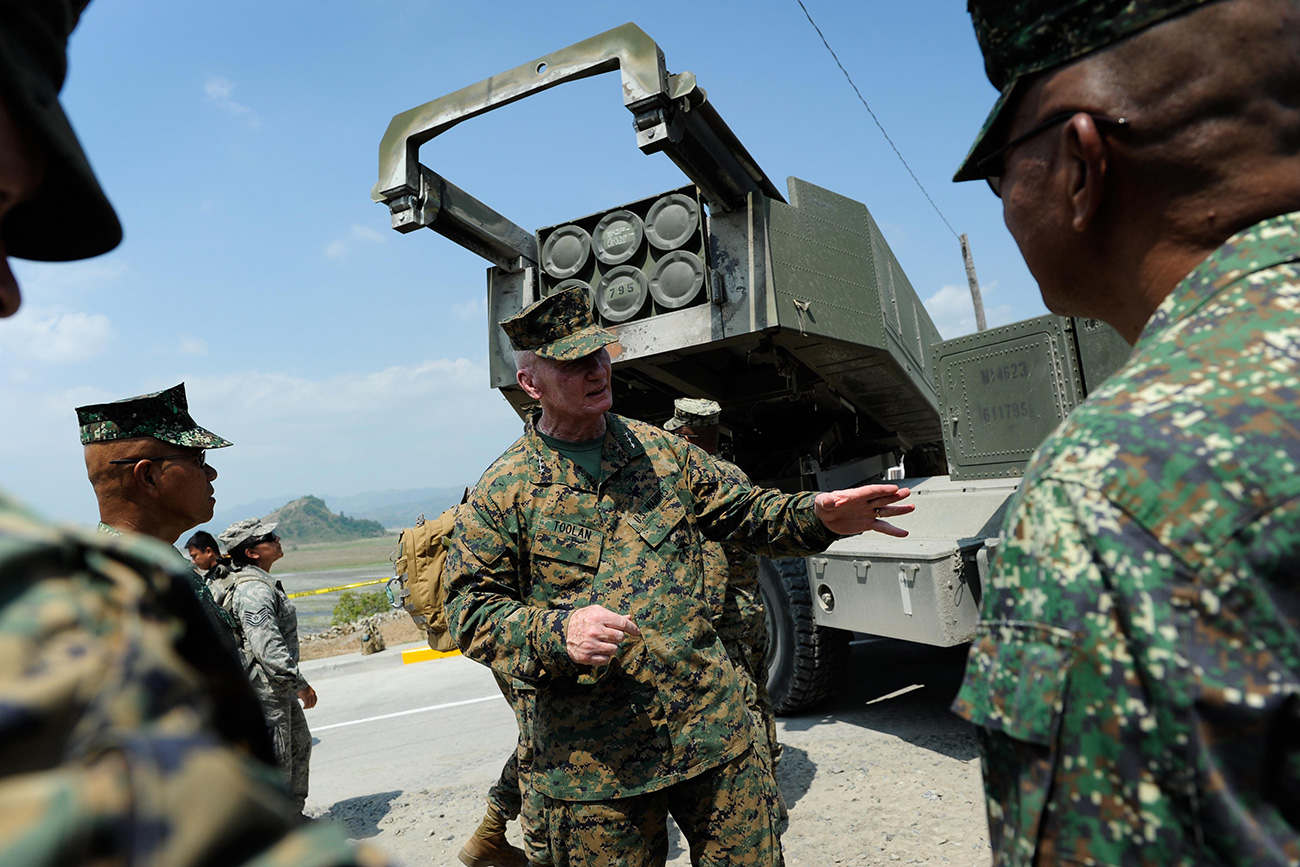 U.S. Lieutenant General John Toolan (C) stands behind a High Mobility Artillery Rocket System (HIMARs) during military exercises in 2016. Source: Getty Images
High Mobility Artillery Rocket System (HIMARS) deployed by the U.S. to the Syrian city Al-Tanf threatens the Syrian army and Russia cannot offset it without dramatically escalating the conflict. The deployment, however, does not affect the dynamic of Raqqah offensive conducted by the U.S.- and Russia-backed forces fighting against ISIS.
The only way for Russia to neutralize the American HIMARS, recently deployed to Al-Tanf, is to "destroy them when they are being preparing for launch," a Russian military expert, Dmitri Litovkin, told RBTH.
There is effectively no other way, technology-wise, Russia or the Russia-backed Syrian army could counter the threat posed by the rocket systems reportedly deployed to Syria's south. "This system's shells are unguided: They will reach their destination if they are dropped from the launching rocket," said Litovkin. "It makes no sense to try to shoot these missiles down using anti-missile defense systems because a HIMARS rocket costs much less than that of the defense system countering it," said the expert.
However, the military build-up in the southern part of Syria does not appear to critically undermine Russia's interests in Raqqah, a key city in both U.S. and Russia's military campaigns in the country.
"Instrument of genocide"
HIMARS's fire range can reach up to 300 kilometers maximum, which leaves Raqqah and the surrounding area out of the system's reach. The main goal of the U.S., therefore, is enforcing a unilaterally declared "de-confliction zone" in the area to prevent Iran from sending supplies to the Syrian army.
"Deploying HIMARS, the U.S. sends a clear signal to Moscow and Damascus that it won't give Syrian-Iraqi-Jordanian border under the control of pro-Syrian government and Iranian forces," Alexey Khlebnikov, Middle East expert at Russian International Affairs Council, told RBTH.
The expert says it is unlikely that the deployment of the highly capable rocket systems has anything to do with the planned Raqqah offensive. "The U.S. tries to prevent pro-Syrian government forces to cease a strategic town of Al-Tanf and get the highway which connects Damascus, Bagdad and Tehran under control. Otherwise it would mean that Iran could send weapons and other supplies to the Syrian Army directly. This is why the U.S. decided to set up its own 'de-confliction zone" there,' he said.
Although HIMARS does not seem to impact the area near the strategic city of Raqqah, besieged by ISIS militants fighting off the U.S.-backed Syrian Democratic Forces (SDF) as well as the Russia-backed Syrian army (SAA), it critically undermines capacity of the Syrian army as it blocks the southern area of the country.
"HIMARS burns out hectares of land. Depending on the missile, it can not only destroy manpower of the opponent but scatter anti-personnel and anti-tank mines across wide area. This is a cheap, effective 'instrument of total genocide'," said Litovkin.
Raqqah offensive
Yet, despite apparent disagreement between Moscow and Washington over how the war should be fought, experts do not exclude the possibility of cooperation between the U.S.- and Russia-backed forces liberating Raqqah from ISIS militants.
There is a possibility that "SAA forces and SDF would divide zones of their responsibility and would coordinate their offensive to liberate Raqqa from ISIS," says Khlebnikov, highlighting that this will 'certainly decrease casualties during offensive" and provide "a good example for future operations against ISIS.'
One cannot rule out, however, a scenario where the SAA and SDF forces are competing for influence in Raqqah when the city is finally being liberated from ISIS.
"Russia's and U.S. role is crucial here. If Moscow and Washington agree to coordinate during Raqqa offensive it will be translated to the level of SAA and SDF. If they don't, escalation between Russia and US-backed forces becomes more possible," said Khlebnikov.
If using any of Russia Beyond's content, partly or in full, always provide an active hyperlink to the original material.