Having led the German government for 16 years, from 1982 to 1998, Helmut Kohl was able to work with the last Soviet leader, Mikhail Gorbachev, and the first Russian one, Boris Yeltsin. Both men spoke of the German leader in excellent terms, despite the fact that Kohl defended Germany's interests as he understood them, with undoubted toughness.
"Kohl's demarche"
"A person with enormous vitality and strong character," said Gorbachev, about the German chancellor, calling him "an intelligent politician, and a frank, sincere man."
Gorbachev remembers that in the beginning relations between the two leaders, as well as relations between Bonn and Moscow, were not very good.
"Kohl publically, and impolitely, putting it mildly, called our Perestroika a propaganda stunt. Because of this demarche West German-Soviet relations were frozen," explained Gorbachev.
But later, when relations between the two countries improved towards the end of the 1980s, there were still reasons for conflict between Moscow and Bonn. They all concerned the issue of Germany's reunification, which was put on the USSR's agenda when the East German government began to lose control of the situation. Initially, Kohl and Gorbachev saw the solution to the German issue differently.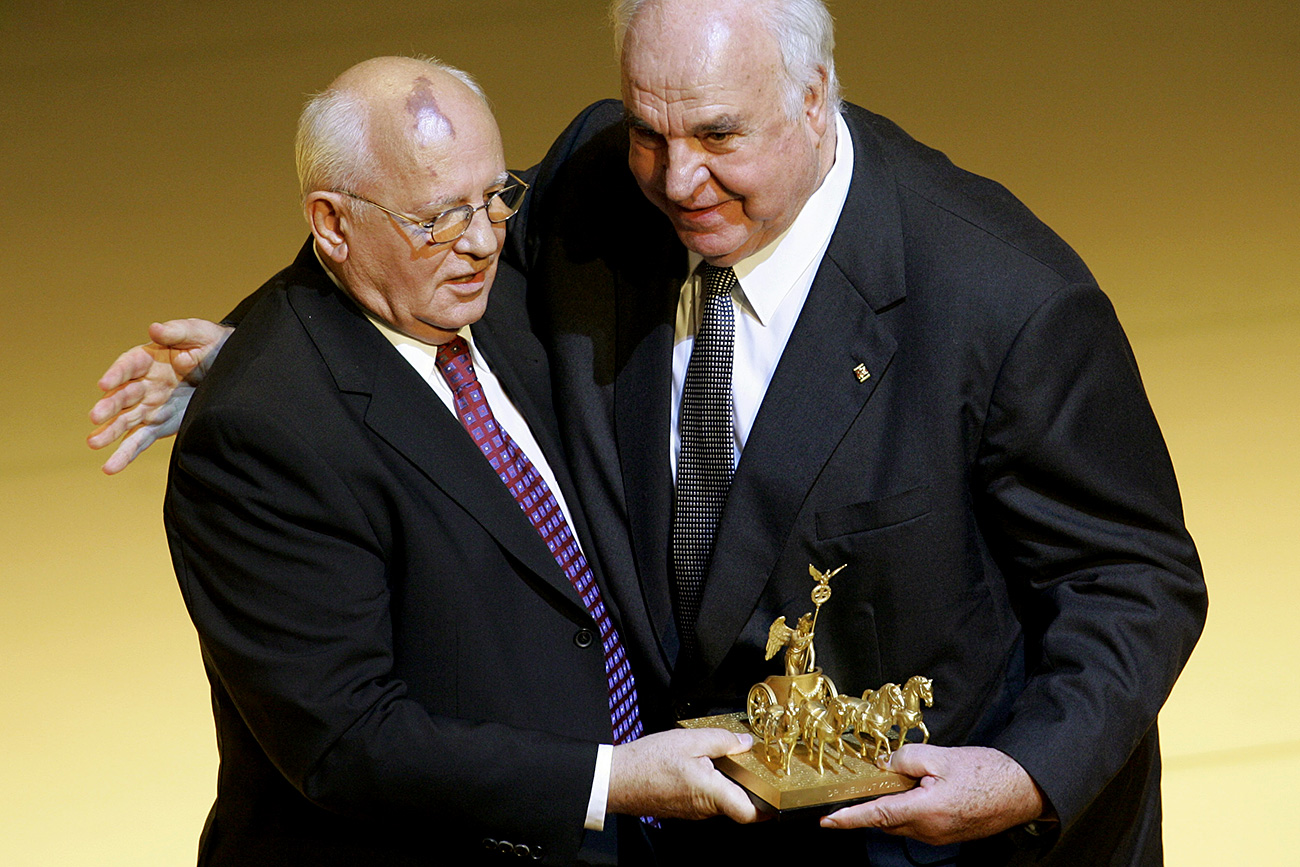 Former German Chancellor Helmut Kohl receives the Quadriga award from former Soviet Resident Mikhail Gorbachev, left, in Berlin on Monday, Oct. 3, 2005. Source: AP
Gorbachev changes views
In November 1989, Kohl announced his 10 Points program in the Bundestag, which aimed to reunite West and East Germany, and essentially create a confederate state. This step was not agreed with Gorbachev, although, as he remembered, both leaders agreed to discuss such initiatives.
At that moment, Moscow was not ready to see a unified Germany on the map of Europe. After Kohl's speech, Gorbachev told German Foreign Minister Hans-Dietrich Genscher that, "it must be said directly that these ultimatums are being given to an independent and sovereign German state," calling the chancellor's statement "a political blunder."
However, in early 1990, there was a real turnaround in the Soviet leader's mood and Gorbachev admits now that Germany's reunification became a purely practical objective.
Some scholars believe that the turnaround was related to the request the Soviet leader sent Kohl in the beginning of January. Moscow asked Bonn to provide the USSR with food aid worth several hundred million marks. The increasingly crumbling Soviet economy could no longer feed the country. Kohl responded in the affirmative.
During Kohl's urgent visit to Moscow on February 10, 1990, Gorbachev told the German chancellor that, "the issue of the German nation's unity… will be decided by the Germans themselves." Basically, Moscow gave the German chancellor's reunification policy the green light. It is not a surprise that at the press conference in the Soviet capital Kohl said there has been a "breakthrough" in Germany's reunification process.
Germany's NATO membership
Just like West Germany's absorption of its economically weaker eastern neighbor, Kohl was also able to get his way concerning reunified Germany's membership in NATO. Initially, Moscow insisted on Germany's non-aligned, neutral status, but later agreed to have the country become a member of the North Atlantic Alliance, which occurred during Kohl's visit to the USSR in July 1990.
As Kohl's advisor, Horst Teltschil remembered that when arriving in Moscow the chancellor demanded that Gorbachev accept reunified Germany's NATO membership, otherwise he would immediately leave the USSR and cancel the planned trip with Gorbachev to the northern Caucasus. As he did earlier, Gorbachev yielded. The Soviet leader agreed to withdraw troops from East Germany, and in exchange Bonn provided Moscow with financial aid and food supplies.
In the words of the former Central Committee of the Communist Party of the Soviet Union Secretary, Valentin Falin, on the eve of this meeting Gorbachev had asked Kohl for "three-four billion marks," saying that he "did not have anything to feed the people with."
In the opinion of the former apparatchik, the figure could have been significantly higher: the USSR could have received more than 100 billion marks from Germany. Moreover, besides not being able to insist on a reunified Germany's non-aligned status, Moscow agreed to U.S. tactical nuclear weapons remaining in western Germany. This was called "NATO's greatest triumph."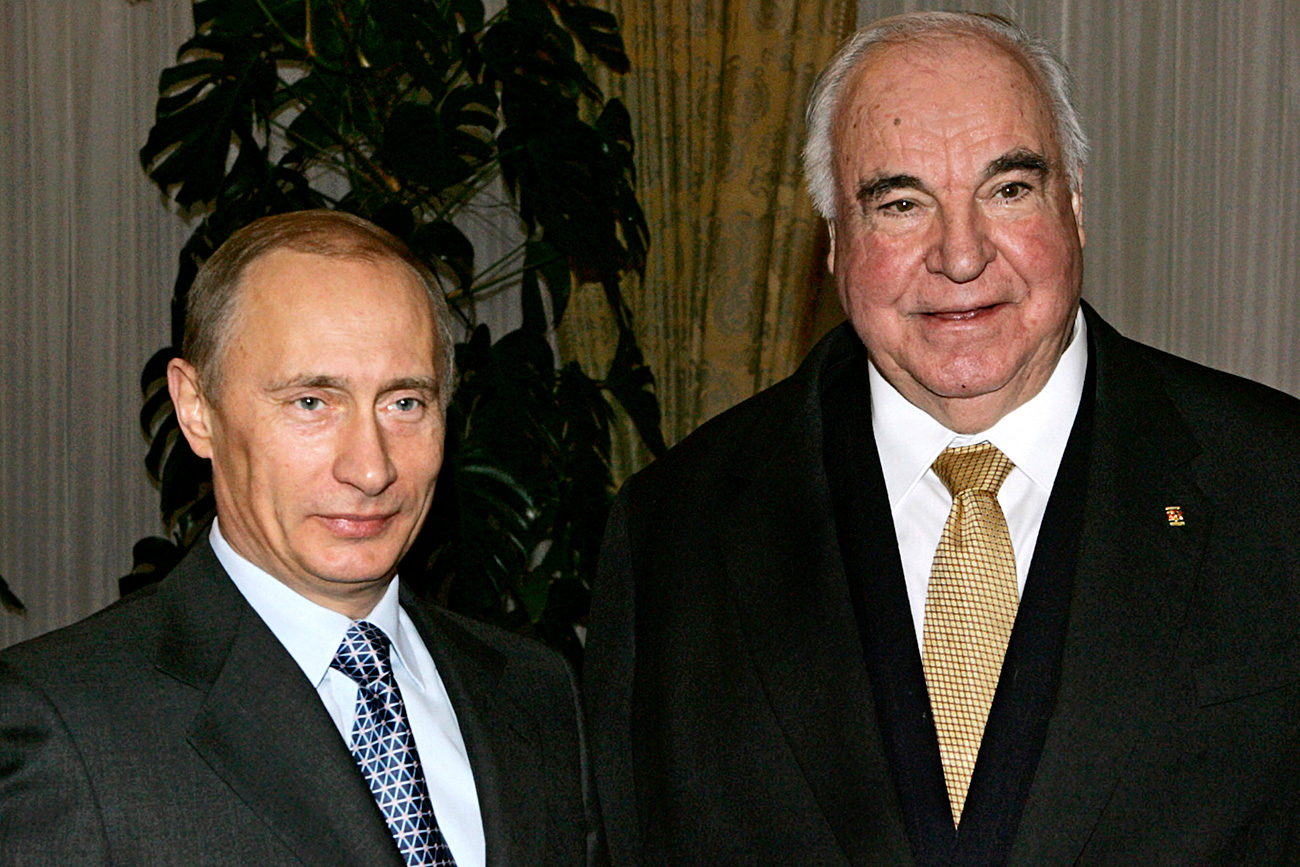 Russian President Vadimir Putin smiles as he meets with former German chancellor Helmut Kohl, right, in the residence of Novo-Ogaryovo, just outside Moscow, Thursday, Feb. 2, 2006. Kohl arrived in Russia to take part in first Russian President Boris Yeltsin's 75th birthday celebration, which took place in the Kremlin Wednesday. Source: AP
Kohl and Yeltsin
After the collapse of the USSR and Gorbachev's departure from the political scene, Kohl formed relations with Gorbachev's heir in the Kremlin - Russia's first president, Boris Yeltsin. In December 1992, Kohl made his first visit to the Russian Federation.
In total the German chancellor and Boris Yeltsin held about 20 meetings. The Russian leader was interested in preserving constructive relations with Germany and did not change the course that his predecessor had taken on the German issue. It was during Yeltsin's tenure that Soviet troops were withdrawn entirely from German territory.
When Yeltsin passed away in 2007, Kohl called his death a heavy loss, saying that he remembered "with pleasure our sincere and politically priceless meetings, during which he proved himself to be a reliable partner and a true friend."
Yeltsin also called the German chancellor his "friend" on many occasions. Yeltsin's widow Naina, expressing her condolences about Kohl's passing, stating that he was "a man who did so much for the development of equal relations between his country and the new, democratic Russia."
If using any of Russia Beyond's content, partly or in full, always provide an active hyperlink to the original material.