On Oct. 26, 1978, Alfa Foxtrot 586 was flying a secret and dangerous spy mission off the coast of Kamchatka at the height of the Cold War. His four engine aircraft crashed into the water and sank almost immediately under the huge waves churned up by a storm in the Bering Sea. The aircraft went down in just 90 seconds, its commander lost at sea and 13 of the 15 crew members were left floating in two rafts.
The Soviet fishing trawler, Mys Synyavin, was the only vessel close enough to help, and was directed to the rafts holding the American airmen, eventually resulting in the rescue of 10 and the recovery of three dead crew members from the AF 586. The survivors were given medical attention, but were worried they'd be treated as enemy spies. They were treated well, however, and returned to U.S. custody a week later.
For a long time, Soviet sailors were admired in the overseas media and former U.S. President Jimmy Carter even sent a personal telegram to thank the Soviet captain, Alexander Arbuzov.
"It's a good thing we were picked up by sailors from the Soviet Union instead of our own people. Otherwise we would have died," begins Ed Caylor, the co-pilot of the U.S. Navy's unfortunate spy plane, Alfa Foxtrot 586 (AF586).
-What do you mean, Ed?
-In the U.S. at that time, if somebody that cold was taken out of the water you'd be thrown into a hot bathtub immediately and then you'd die because all that cold blood goes right to your heart and causes a heart attack. But the Russian fishermen knew better. So when we got on the ship, they gave us honey and hot water and tea all mixed together. And so that warmth, that sweetness was great and warmed us from the inside out, not outside in. It was almost 30 minutes before they actually took our clothes off and put us in a hot shower, and by then our blood was warm enough.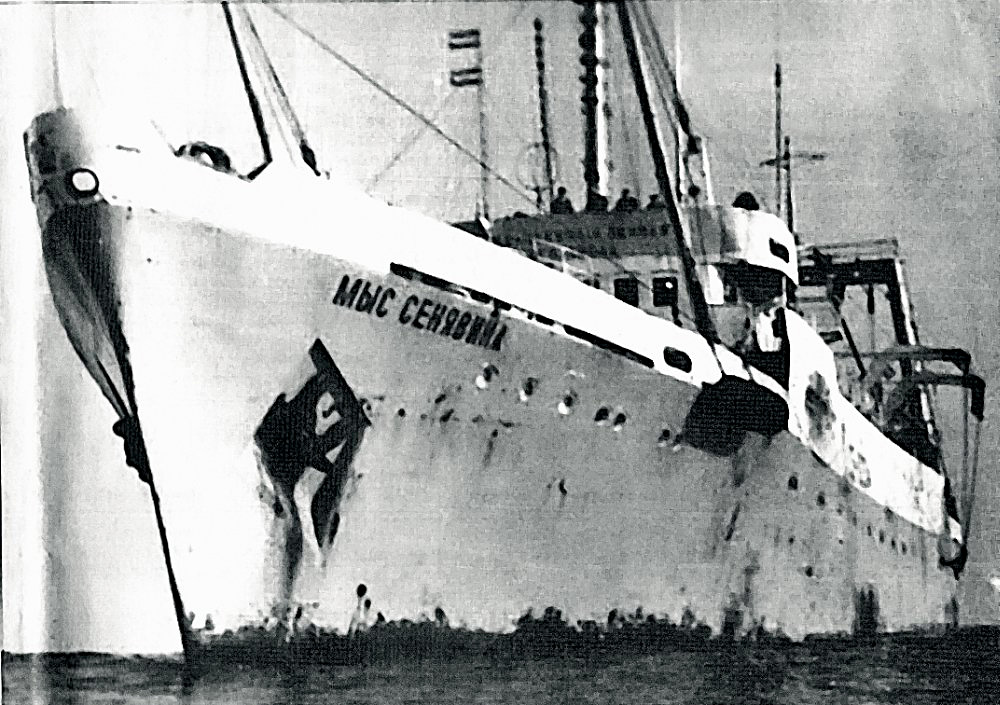 The 'Mys Synyavin' Soviet fishing trawler. / Archive Photo
After the plane crash, 13 crew members had to squeeze onto two inflatable rafts, which were being pounded by 10-meter waves. The only hope seemed to be American military aircraft circling overhead, and which tried to keep an eye on them and bring in rescuers.
-We were waist deep in water, it was impossibly cold, about 4 degrees. I was almost near death after 12 hours in the freezing water and three were already dead. But all of a sudden we saw a ship with all lights on. Someone in our raft said: "A ship!" I heard a ship's horn and there was no doubt [we were rescued].
-When did you realize that your lifesavers were Soviet fishermen?
-There was a spotlight and then we heard Russian voices. We had a ship on radar right before we crashed in the water. And we tried to get to it. I did not know until three years ago that the South Koreans were asked by our country to rescue us, but they said it's too dangerous. The Russians radioed Alexander Arbuzov and he said, "Of course I will."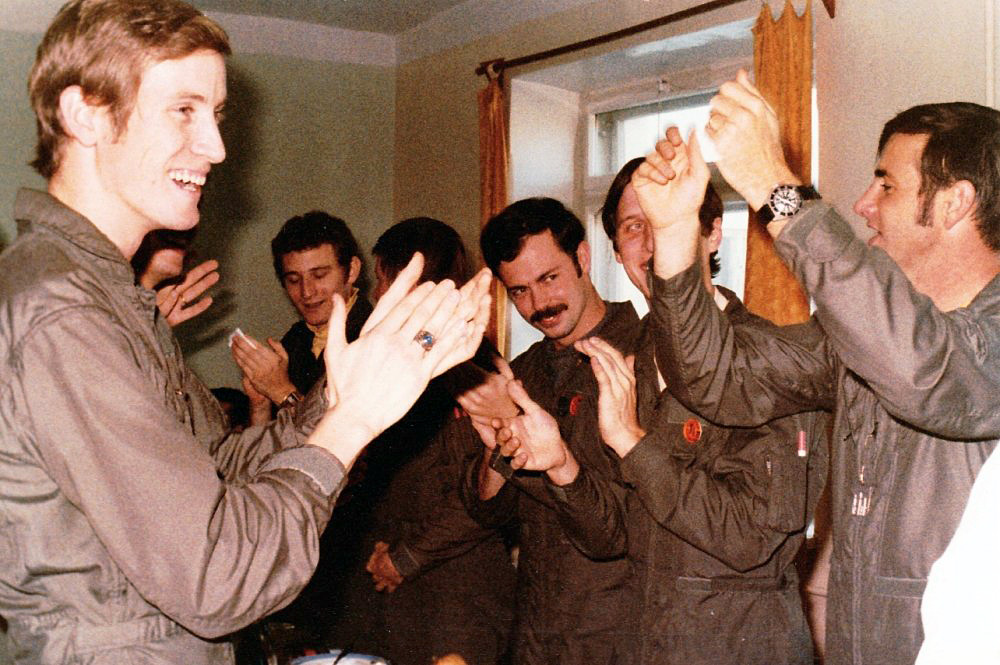 The U.S. crew onboard 'Mys Synyavin'. / Personal archive
'God came out of the heavens'
Caylor admires the professionalism of the Soviet captain and his team.
-Have you seen the movie Titanic? At the end, remember how they put the light boats in the smooth water and they had a really hard time. Alexander and his men lowered the life raft in those conditions when it was almost a hurricane. Just imagine: the water surface is where you are and all of a sudden a boat is 10 meters below. Absolutely perilous! Later, fishermen from the Mys Synyavin said that God came out of the heavens and calmed the waters. But Alexander also had to steer the boat so he'd block most of that wind. Think about what skill it took! They really risked their lives to save us…
-What were your first thoughts when you made it onboard the ship?
-We had tea with honey and I felt my energy returning. Today, I still drink tea with honey when its cold, and it always makes you remember being brought back to life in a simple and safe way. It's amazing how much a difference it made. I went from hardly being able to be aware and conscious to writing a message to nearby circling overhead American aircraft.
-Those were the first Soviet people that you ever met…
-Yes, they acted just like one human would to another. They were great and very curious. But we were not able to speak Russian, so we could not communicate that well. The radioman was the only English speaker, and there were places on the ship where we could not go, and so we did not. Obviously, we weren't going to go on the bridge or not go into the engine room. But we were able to walk anywhere we wanted to.
It took 48 hours for the Mys Synyavin to reach Petropavlovsk-Kamchatsky. The American crew were taken to a hospital, then sent to Khabarovsk and soon sent home to the U.S.
Final gratitude
It took almost 25 years for the rescuers and the rescued to reestablish communication. Attempts by the rescued to send messages and parcels to the crew of the Mys Synyavin had for years been unsuccessful, and only in 2003 did the Americans learn the name of their lifesaver – Alexander Arbuzov. Soon, they managed to meet in Las Vegas with Alexander and his team.
-What was your first question to Alexander?
-I asked him, "Alexander, why during difficult times between Brezhnev and Carter and our countries, why would you search for and save U.S. military spies?" He said: "Because we are both men of the sea and I must come for you." Can you say it any better than that?
-What impression did Alexander make on you?
-He's amazing, very honest and caring. He became a real star in Las Vegas, and we had to give him time to spend with his family because he was always with us. I was told that he became captain at the very young age of 28, and was promoted to a higher rank because of his good performance.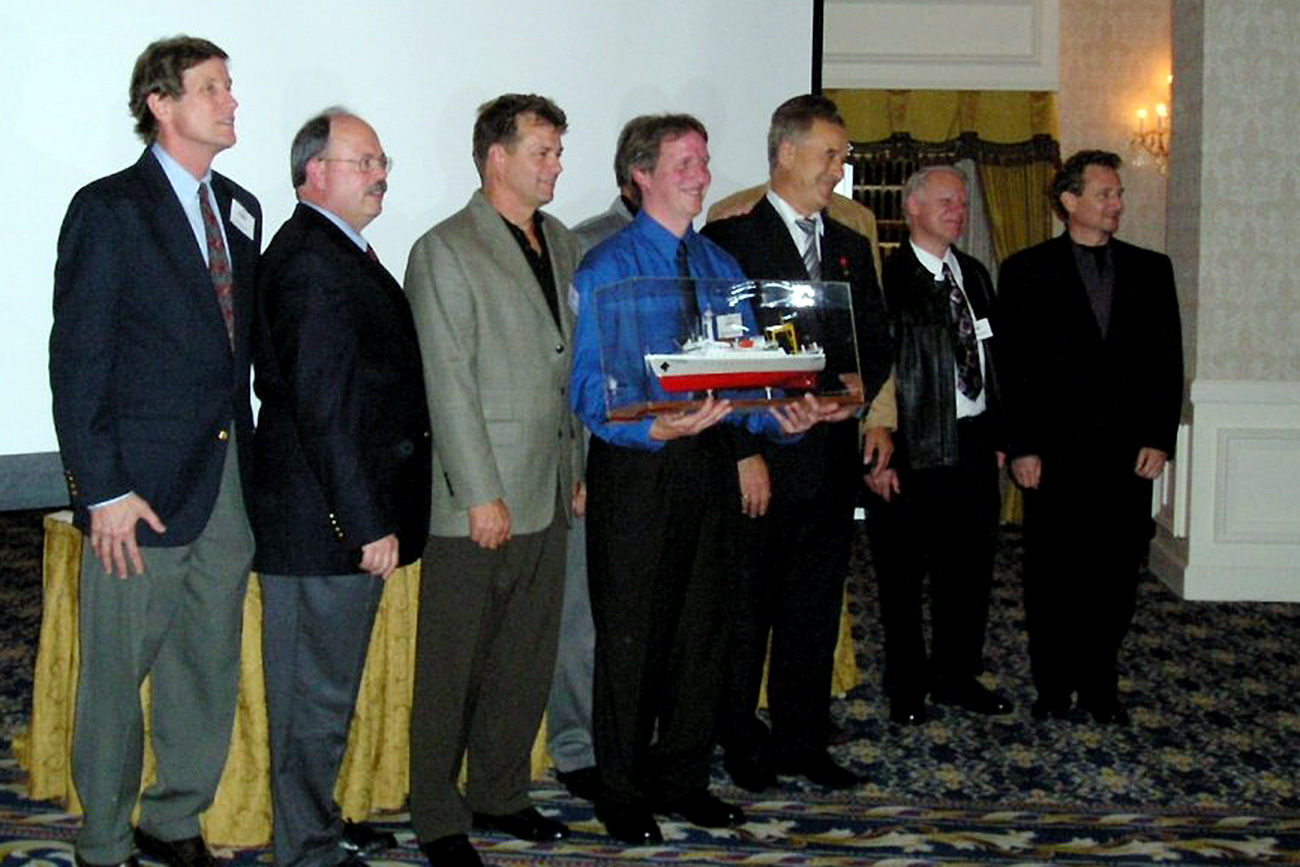 The meeting in Las Vegas, 2004. Edward Caylor (first left), Alexander Arbuzov (third right) and the 'Mys Synyavin' crew. / Personal archive
-Did you recognize each other?
-I think I saw Alexander on the Synyavin, but at that time he never mentioned that he was the captain.
Alexander Arbuzov passed away recently. When asked to send his last words to the captain, Ed said: "I want to say that I'm alive today only because of him. I will always remember him and tell everyone about him. We were very lucky to have Alexander as a captain of that ship. Thank you, Alexander."
First published in Russian by the Rodina magazine
If using any of Russia Beyond's content, partly or in full, always provide an active hyperlink to the original material.