Russia-Turkey crisis: What do other regional players stand to gain?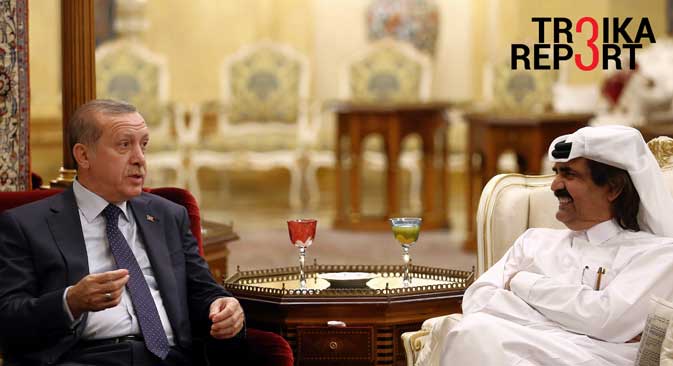 Turkey's President Recep Tayyip Erdogan, left, speaks to Qatar's Emir Tamim bin Hamad Al Thani in Doha, Qatar, Dec. 1, 2015.
AP
Following the souring of relations between Moscow and Ankara after Turkey shot down a Russian plane on Nov. 24, Russia has imposed a series of economic sanctions on its Black Sea neighbor. In response, Turkey is seeking closer ties with other regional players such as Azerbaijan and Turkmenistan. But is anything likely to come of this?
Having failed to secure unambiguous encouragement from Western powers and NATO over the shooting down of the Russian Su-24 bomber on Nov. 24, Turkey in the last two weeks has embarked on a hasty search for support in the region. As a response to Russia-imposed economic sanctions, Ankara is gambling on activating ties with its traditional ally, Qatar, and countries speaking Turkic languages that lay within its zone of strategic interests, that is, Azerbaijan and Turkmenistan.
Ankara's immediate concern is driven by the purely theoretical threat that Russia, in a fit of revenge, might cut the supplies of pipeline gas. Gazprom's gas accounts for 50-60 percent of domestic consumption, and cannot be substituted at short notice.
Nevertheless, Ankara is raising the stakes. Turkish President Recep Tayyip Erdoğan has signalled his readiness to reject Russian gas altogether as a retaliation, with Agence France Presse quoting him as saying "we have not always lived with natural gas, you know. Our people are used to hardships."
The energy issue dominated the agenda of President Erdoğan's and Prime Minister Ahmet Davutoğlu's visits to Doha (Qatar) and the Azerbaijani capital Baku. The same topic would feature prominently during the trip to Ashgabat (Turkmenistan) on Dec. 11-12. These efforts fit into the promise made by the two leaders to the Turkish people: to seek and find "alternative suppliers" of oil and gas.
No less important for Ankara is the political and diplomatic support of both Azerbaijan and Turkmenistan at a time when the previous Turkish policy of "zero problems with neighbors" was coffined.
Remarkably enough, Verda Özer, a columnist for Turkish daily Hürriyet, claims, with no reference to any reliable sources, that Ankara expects relations with Russia to normalize in 3 to 4 months. This upbeat comment, at least for the moment, cannot be substantiated.
Will the flurry of diplomatic sorties by Turkish leaders reshape the political configuration and balance of power in the region? What could be the gains for Ankara? Andrei Fyodorov, former deputy foreign minister of Russia and now director of the Moscow-based Center of Political Research, made the following comment for Troika Report.
"The current phase of Russia-Turkey relations is changing the whole situation in the region. First, Turkey will do its best to find alternative suppliers for oil and gas to feed its economy. As for gas, Azerbaijan might raise its profile as supplier, and so might Iran."
"Second, this is a problem for Russia: Turkey might try to intensify the conflict in [the disputed Armenian region of] Nagorno-Karabakh to put pressure on Moscow."
– That would require the consent and collaboration of Azerbaijan. Is this a given?
"Azerbaijan is very much linked with Turkey. At the same time, for Ilham Aliyev there is absolutely no reason to be in conflict with Russia because of the traditional relationship and economic interdependence. President Aliyev would most probably balance between Moscow and Ankara, and could even act as a mediator."
– Turkish President Recep Tayyip Erdoğan is paying a two-day visit to Turkmenistan. What might come of it?
"Turkmenistan is one of the main suppliers of gas in the region and globally. But I don't think that Turkey can count on its gas supplies due to the emergence of a new threat from the almost 2,000 Islamic State militants that have set foot in neighboring Afghanistan. According to intelligence sources, there is a possibility that next spring ISIS might attack Turkmenistan, which is the weak link in the region. If it happens, the concept of Turkmen gas going to Turkey and to Europe would crumble."
– Does this mean Turkey's room for maneuver is somewhat limited?
"For Ankara, it is time to reconsider its regional policy to avoid the fate of a "lone wolf."
For Erdoğan the prospect of not finding enough wholehearted supporters in the region became more disturbing after this week Iran, the third largest supplier of pipeline gas to Turkey, announced it had slashed deliveries from the contractual level of 30 million cubic meters per day to 14-15 million (a 50 percent reduction). Consequently, the price of electricity for households surged by the same 50 percent.
Tehran claimed the cuts were due to severe weather conditions, when it has the right to reroute gas to its domestic users. But the 10-day weather forecast predicted that temperatures would not fall below 6-9°C. This leaves plenty of room for speculation that the cuts were a show of Iran's displeasure with the recent incursion of Turkish troops into the territory of Iraq without the permission of its legitimate authorities.
The hectic maneuvers by President Erdoğan in the aftermath of Turkey's attack on the Russian aircraft are adversely affecting not only the security but also the psychological environment of the whole region. The muted reaction to the aggravation of Russo-Turkish relations in Baku and Ashgabat proves that no regional actor sees any benefit in this development.
Subscribe and get RBTH best stories every Wednesday
All rights reserved by Rossiyskaya Gazeta.