What's behind John Kerry's festive goodwill to the Kremlin?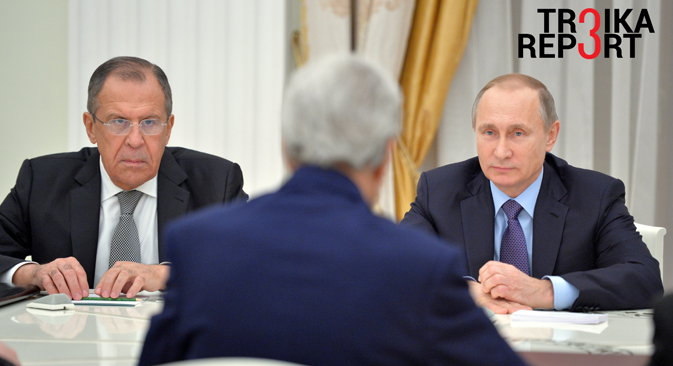 Russian President Vladimir Putin and Foreign Minister Sergei Lavrov during a meeting with US Secretary of State John Kerry in the Kremlin, Dec. 15.
Alexei Druzhinin / RIA Novosti
U.S. Secretary of State John Kerry's official visit to Moscow this week for talks with Russian President Vladimir Putin and Foreign Minister Sergei Lavrov caught Russian pundits off guard, with Kerry striking a conciliatory tone and insisting that the U.S. was not seeking to isolate Russia. But can any serious change in Washington's stance be read into Kerry's comments?
After more than three and a half hours of talks with Russian President Vladimir Putin and Foreign Minister Sergei Lavrov, the United States' top diplomat sounded cautiously but overall optimistic. Suffice to pick up on just a few of his comments at the final press conference on Dec. 15:
"We see Syria fundamentally very similarly"
"The U.S. stands ready to work with Russia"
"Despite our countries' differences, we demonstrated that when the United States and Russia pull together in the same direction, progress can be made"
Moreover, Moscow and Washington have found "common ground" on which Syrian opposition groups have the right to participate in peace talks leading to a political transition, Kerry revealed.
A meeting of world powers on Syria was also approved, which will take place in New York with the mission to draft a resolution on the essence and format of a political solution for Syria. The resolution would be then presented to the UN Security Council to assume the absolute legal authority.
On top of it all, Kerry admitted he had "a good discussion about Ukraine" with President Putin, and said that once the Minsk peace agreements are fully implemented, "U.S. and EU sanctions can be rolled back."
Nevertheless, sceptical pundits in Moscow claim Kerry's visit has left a bitter feeling of déjà vu, recalling the unmet expectations after the previous upbeat rhetoric in the aftermath of his lightning visit to Sochi in May.
Troika Report approached Andrei Kortunov, director general of the Russian Council of International Relations, with the question: Is this once again groundless optimism or is the ice starting to melt, paving the way for a resolution to the conflict in and around Syria?
"Compared to the situation half a year ago, things have changed dramatically in the region and beyond. The sense of urgency is more explicit now than it was at the time when Kerry came to Sochi. It does not mean that we should expect miracles to happen. Nevertheless, the meetings in Moscow were clearly a step forward."
"They went into considerable detail about the potential coalition, about the moderates inside the Syrian opposition. Also I hope that these meetings will be a catalyst for serious discussions on the political transition in Syria."
– The contentious issues include the fate of Syrian President Bashar al-Assad and the list of terrorist organizations. U.S. ally Saudi Arabia, which has just announced the formation of a coalition of its own, considers Hezbollah, the Shiite and pro-Iranian organization, among the radicals to be blacklisted. Meanwhile, Hezbollah fighters are engaged on the ground battling with Islamic State (ISIS). This doesn't leave much hope for a consensus among the "friends of Syria," does it?
"First of all, I would distinguish between the stances taken by the United States and its regional allies. The U.S. has instruments to exercise pressure on its allies and friends in the region. Russia can do likewise. Second, the emphasis has shifted from the fate of Assad. At some point, he will have to go, the issue now is how to maintain Syrian statehood to prevent the country from disintegrating into pieces, with the small remnants fighting with each other. This is well understood by both sides, Russia and the U.S., and it might constitute the common denominator that they are looking for."
– Some 24 hours before Kerry's visit to Moscow an official pronouncement in Washington focused on the "isolation" of Russia. And then came the unanticipated words: "We don't seek to isolate Russia as a matter of policy." What a contrast!
"I think it is premature to assume that U.S.-Russian relations have hit the bottom and will improve soon enough. Yet Kerry's words must have received prior approval by President Obama. It is a sign that the U.S. is reconsidering Russia's role, in Middle Eastern affairs at least. The next couple of weeks will show whether these hopes are groundless or not."
A more critical assessment of the motives of Kerry's conciliatory tone and overtures to Kremlin came from Maxim Suchkov, a visiting fellow at New York University's Jordan Center for the Advanced Study of Russia, who talked to Troika Report.
"It is meant to balance in a certain way the recent visit by U.S. Vice President Joe Biden to Ukraine. Biden used a particularly strong language to signal America's commitment to Ukraine's security in view of the conflict with Russia. Kerry is playing the 'good cop' to Biden's 'bad cop'."
– Yet would it not be fair to assume that the Obama administration would not like to leave plenty of unresolved foreign policy issues behind as its legacy?
"Certainly, the U.S. administration is trying to showcase its credentials to the electorate on this angle. It is important that it succeeds because, most probably, whoever comes next will take a more hawkish stance towards Syria, the whole of the Middle East, and Russia. It is important that in the months left to them in office Obama and Kerry come up with more cooperation. The Kremlin is in fact also keen to forge such cooperation before things heat up with the primaries and the presidential election in the U.S."
In any case, this time Kerry left Moscow with a gift from Lavrov (who calls him an "idealist") – a Russian-style Santa Claus, an amber ring as souvenir he bought from a street stall, and some friendly advice from Putin to find time to have a good sleep to mitigate his travel fatigue. How is the U.S. Secretary of State going to treat these gifts "from Russia with love"? With his positive comments, he has already played the role of Santa Claus for the Kremlin. It sounds good. But does it really matter?
The opinion of writers may not necessarily reflect the position of RBTH or its staff.
Subscribe and get RBTH best stories every Wednesday
All rights reserved by Rossiyskaya Gazeta.