Top 3 scariest things the U.S. media have recently said about Russia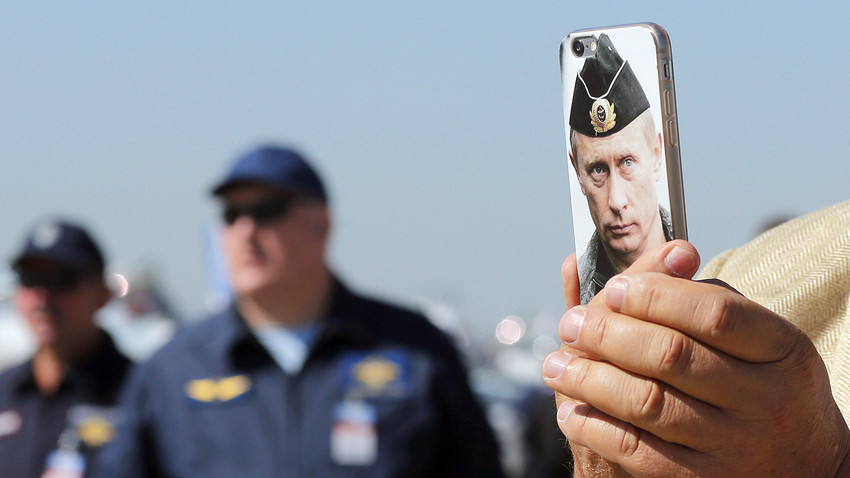 Forget zombies, witches, mummies and vampires. As America celebrates Halloween, the most frightening demons from hell are now Russian agents and hackers. The U.S. media is obsessed with Russia, as Americans are told they're facing an unprecedented attempt to destroy their country. Perhaps I'm biased, but most of this news seems fake and paranoid. Here are three of the scariest and more deranged things the U.S. media have said about Russia in the past year.
Russia's secret police used Pokémon Go to inflame racial tensions in the U.S. Yes, these funny little virtual creatures that your child probably tried to catch in Central Park last summer, well, beware, Russia has weaponized the game! According to CNN, Russia promoted a contest encouraging people sympathetic to Black Lives Matter to play the game near infamous sites of police brutality.

Players were told to change their characters' names to the victims of those incidents — an apparent effort to inflame racial tensions. A post promoting the contest showed a Pokémon character named, "Eric Garner," the African-American man who died after put in a chokehold by a New York Police Department officer.

I don't really know how to comment of this one, guys. Pokémon are sweet, lovely creatures and even evil Russians wouldn't use them in dirty geopolitical games. Anyway, everyone knows that there are no racial tensions in the U.S. If anyone tells you there are, then clearly they're a Russian agent.

Putin hacked the U.S. electricity grid. This alarming event last December in Vermont was reported by the Washington Post and quickly spread to other major media outlets. That's what we Russians do: we hack everything we see - elections, power grids, Hillary Clinton's emails, and we can even hack your bathtub. Don't believe me? Just wait and see.

As always with these types of articles, the Post quoted 'anonymous' national security officials, and fed the paranoia with scary questions, such as: "Are they in other systems?"

Vermont's governor, Peter Shumlin, said exactly what a strong American leader must say in the circumstances: "All Americans should be both alarmed and outraged that one of the world's leading thugs, Vladimir Putin, has been attempting to hack our electric grid, which we rely upon to support our quality of life, economy, health, and safety."

The only problem was that it never happened. After receiving a Homeland Security notice sent to all U.S. utility companies, Burlington Electric searched all its computers and found the threatening code in a single laptop that was not connected to the electric grid. Still, there's no time to relax. Don't let your guard down. Russian hackers must certainly be concocting other nefarious plans.

Russian planes are spying on Trump's vacation spots. Of course we are! We live in a world where everybody is spying on everyone: Google is spying on Facebook, Uber is spying on Lyft, and your ex, probably, is spying on you! But Russians are smart enough to find the best espionage spots.

For example, in August the U.S. media reported that a low-flying Russian spy plane was spotted over Washington, D.C., and Bedminster, New Jersey, where President Trump was vacationing at his Trump National Golf Course. The Russian spy plane, Tupolev Tu-154M, flew near the golf resort at 4,000 feet, and then climbed to 5,000 feet before flying into New York airspace.

You see, golf is not a traditional game in Russia, where most land is covered by snow for half a year. If you want to learn to play, as many of the Kremlin elite would love to, then aerial spying is the best way to do this. Most likely, Putin instructed his best agents to fly over the golf course in order to find out how those dastardly Americans derive so much enjoyment from one of the most boring ways to spend leisure time.

Not surprisingly, according to the U.S. media, Russian spy planes are all over the place – especially following Trump to Manhattan. The truth is probably more benign than sinister. Somewhere in Moscow a bunch of lonely FSB agents, who are forbidden to travel abroad, are secretly in love with how the Big Apple looks from above and so they seek every opportunity to catch a glimpse of it.
If using any of Russia Beyond's content, partly or in full, always provide an active hyperlink to the original material.