Russian bloggers try to take a weight aboard a low-coster: do you think they managed?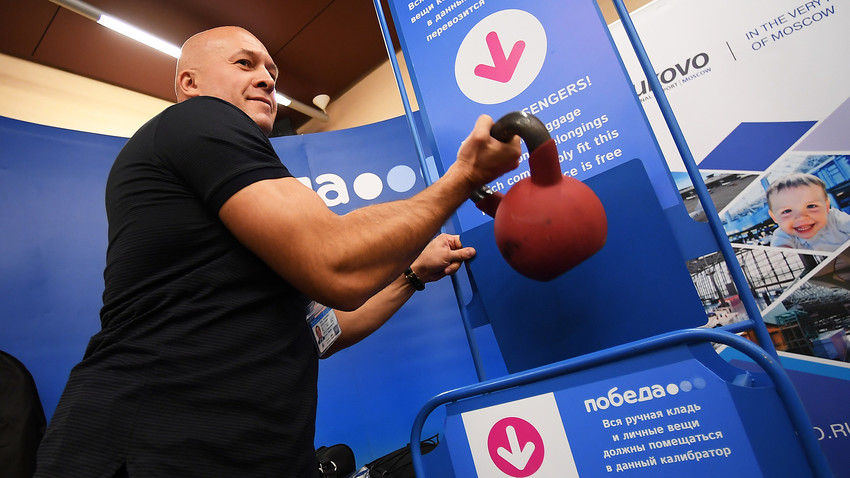 Pobeda CEO Andrei Kalmykov demonstrates Pobeda's new carry-on sizer at a press conference on the airline's new luggage regulation
Eugene Odinokov/Sputnik
The head of Pobeda Airlines claimed that it's now possible to take any carry-on bag that fits into the overhead lockers, no matter how much it weighs.
Russian low-cost airline Pobeda used to be famous for not allowing anything aboard the plane for free, except small ladies' bags. Even a backpack required an extra payment.
But the rules changed and now any hand baggage can be taken in the cabin for free. Pobeda's director Andrei Kalmykov even claimed that there are no weight limits. "Passengers are able to take anything that doesn't break the federal aviation law and does not exceed the maximum dimensions, which are 36 cm x 30 cm x 27 cm," he said.
"You can even take a weight of 16 kilos, if it's the right size," he added.
Russian bloggers Vitaly Kobzev and Vladimir Schwartz accepted the challenge and tried to carry a 32-kilo weight on board, but Pobeda's staff didn't allow it due to "technical reasons." First, they cited aviation safety and then failed to find a label to put on the weight.
"We had to fly without the weight," the bloggers told the website Meduza.
Read more about Pobeda, the world's fastest-growing low-cost airline.
If using any of Russia Beyond's content, partly or in full, always provide an active hyperlink to the original material.