French still waiting for multi-million imperial debt payout from Moscow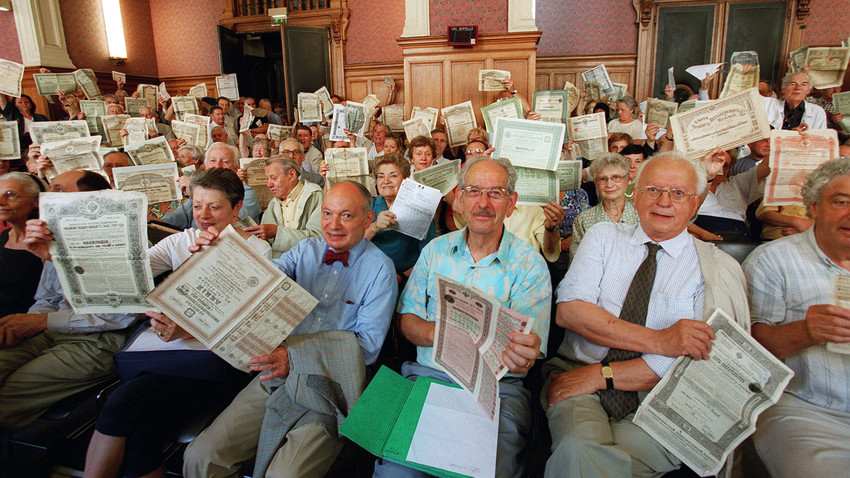 Angry holders of Russian bonds hold their title at the Paris courtroom 26 June 2001
AFP
Around 400,000 people are seeking 30 billion euros from Russia in payments for the bonds issued by the tsarist government, RFI reports.
Despite the fact Moscow and Paris reached an agreement 20 years ago that settled the matter, it appears almost half a million French people have other ideas.
Between 1880 and 1917 French citizens bought a total of 30 million Russian bonds. In January 1918 the head of the new revolutionary government Vladimir Lenin refused to pay off the bonds.
However, in the mid-1990s Russia signed an agreement with France over the Romanov government's debts and paid Paris 330 million euros. Moscow asserts that the issue is over and there are no grounds to discuss any new payments.
Meanwhile, descendants of the original bond owners argue that this sum should be 100 times bigger. Eric Sanitas, the head of the International Federative Association of Russian Debt Holder, said Russia is obliged to pay the sum as the country is not officially broke.
As Russian daily Kommersant asserted, the period of prescription on the issue is over, so it's not possible to get the money through the court system.
According to the newspaper (the article is in Russian), after the Russian Revolution France confiscated some assets that belonged to the imperial government but did not compensate its citizens the losses on bond payments, in the manner that the British authorities did.
France never officially brought up the issue of the Russian imperial debts and the agreement of the 1990s was Moscow's gesture of good will. It was done to secure Russia's entrance into the Paris Club.
You can read more on Russia's debts here.
If using any of Russia Beyond's content, partly or in full, always provide an active hyperlink to the original material.