Satisfaction Challenge: The naked truth of Russian flight school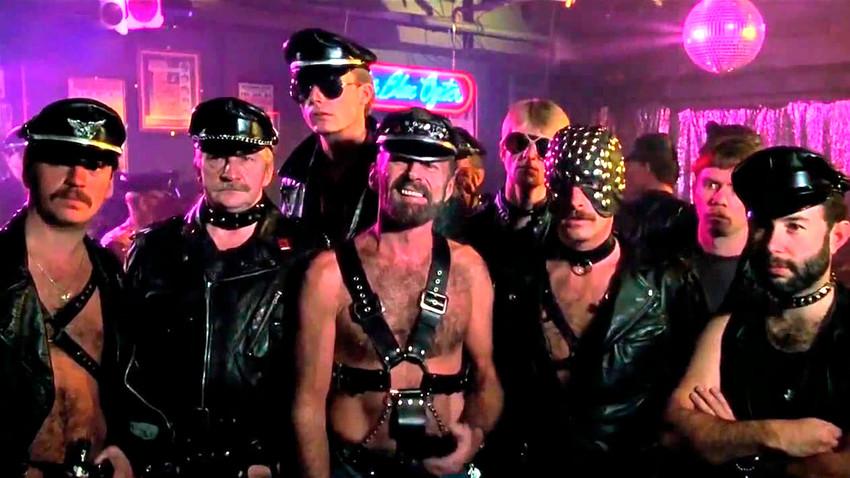 A parody by Russian cadets of Benny Benassi's song "Satisfaction" has taken the Runet by storm.
Youtube
A parody by Russian cadets of Benny Benassi's song "Satisfaction" has taken the Runet by storm. The web is now buzzing with videos from sailors, soldiers, builders, and rescuer works, not to mention characters from GTA and Lineage II.
A parody of Italian DJ Benny Benassi's video for the song "Satisfaction" from students of one of Russia's most prestigious flight schools, Ulyanovsk Institute of Civil Aviation (UCAI), appeared online on Jan. 16. After the video went viral, the guys started having problems. But that didn't stop dozens of new parodies from popping up in support, including from a Siberian town where the temperature is a bracing -37С°, and from fans of the video games GTA and Lineage II.
"We were looking to hype things up a bit"
UCAI directors labelled the video with cadets in underwear and service caps as "disgusting" and a smear on the school's reputation in an act reminiscent of Pussy Riot in 2012.
"Some reckon the guys were just fooling around, but if they'd done it at home, no one would have noticed. They were wearing civil aviation caps. <...> I myself have been in civil aviation for more than a decade, but have never seen such ridiculing of the industry. It's sad, but such behavior is unforgivable," said UCAI rector Sergei Krasnov.
However, after discussing possible exclusion (Runetters wrote that the prime suspects—especially the "dude with the banana"—were "sure" to be kicked out), the local prosecutor's office stated that there were no grounds for such punishment. On the contrary, employees of the school could be held accountable for failing to instill the proper educational process.
But while some in social media described the video as "shameful", and others as "a funny joke," the stars of the clip are apologetic.
They told online newspaper Meduza that they were just "looking to hype things up a bit ... but the school directors didn't appreciate our efforts, even though we tried real hard." According to one student, it didn't take long to shoot the video: "Just a couple of run-throughs, it was all quick and easy."
"They didn't find me yet. I guess I'm off the radar here in my trench. I heard exclusion's not in the cards. But I'm a bit scared. We basically did it for our 'fans'—many of us have girlfriends," revealed one of the culprits on condition of anonymity. He added that he would apologize and regrets that not everyone sees the humor: "It won't happen again, that's for sure."
Afterwards, the Telegram channel Mash published a photo of a note of apology from another of the cadets. In it, he says that no one intended to upload the video—it was posted online by a fourth-year student named Dmitry. The cadet explained his involvement like this: "I didn't realize that independent adult life had begun. At the time I still wasn't used to the regime. Breaking from my parents was tough for me at first. And appearing in this video was a thoughtless, childish act which I really regret."
Satisfaction Challenge by sailors, soldiers, and GTA fans
Meanwhile, other schools and institutes across Russia have started uploading their own video parodies in support of the UCAI cadets. The first video to be posted in the wake of the scandal came from students of the Ryazan Agricultural College, also in the Ulyanovsk Region (952 km east of Moscow).
That was followed by a parody from students dressed in uniforms and T-shirts of the Russian Emergency Situations Ministry.
There soon appeared a "female version" featuring saucepans and an iron—again from Ryazan Agricultural College.
Similar roles were played by medical students from Dimitrovgrad (a city in the Ulyanovsk Region, yet again), construction college students, naval college cadets, and cadets of the Suvorov Military School in Moscow.
The flash mob was also joined by Lineage II and GTA gamers.
Meanwhile, journalists from Nizhnevartovsk (3000 km east of Moscow) can be forgiven for filming their version in winter clothes, since it was -37°C at the time.
The escapade even started an international movement, with women in the Israeli army dancing in support of the Russian cadets.
Meanwhile, Ukrainian swimmers performed their own "Satisfaction" version in the pool.
If using any of Russia Beyond's content, partly or in full, always provide an active hyperlink to the original material.