Couple claim they've confirmed first gay marriage Moscow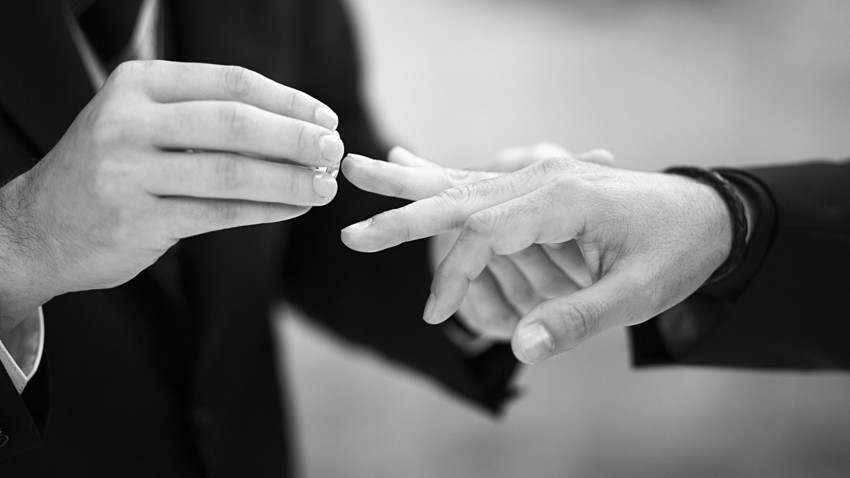 Two men who registered their union in Denmark say their passports were stamped in Russia confirming the single sex union, but not everyone believes them.
Two Russian men, Pavel Stotsko and Yevgeny Voytsekhovsky, claim to be the first gay couple to rubber-stamped their marriage in Moscow. They told TV Rain that they confirmed tying the knot in one of the capital's multifunctional centers, which provide various civil services. The loved uppair even showed the channel stamps in their passports apparently confirming their marriage (link in Russian).
They say they got hitched in Copenhagen on Jan. 4 before deciding to confirm their union in Russia. On Jan. 25 they arrived at the center and an employee duly stamped the paperwork without any questions.
Pavel shared a photo of the documents on his Facebook page and quoted the Russian Federation's Family Code.
It says a marriage registered abroad can be confirmed in Russia if there are no circumstances rendering the union illegal. Those getting hitched can't be close relatives, foster parents and kids, or incapacitated due to mental disorders, and the marriage is also void if one of the couple is already in an official relationship. However, gay marriage in Russia is not legal and there have been no cases like Pavel Stotsko and Yevgeny Voytsekhovsky's before.
Meanwhile the multifunctional center has issued a press release saying the information provided by the couple while talking to TV Rain's host is wrong because their employees are not authorized to provide such services. "Documents accepted for registration are transferred to the civil registration office for decision making," the report says (link in Russian).
Human rights advocate and founder of GayRussia.ru Nikolay Alekseev says he doesn't believe the story of the newly weds, and believes if someone did indeed stamp their passports the process will be reversed. "Since 2009 we have been studying the Family Code of Russia over and over again regarding the possibility of single sex marriage, several times bringing cases to the European Court of Human Rights, it should wait for a decision by Strasbourg... But here they just confirmed it at once... It's nonsense," he wrote on his Facebook page (link in Russian).
In 2014, a Moscow civil office registered a marriage between a woman and a transsexual. They both wore white dresses and looked very alike – only their passports gave their real genders away.
If using any of Russia Beyond's content, partly or in full, always provide an active hyperlink to the original material.