1. Elena Khudyakova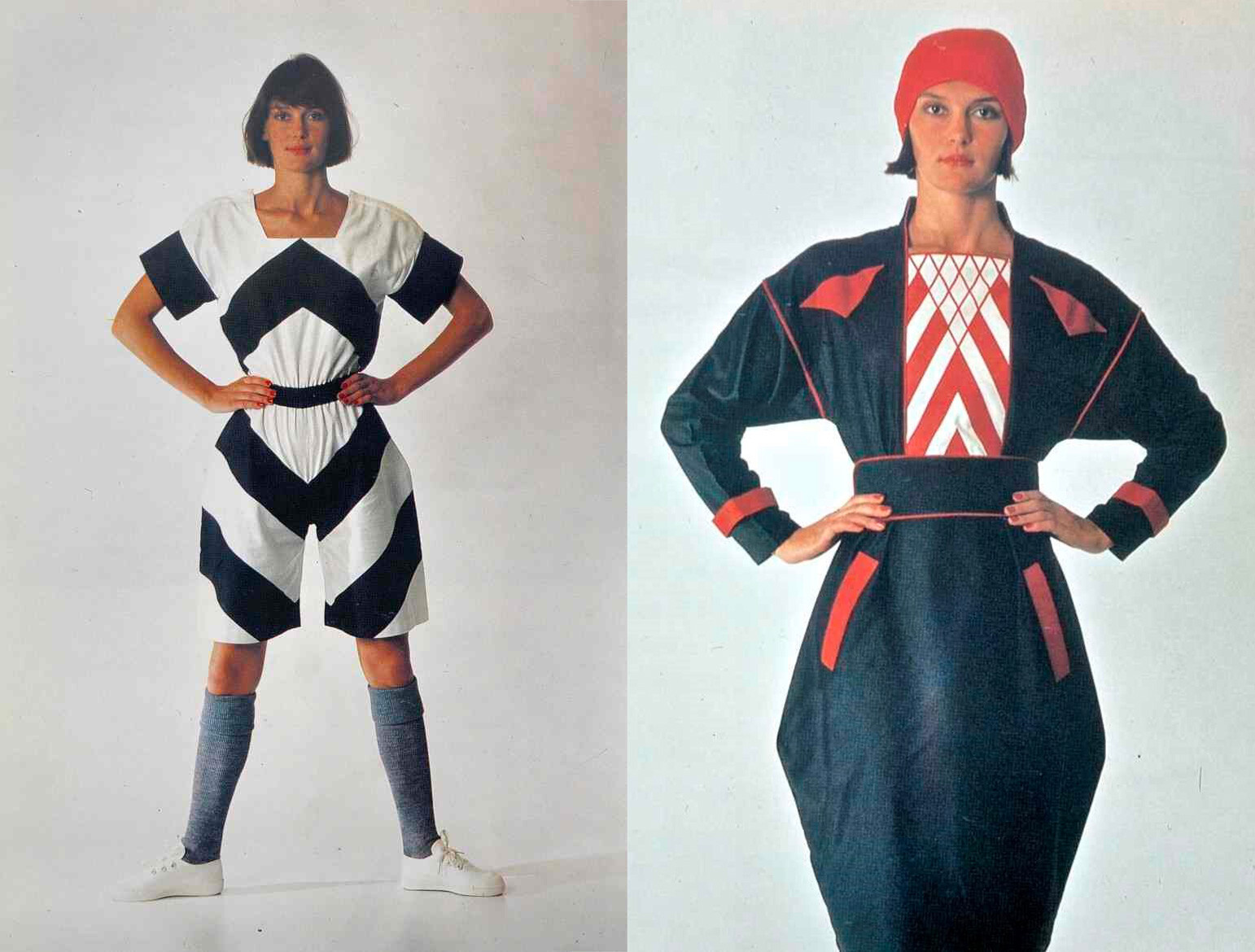 Born into a nomenklatura family and later a student of the Moscow Institute of Architecture (MARKHI), Elena Khudyakova developed an interest in designing clothes as a teenager, and, as soon as the opportunity appeared, she fully devoted herself to her favorite endeavor.
Khudyakova's first collections date to the late 1980s and were focused on a creative reinterpretation of avant-garde fashions. She harked back to the early Soviet period's most famous fashion designer, Nadezhda Lamanova, and applied the latter's characteristic prints and look to her own designs that were made in the final years of the USSR.
Khudyakova made a name for herself with designer versions of vatniks (quilted jackets which, by the way, are coming back into fashion among young people today) and work overalls, as well as accessories in the style of military shoulder-belts and pistol holsters.
Subsequently, Western designers took a fancy to Khudyakova. Her designs, with their ironic take on the aesthetics of Sots Art, appeared on the pages of the trend-setting magazine, The Face. Soon after, she moved to London to work in the fashion industry. Elena lived a long life, spending her last years abroad engrossed in her creative work. In 2014, a year before her death, her solo exhibition was held in London. It was a kind of summation of her life's achievements and creativity, which had been mostly devoted to a glamorously ironic presentation of the social and political legacies of the Soviet era.
2. The Polushkin brothers
Twins Alik and Nikolay, who both hold a technical degree, were fans of Russian rock music and became very active in that milieu. They started making clothes for rock bands and their fans, highly involved in the creative process. The Polushkins moved widely in bohemian circles and, after the fall of the Soviet Union in 1991, they started making clothes for the first post-Soviet era clubbers. Their most famous collection was FashFashion dating from 1993. Its minimalist images disguise an anti-fascist message. According to the designers, their main goal was to create something new and original in contrast to the crass, stale and exhausted Soviet past.
The duo's favorite material was silk and they knew how to work with it as no one else. They made many outfits to order and continue to work to this day. Alik has switched to art, while Nikolay launched a new fashion collection in 2016 in which he used a novel fabric based on hemp fiber.
3. Alexander Petlura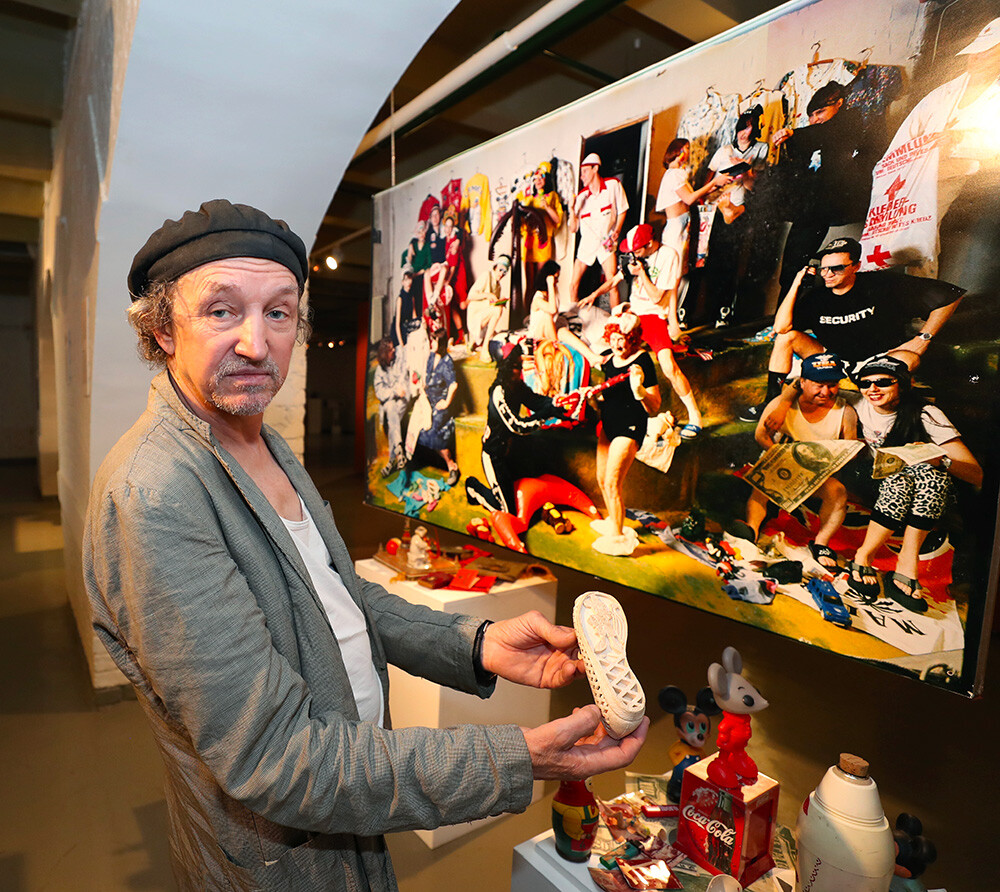 Alexander Petlura in 2018
Yekaterina Chesnokova/Sputnik
An artist by training and now a collector of vintage clothes, Alexander Petlura was one of the pioneers of alternative fashion after the collapse of the USSR. He began as a stage designer for rock concerts. The 1990s saw many squats spring up throughout the country, becoming places where creative young people used to hang out. One of them was organized by Petlura, and his first catwalk shows took place at an unusual venue known as "Art Reserve on Petrovsky Boulevard". He staged his fashion shows much like theater performances in which the main protagonists were the squat's residents.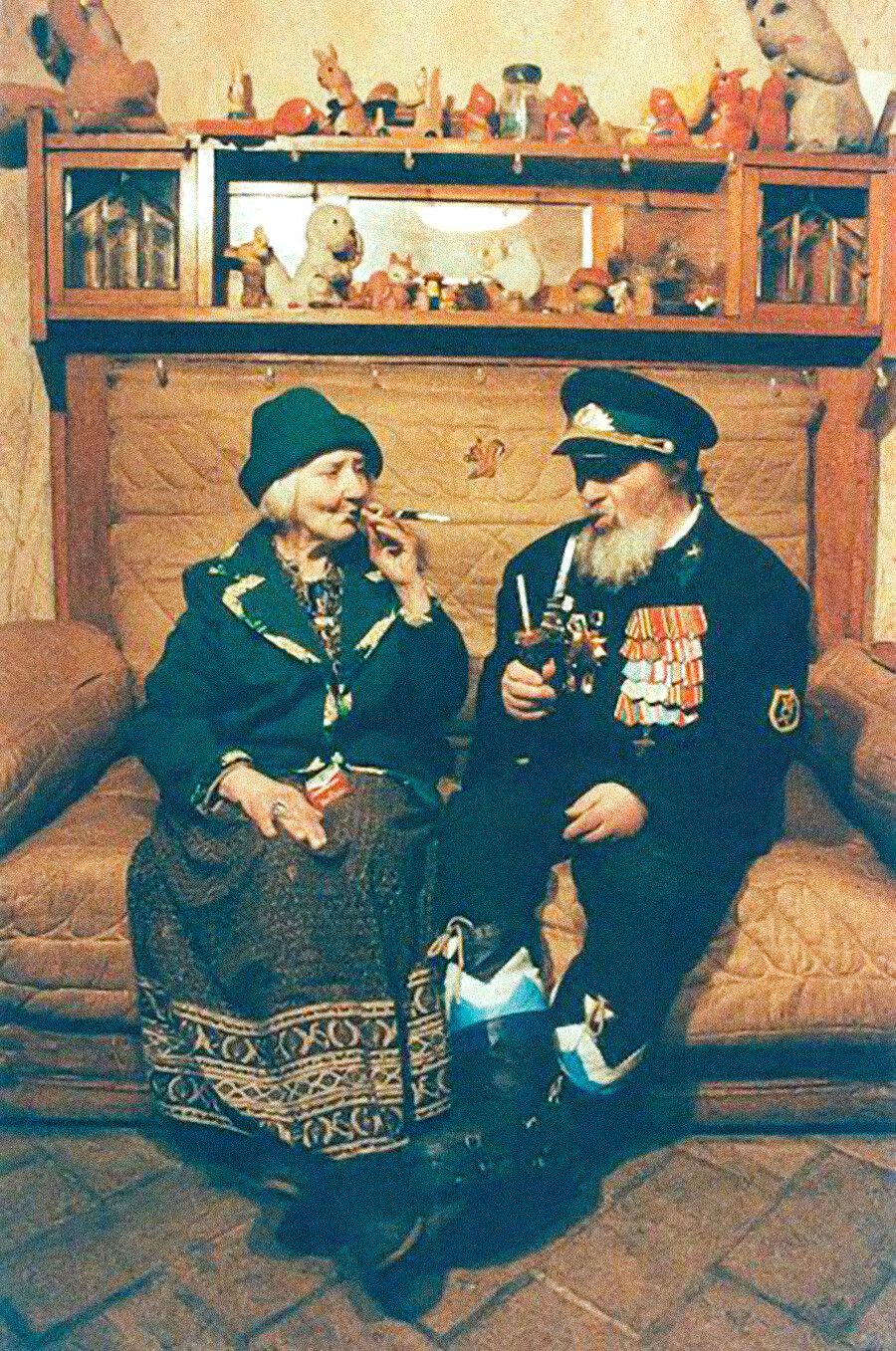 For many years Petlura's muse and the "star turn" of his shows was Pani Bronya, an elderly lady who willingly dressed in the most bizarre outfits that had been born of the artist's imagination. The Art Reserve was succeeded by the DK Petlura art space, well known to all admirers of the underground far beyond Russia's borders.
Petlura's collection of Soviet vintage clothes and accessories has grown tremendously and is now divided into sections according to themes. Taken together, it has evolved into a large-scale fashion encyclopedia, "The Empire of Things", which consists of 12 separate collections, or "volumes", that are devoted to a survey of the country's history seen through the prism of clothes and accessories. Petlura's costumes were an artistic experiment that helped launch a new direction in Russian art. Subsequently, the artist focused on performance and theater.
4. The La-Re duo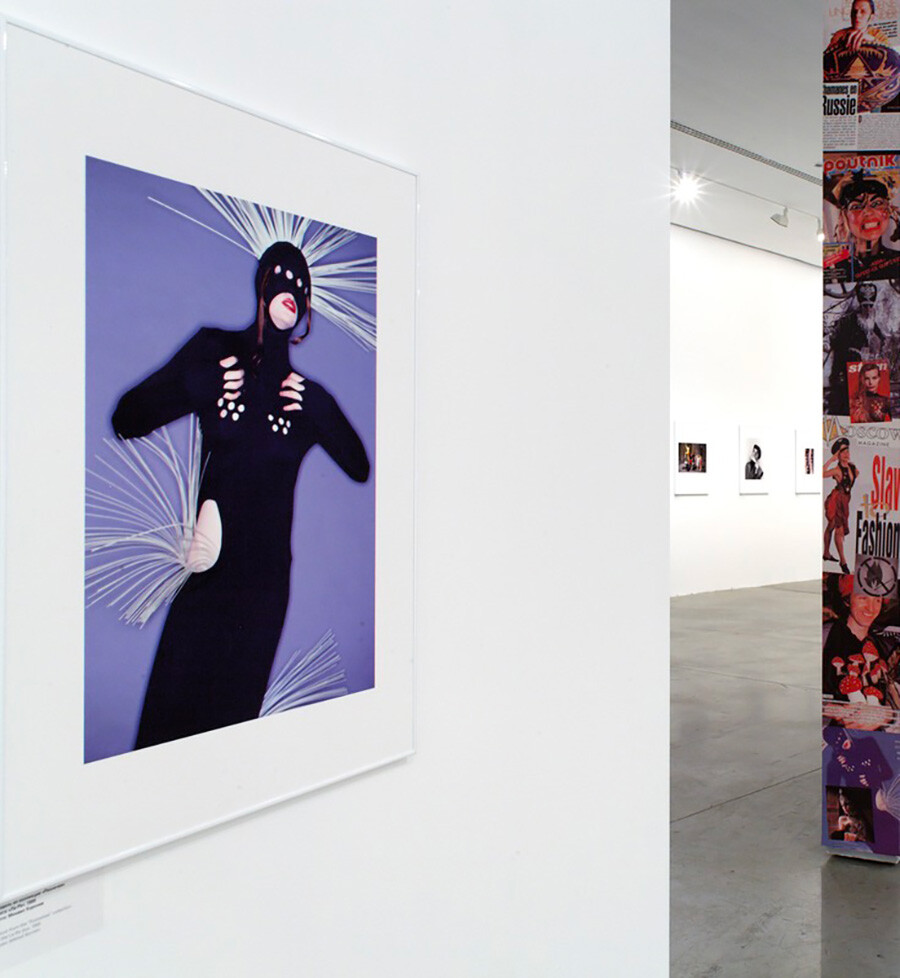 A model from the "Eyelashes" collection by the La-Re duo, 1995.
Garage Center for Contemporary Culture
Larisa Lazareva and Regina Kozyreva initially appeared as models at underground fashion shows, and then one day got together and started making clothes themselves. The La-Re style was showy, eye-catching and memorable. For instance, one of their most renowned collections was the 'Resnichki' (Eyelashes) range of evening wear - floor-length, body-hugging dresses with cut-out openings decorated with meter-long "eyelashes" made of artificial snow. They described their style as "glamorous punk", and staged shows as a theatrical spectacle. It's no coincidence that for a long time the name of the duo was prefixed with the word "Theater". La-Re was regularly invited to the alternative fashion festival known as the "Untamed Fashion Assembly" that was held in Riga at the time. In the 1990s, the event became known across the West, and European alternative fashion stars began attending. Suddenly, the new Russian designers found themselves participating alongside western stars on an equal footing.
La-Re were also active on catwalks at squats, clubs and galleries. They used the most bizarre materials - chipboard shavings, for instance - for their garments, and made accessories from objects crushed on tram lines. For the duo, the late 1990s were notable for clothes involving technological experimentation: outfits which shed components, and functioning watch mechanisms embedded in pairs of shoes. The duo did not survive the millennium. The ladies parted company and changed professions. Larisa Lazareva, for instance, went into journalism and was fashion director for Men's Health magazine for many years.
5. Gosha (Georgy) Ostretsov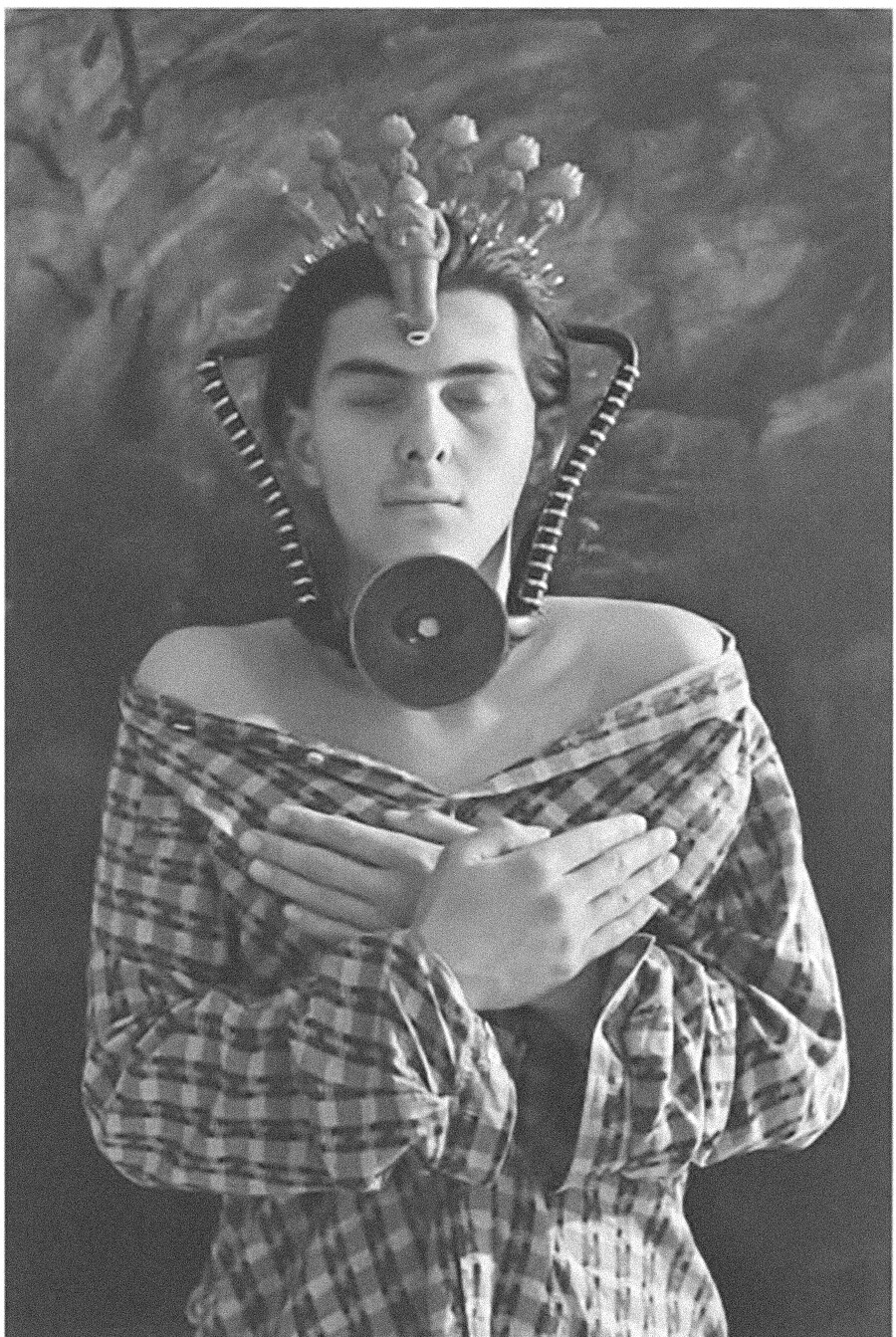 The famous conceptual artist has always regarded fashion as primarily an art statement. He started making clothes at the suggestion of the legendary Garik Assa - the father of the Russian underground, as he described himself. Ostretsov put on his catwalk shows at the Detsky Sad (Kindergarten) squat. In his collections of the late 1980s, the artist engaged in polemics with Communist Party policies, dressing his models in almost harlequin-style outfits and footwear made from parts of children's toys. Each show organized by Ostretsov became a real artistic performance.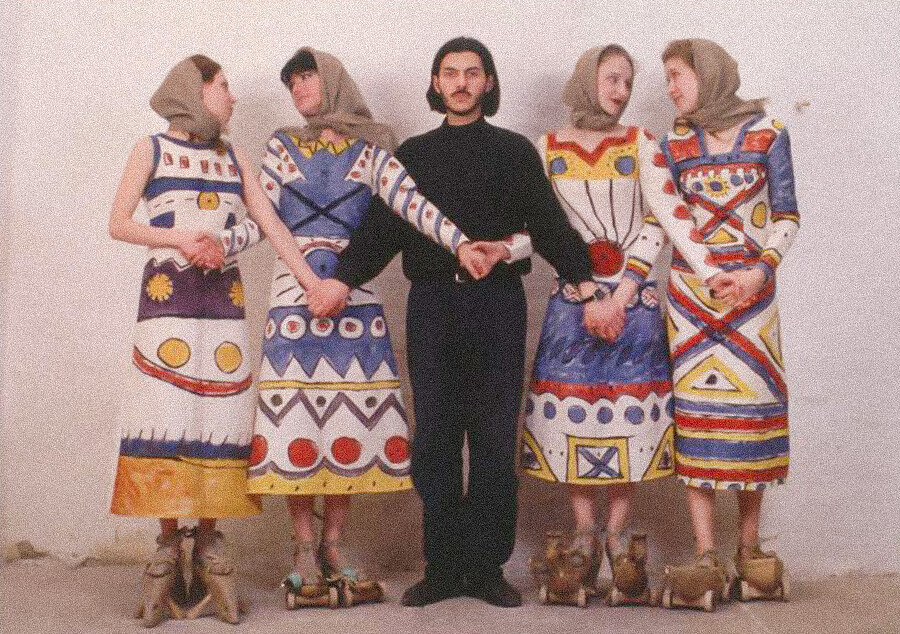 Leaving for Paris, Ostretsov continued there working both as an artist and as a couturier, and it was in this capacity that he collaborated with Jean-Charles de Castelbajac, Jean Paul Gaultier and Kenzo (mainly working on collections of shoes). The millennium found him back in Russia, and today he's engaged in artistic pursuits, principally making dystopian canvases in the style of comic books.
6. Andrey Bartenev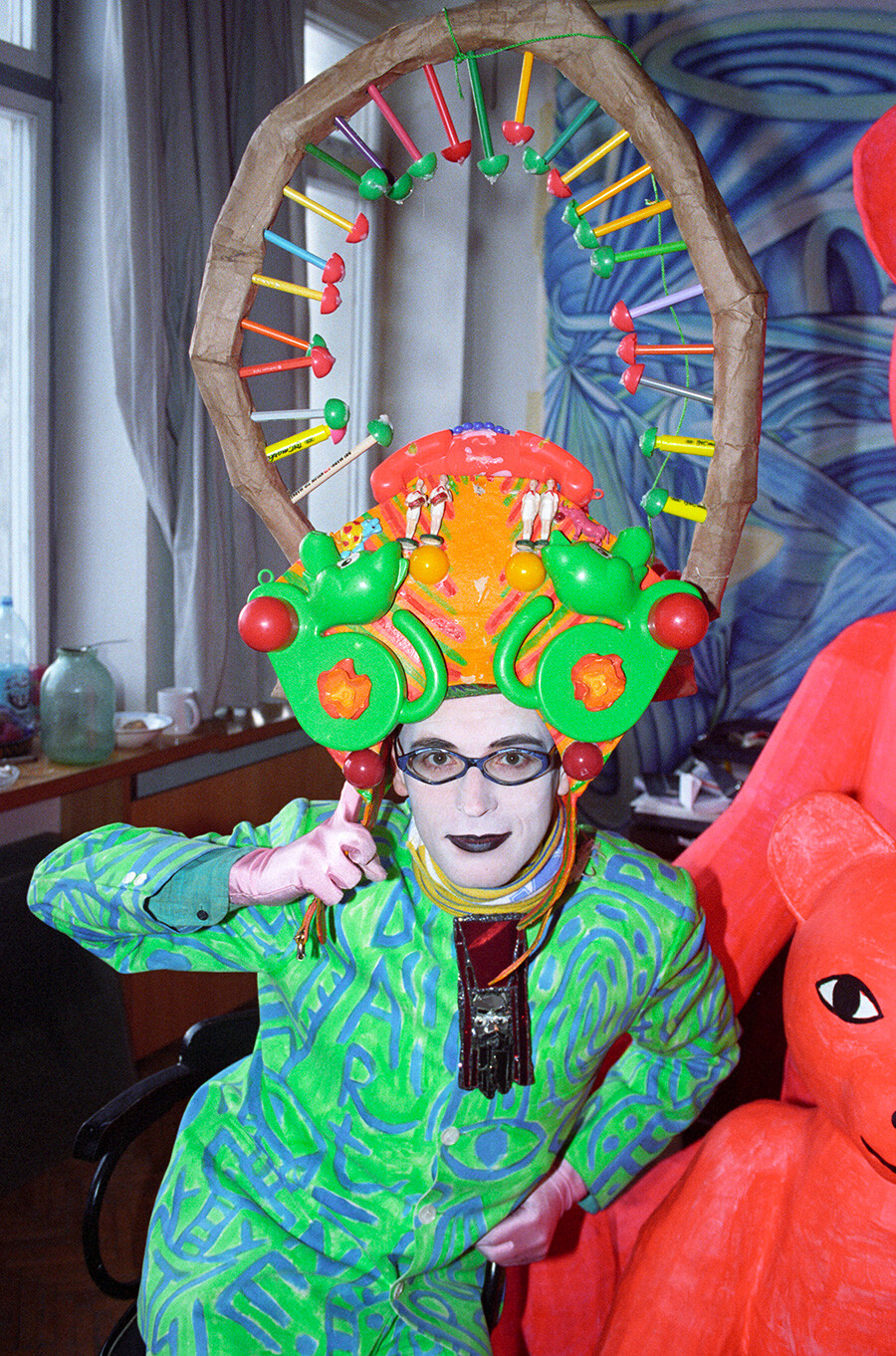 Artist and fashion designer Andrei Bartenev. 1997
Yury Abramochkin/Sputnik
In the 1990s, this famous performance artist pioneered a new creative 'language' with his clothing designs, although it's difficult to describe Bartenev's work as mere 'clothes'. Rather, they were more like art objects in which both he and his models would parade. The artist was actively involved in the Riga "Fashion Assemblies", showing one increasingly bizarre collection after another. They all exuded an unequivocal urge for creative freedom and boundless self-expression. At times gigantic human fruit, and at others human submarines, would parade down the catwalk.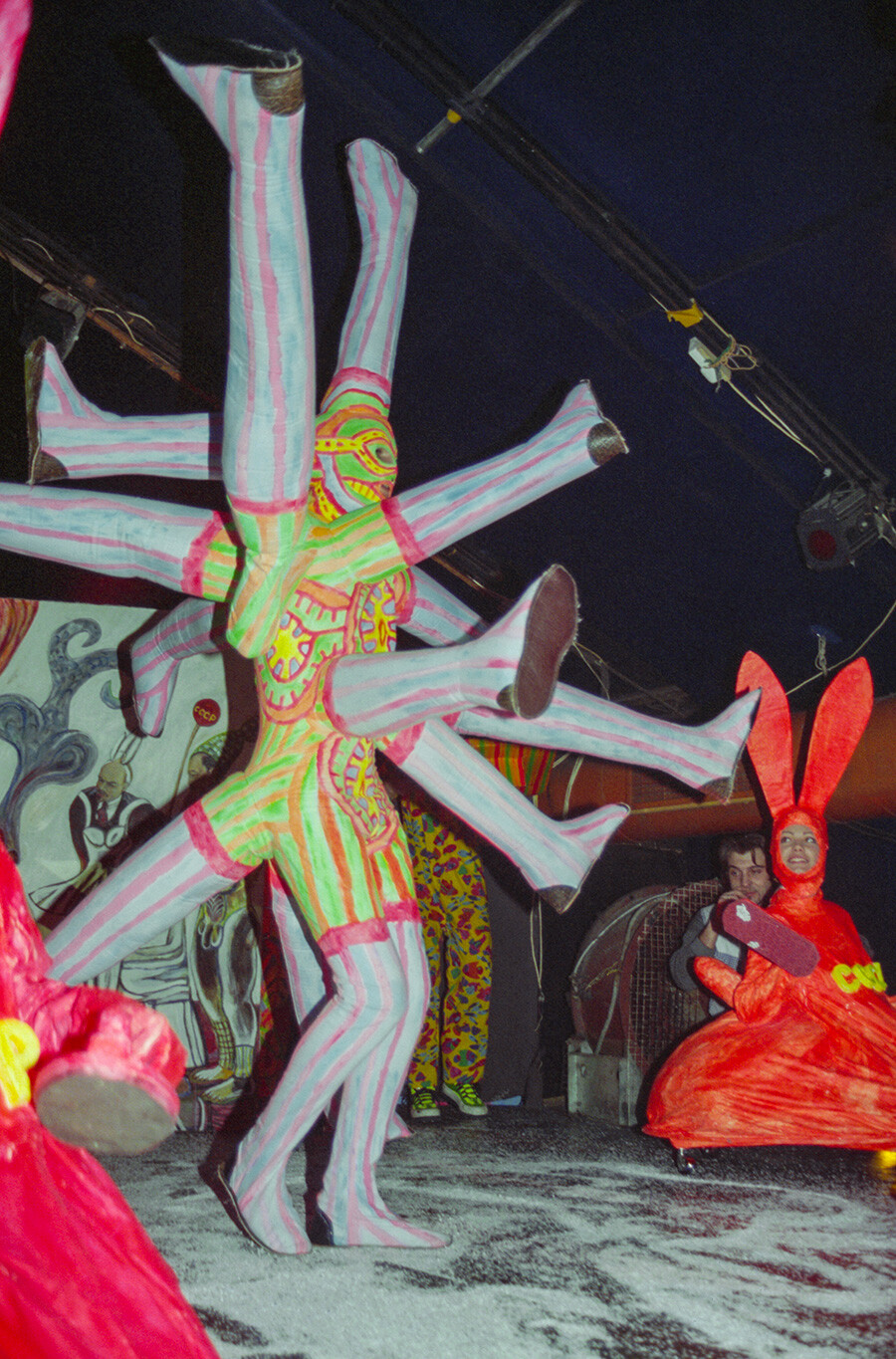 Andrei Bartenev during a performance at the Titanic club. 1998
Alexander Uchkin/TASS
Bartenev himself described his work not as design, but as costumed performances (which is unsurprising given that he is a theater director by profession). One of his most well-known projects was 'Faust', a show featuring cumbersome suits for an imagined journey in the company of Mephistopheles. These artistic actions and performances of the 1990s were all the rage in the new clubs and art galleries that were springing up across Moscow. Bartenev would appear in wacky kokoshnik headdresses and garish polka-dotted leotards, flaunting extravagant structures on his head and body, and was never afraid of vivid and even acidic colors. Given the opportunity, he continues to shock audiences with his outfits and headdresses to this day.
In Europe, Bartenev is primarily known as a costume designer. It was in this capacity, for instance, that he worked in productions by the renowned stage director Robert Wilson. Bartenev recalls his work of the 1990s as a carnaval, an irrepressible show packed with provocation and phantasmagoria.
Dear readers,
Our website and social media accounts are under threat of being restricted or banned, due to the current circumstances. So, to keep up with our latest content, simply do the following:
Subscribe to our Telegram channel
Subscribe to our weekly email newsletter
Enable push notifications on our website
Install a VPN service on your computer and/or phone to have access to our website, even if it is blocked in your country
If using any of Russia Beyond's content, partly or in full, always provide an active hyperlink to the original material.