Revealing drawbacks of post-Soviet consumerism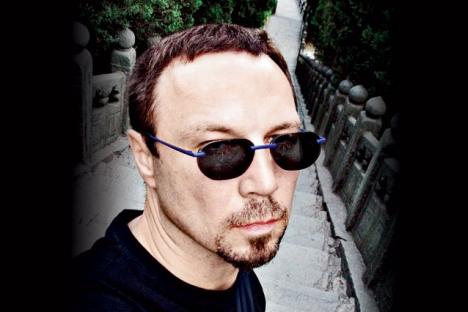 In his recent surreal story Victor Pelevin depicts controversies of the post-Soviet consumerism. Source: Victor Pelevin, first published on snob.ru
In his recent works, Russian master of postmodern science fiction Victor Pelevin has shifted his satirical focus from the absurdities of the communist regime to the iniquitous consumerism of post-Soviet Russia.
In this surreal story, The Hall of Singing Caryatids, by the Russian master of postmodern science fiction, Victor Pelevin, young Lena is employed to stand naked for hours at a time and sing - when they are not indulging the excessive fantasies of oligarchs. She and her fellow "caryatids" are decorative pillars in an elite underground nightclub. The girls are injected with a classified serum, 'Mantis-B,' which enables them to stand totally still for up to two days. Lena's encounters with a giant, telepathic praying mantis, while under the influence of the serum, radically alter her perspective on the outside world, revealing an alternative universe of wordless clarity.
In true postmodern style, Pelevin intersperses these drug-induced episodes with other voices. There are the pseudo-pretentious extracts from Counterculture magazine that Lena reads in the minibus back to Moscow. She also meets concept artists, girls dressed as mermaids, important clients in bathrobes, guards in suits, and the sinister, ironic-slogan-toting Uncle Pete.
Pelevin has been perplexing and delighting readers with his unique brand of polyphonic sci-fi comedy for more than two decades now. His first novel, Omon Ra, published in 1992, portrays a protagonist attempting to escape the Soviet nightmare by becoming a cosmonaut, only to find himself part of a farcical, mock-heroic moon landing during which he drives his lunar bike along a derelict underground tunnel.
While the political landscape may seem to have altered seismically around him, Pelevin has had no trouble shifting his satirical focus from the absurdities of the communist regime to the iniquitous consumerism of post-Soviet Russia. Pelevin's most recent book, Pineapple Water for a Beautiful Lady, has just been short-listed for the Nose literary prize.
There are interesting parallels between the different worlds of Pelevin's novels: both Omon and Lena are victims of the systems they live under, duped by the authorities and kept, literally and metaphorically, in the dark. The building of a secret entertainment complex for the top politicians and businessmen living in Rublyovka, Moscow's most prestigious village, echoes the real-life construction of Stalin's wartime bunker, where a whole sports' stadium was constructed above ground to distract attention. Pelevin's fantastical nightclub is built a thousand feet underground to double as "a bomb shelter for the national elite in case of war or terrorist attacks."
A hired "ideologist" tells the assembled sex workers that "enemies" are trying to brainwash them with a sense of economic injustice by printing photographs of oligarchs like Abramovich and Prokhorov and describing their freakish whims. A brilliant, miniature gem, this novella introduces the absurdist Pelevin perfectly.
All rights reserved by Rossiyskaya Gazeta.