Dickensian Russia and a fiercely exotic Japan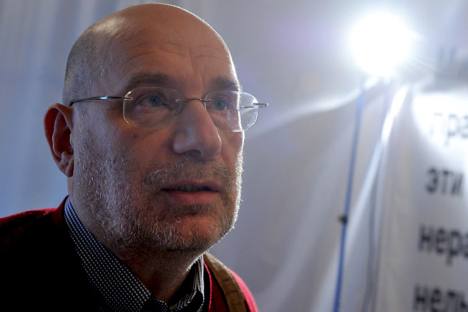 Russia's prominent novelist Boris Akunin. Source: RIA Novosti
English translations of Boris Akunin's recent novels "He-Lover of Death" and "The Diamond Chariot," were released at the end of 2011 and attracted the attention of RBTH's literary critic Phoebe Taplin.
Bestselling novelist Boris Akunin, whose real name is Grigory Chkhartishvili, has been an authoritative supporter of the recent protests in Russia. Like the fictional detective he created, the author opposes wrongdoing wherever he perceives it. When his LiveJournal account was hacked recently by an obscene blogger, he told news agency RIA Novosti, "Every action causes a reaction; when you oppose somebody miserable and revolting, they react in a miserable and revolting fashion."
Akunin, born in Georgia in 1956, has become one of Russia's most successful writers. He is best known for a series of clever, tsarist-era thrillers, which have become hugely popular both in Russia and abroad. The brilliant first novel appeared in 1998 and was published in English as "The Winter Queen" in 2004. These historical whodunits, featuring the understated detective work of diplomat-turned-sleuth Erast Fandorin have been a hit ever since, despite a few of the stories lapsing into a predictably formulaic pattern. English translations of the last two in the series, "He-Lover of Death" and "The Diamond Chariot," were released at the end of 2011.

The "he-lover" in question from "He-Lover of Death" could be any number of characters — from a bandit prince to a rags-to-riches underdog/hero. The hero Senka's adventures in the 19th century slums of Khitrovka are part
"Oliver Twist," part "Treasure
Island." The discovery of a horde of antique silver bars leads to a transformation in the tradition of "Great Expectations." This
gruesome tale lapses into the familiar mixture of action and
intrigue with a distinctly moral undertone. The protagonists discover criminal gangs and murders, but also come to see the world more clearly. Disguised as Jews, they encounter anti-Semitism; dressed as a girl, Senka learns about sexual harassment.

Set during the Russo-Japanese war, "The Diamond Chariot" involves bombs, spies and murder on the Trans-Siberian express. The novel really comes to life, though, when it takes the reader back to Fandorin's early days as a young diplomat in Japan. Each chapter ends with a haiku, which must have been a nice challenge for translator Andrew Bromfield. The haikus summarize the mood of each scene with poetic images such as "early plum rain" and "the scent of irises." Akunin elegantly combines Russianness with Japanese exoticism. The narrative is writhing with concubines, opium addicts, gambling dens and haunted Shinto shrines. In this vivid setting, many mysteries are laid bare, among them the secret of the author's pen-name. Akunin, readers learn, is the Japanese word for villain.
All rights reserved by Rossiyskaya Gazeta.