A Chronicler of the brutal and the everyday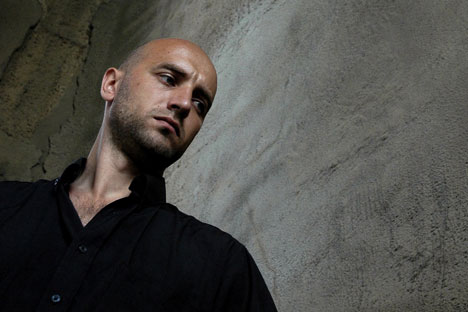 Zakhar Prilepin, a former policeman, is one of Russia's hottest novelists. Source: Press Photo
Zakhar Prilepin writes about the hardscrabble life he once knew, from the lives of underpaid policemen to that of local street punks.
Zakhar Prilepin has experienced a meteoric rise, both as a literary phenomenon and an opposition figure. At 36, he is one of Russia's most acclaimed authors, and his novel "Sin" was voted one of the most important books to come out of Russia in the past decade. Prilepin's new work, "Vosmerka" or "8" is the most anticipated Russian book of 2012.


"Prilepin is the biggest event in today's Russian literature; his language reminds us of Tolstoy," said writer Tatyana Tolstaya, author of "Pushkin's Children" and "Sleepwalker in a Fog," and a grand-niece of Leo Tolstoy.


It is hard to imagine that 10 years ago Zakhar Prilepin was Yevgeny Prilepin, a poorly paid officer with the Special Police Unit known as OMON. Frustrated by his lot in life, the veteran of two wars in Chechnya had empty pockets. Bitter and angry over the excessive wealth he saw around him, he began to sympathize with the now-banned National Bolshevik Party.


The daily pressure to find money and food for his growing family eventually pushed him to re-invent himself as a reporter and writer, starting with a small regional newspaper. "If only they paid us well in OMON, I would still be a police officer today," Prilepin said.


Today Prilepin is the editor of the Nizhny Novgorod bureau of Russia's investigative newspaper, Novaya Gazeta. He lives with his wife, Masha, and their four children in a remote village on the Kerzhenets River with two dogs and three cats.


Life as a Policeman


Prilepin was the commander of an OMON unit from 1996 to 1999, and was deployed to Chechnya at times during the conflicts there.


The author recalled that his OMON salary of 830 rubles (now about $27) a week could not cover the expenses of his first baby. To help keep food on the table, Prilepin said he took random shifts that stopped trucks coming from the Northern Caucasus. "They never had proper transit documents. I let them pass and they gave me bananas, apples and sometimes 50 ruble bills — I was not ashamed."


In 1999, Prilepin also gradu ated from university, and one of his college friends suggested he apply for a job at a local newspaper. He did, and quickly rose to become the chief editor of the paper, Delo. At the same time he wrote his debut novel, "Pathologies," which was awarded the National Bestseller prize.


"Pathologies," portrays Yegor, an immature and frightened OMON commander in Chechnya. "War does not make people any different, but it exaggerates the traits the person already had," Prilepin said. "If you liked people, you are a humanist, if you had maniacal thoughts, you are a total maniac." Prilepin said that while his books are not autobiographical, he relates to his protagonists: Sankya, a National Bolshevik revolution leader in "Sankya" and Zakhar, a bar bouncer in "Sin."


Other critics have compared Prilepin to Tolstoy, and Prilepin acknowledges that Tolstoy is his idol: "Of course I am a typical follower. If only I could feel safe about the future of my family in Russia, I would have 12 children and never leave my village," Prilepin said.


Last month, Prilepin stood with opposition leader Boris Nemtsov on Nizhny Novgorod's Freedom Square, where Prilepin leads the National Bolshevik movement. "I have been arrested over 150 times...my photograph is number one on the list for detentions of radical opposition activists. Now OMON grab me, beat me in my stomach, drag me with my face on the ground." What I love about [Prilepin] is that he never leaves the frontline," said writer and fellow war veteran Arkady Babchenko, author of "One Soldier's War." "He is an active participant expressing his social and political protest both by his books, and physically on the streets."


Acclaimed poet and novelist Dmitry Bykov said that for the past decade, "Russians missed cult writers personally involved in the process of social change. And then Prilepin's books appeared."
All rights reserved by Rossiyskaya Gazeta.