Zakhar Prilepin talks about his new book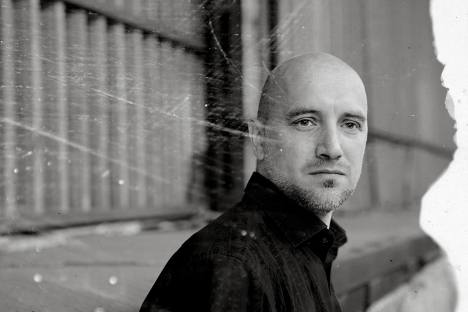 Zakhar Prilepin, a former policeman, is one of Russia's hottest novelists. Source: Press Photo
RBTH's Anna Nemtsova caught up with Zakhar Prilepin, a Russian writer who portrays the hardscrabble life that he once experienced, from the lives of underpaid policemen to that of local street punks.
Russia Beyond the Headlines: Your "Vosmerka" is the most anticipated book in Russia this year. Why 8?
Zakhar Prilepin: Vosmerka is a collection of eight short stories. The title story is called Vosmerka for the eighth model of the Lada car and also the symbol of eternity. Partly that is an anti-Beamer [BMW] story. "Bumer" [Russian for Beamer] is a popular Russian film made by one of my good friends Pyotr Buslov, which explores a street gang traveling around Russia to buy BMWs. The idea is that this gloomy, freezing Russia can swallow anybody, including bandits; yet the movie managed to show the bandits as kind, sympathetic guys.
RBTH: Does your novel question director Buslov's vision?


Z. P.: Not at all. I decided to show these characters from another angle. Simply because I faced different circumstances; I have dealt with some rough things in my life. In my past, gangsters arrived in their BMWs to confront my friends and I who drive Vosmerkas . As in most of my previous books, the main character will remind you of me.


RBTH: How is it that a film based on your new novel is already being shot before your book has been released?


Z. P.: Film director Alexei Uchitel attentively follows all books written by contemporary Russian authors. He read "Vosmerka" and immediately decided to put the story on the screen. Uchitel has a wonderful talent for finding the right actors. He had figured out each character so amazingly that when he showed me pictures of his actors, I exclaimed: "But this is Dima!" Uchitel has a rare director's sensibility – he absolutely charmed me.
He calls my book a new Russian "Three Musketeers" but I would rather call it an "Anti-Three Musketeers." My story shows how friendships fall apart. As a result of what? That isn't clear at all. People continue living their lives but one day something happens. The book doesn't offer any simple answers – there is no betrayal, no love or drama.


RBTH: Has the meaning of friendship in Russia changed? Are we talking about relationships surviving the new reality?


Z.P.: Maybe, yes. Life in Russia is different. In the bigger picture, new times always offer some different conditions, during which we start to lose each other. This book is about the new Russia and an overwhelming "everything must be allowed" mindset. At the same time, things allowed in one situation can be forbidden in another; what is allowed for a bandit is not necessarily allowed for you. One person can come out clean, while somebody else gets punished for exactly the same deed.

All rights reserved by Rossiyskaya Gazeta.