Depicting Russia's lost generation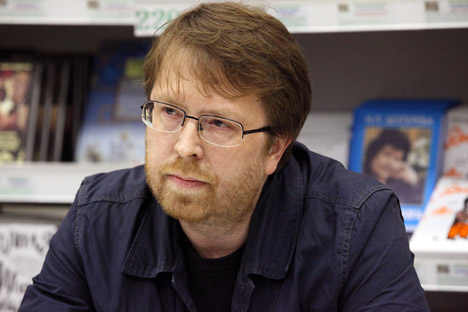 Russian writer Andrei Gelasimov. Source: PhotoXPress
A recent translation of Andrei Gelasimov's "Thirst" brings this spare and original novelist, who Russians have compared to J.D. Salinger, to English-language readers.
It is not very often that finishing a novel provokes the reader to go back to the beginning and start again. But Gelasimov, whose unadorned prose and youthful, troubled narrators have invited comparisons with Salinger and Hemingway, is that kind of writer.
"Thirst" is one of those books that sail quickly over half-glimpsed depths, and this slim volume of 100 pages is a haven for both comedy and horror. The narrator Konstantin is a disfigured veteran of the brutal wars in the North Caucasus. We see him drinking alone, recalling his childhood, and travelling with fellow soldiers. Their quest is often pointless and confused, but there is an echoing sense of profundity among the routine profanities of his journey.
In a recent interview, Gelasimov said: "I was simply overwhelmed with grief … for the generation of students born at the end of Soviet era and doomed to redeem sins they never committed." He said he was also influenced by his grandfather's tale of fighting in World War II, but ultimately he came to believe that "all of us are "tortured soldiers" to a certain extent, including those who never saw any battle…"
The author was born in Siberia in 1965 and trained as a linguist and theater director. His literary career took off unexpectedly in 2001, when a short story he published on the Internet started to win prizes.
Kostya (short for Konstantin) has been pulled from a burning tank and his face is unrecognizable. Near the start of the novel, his neighbor uses him to terrify her little boy into going to bed. The story of Kostya's gradual self-acceptance has some hallmarks of a classic coming of age story, but is tempered by a darker aimlessness that strays into the alcohol-laced traditions of many Russian writers, from Chekhov to Venedikt Erofeyev. The novel starts with the hero trying to fit too many bottles into his fridge. The thirst of the title relates most obviously to a speech by Kostya's nurturing school director, who drinks vodka by the case and tells him "I have a terrible thirst … my body craves liquids." Insofar as he deals in metaphor at all, Gelasimov explores a thirst for life despite its breathtaking bitterness.
"Thirst" is told mostly in a simple vernacular. The narrator expresses himself through drawings, filling pages with beautiful women and therapeutic war-scapes. One of the challenges Gelasimov deliberately sets himself is to describe the world in the credible words of a character for whom words do not come easily.
The award-winning translator Marian Schwartz has praised the author's ear for dialogue. "The challenge of Gelasimov's "simple language" is that it is so dead-on right," she said. "There are few if any pretty metaphors to hide behind." Schwartz recalls a meeting with poet and fellow translator, W.S. Merwin, where they talked about "hearing" characters and "that delicious moment when the translator knows what any given character sounds like, what he can and can't say." This was a crucial issue in "Thirst," which relies on pitch-perfect renditions of scarred adults and bewildered children.
Schwartz is translating more of Gelasimov's novels for Amazon Crossing publishers. Gelasimov describes his next novel, "The Lying Year," as "an attempt at a humorous and lyrical approach to the period of post-Soviet life that was not funny at all in reality. The end of the 1990s in Russia, with all the bandits, poverty, nouveau riche, and all that jazz…" By contrast, "The Gods of the Steppes," due to appear in English in September, is set on the Eastern outskirts of the Soviet Union in the summer of 1945, just before the final battle against the Japanese. "Nothing funny there at all," said Gelasimov, "great victory, great losses, and local boys dreaming of never-ending war."
All rights reserved by Rossiyskaya Gazeta.