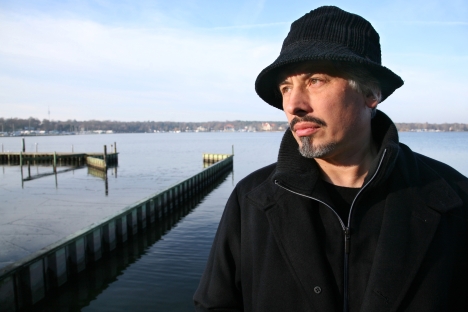 In the first twelve years of the 21st century, Russian writers have created a bewildering number of futuristic and post-apocalyptic novels. Settings range from feudal barbarism to hi-tech nightmare with everything in between. Books are banned and mutant humans live in primitive huts, eating mice. The secret police rape and burn all day and relax with drug-fuelled orgies. People are continually reincarnated, wear mirror masks, and copulate or die en masse at festivals. Warring factions survive in the tunnels of the disused subway.
These are just a few of the many dystopian scenarios that contemporary Russian writers [in this case, Tatyana Tolstaya, Vladimir Sorokin, Anna Starobinets and Dmitry Glukhovsky, respectively] have envisaged in the last decade. Ever since Evgeny Zamyatin wrote "We" in 1921 (providing the model for George Orwell's "1984") novelists have been producing satirical visions of the future, but recently the genre, like a horror-film alien, has spawned countless offspring. Lisa Hayden, who writes the blog "Lizok's Bookshelf" focusing on contemporary Russian fiction, says: "I find a lot of dystopias, apocalypses, and parallel worlds in the books I read, and many others include mystical or fantastical twists, wrinkles, and tears in the cloth of what might be considered objective reality."
Sex, drugs and dictatorship

Readers, writers, critics and bloggers have numerous theories about this outbreak of dystopias (or anti-utopias as Russians call them). What excesses of the new capitalism prompted the master of postmodern sci-fi, Victor Pelevin, to envisage an underground night club where naked women, held in drug-induced stasis, are used as live decorations? How has literary bad-boy, Vladimir Sorokin, infamous for a gay sex scene between clones of Kruschchev and Stalin, become a mainstream figure? And what is the message behind his compelling satire, "Day of the Oprichnik", which resurrects Ivan the Terrible's murderous Oprichniki and sends them lusting and looting across Russia in 2028?
Given the amount of sex in contemporary Russian fiction, it seems appropriate that one of the country's most influential literary critics should be a former editor of Playboy. Lev Danilkin, now a columnist for the cultural listings magazine "Afisha", has been writing annual reviews of the Russian literary scene for years, and has a knack for pinpointing prevailing trends. His authoritative account of the novels of the noughties, highlights (among other things) an "obsession with the ideas of government, empire and dictatorship."
Dmitry Bykov, a multi-award-winning author, journalist and flamboyant media personality has written one of the most outstanding recent examples of the genre, translated into English as "Living Souls" and published in paperback on April 1 2012—Fool's Day. This crowded and ambitious novel imagines a never-ending civil war in Russia between nationalists and liberals. Bykov is fully aware that his work is part of a tradition, attributing the new flood of dystopian fiction to the stifling stability, or stagnation as many call it, of Putin's previous presidency: "They promised us terror – none came, liberalization – none came, war – things have stalled, and everyone's caught in aspic, unable to arrive at any decision."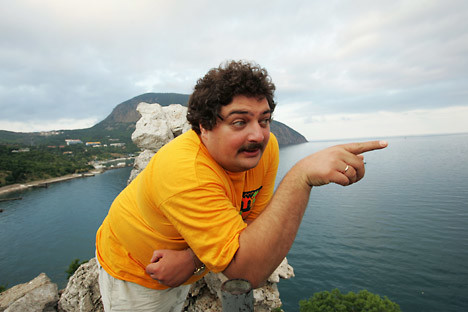 Dmitry Bykov, a multi-award-winning author, journalist and flamboyant media personality
TASS
Danilkin quotes Bykov's description of the ensuing new genre "the might-have-been" and adds that for a time "catastrophe was the number one theme in literature."
Apocalypse now
Olga Slavnikova's "2017," which won the Russian Booker Prize in 2006, is also part of this flood of novels describing alternative futures. It is a dense and complex work, overflowing with ideas and combining sci-fi, romance and thriller. It explores – among many other themes – human exploitation of the earth's resources and the cyclical nature of history. In a recent radio interview about "2017," Slavnikova categorized it as "first and foremost… a dystopia", explaining: "I am very interested in writing about the future, because in my writing I can develop those tendencies that I can see in the present."
In Slavnikova's view, it is currently almost impossible to write a utopian fantasy with a happy ending because "the world is waiting for a catastrophe." Her depiction of unrest on Russia's streets found an echo in real life events when thousands protested about electoral fraud, with several bloggers citing "2017" as a revolutionary prophecy. "If you write about political upheaval, you can't help but become a prophet," she admits, but she is wary of narrowly ideological interpretations. "A lot of literature coming out of Russia is viewed by critics as political satire," she said. "It is possible to view my novel in this way, but … I think the politics in my novel should not be overplayed." Slavnikova continues to use the near future as a forum for discussing problems, both global and social. "We are living in a time of huge changes," she said.
Anna Starobinets has also turned her attention to the social impact of new technologies. Her disturbing short horror stories have already been translated, but so far only an extract of her latest novel, "The Living One" (2011), is published in English. As part of Rossica's anthology of "Russian Writing from the 21st Century," it tantalizes the reader with a glimpse of a compellingly imagined future, where people are automatically terminated at the age of 60. Other post-apocalyptic novels, like Dmitry Glukhovsky's wildly popular "Metro 2033," simply posit a generic disaster and envisioning the after-effects in terms of human survival.
"Heretics, dreamers, rebels and skeptics"
At the other end of the spectrum, Vladimir Sorokin is committed to satirizing the authoritarian tendencies of the Russian government. In an interview with Spiegel magazine, Sorokin described "Day of the Oprichnik," as searching for "an answer to the question of what distinguishes Russia from true democracies." The infamous violence of his novels, he argues, is a reflection of the "sinister energy" of oppression, which still permeates Russian society.
Julia Sukhanova, a keen reader of contemporary Russian fiction, ascribes the prevailing pessimism to the background of many writers: "Contemporary Russian writers have been raised by their well-educated parents - teachers and professors - in the atmosphere of liberal discussions conducted late at night in tiny kitchens, and they all saw their parents and friends being hit hard by the last 20 years of economic changes in Russia. Is it any wonder that these people are critical of the state, its morals and its future?"
Sukhanova also points out that traditionally "a writer here is expected to have a strong political position, and a vision of the future." Many of the more thought-provoking writers are involved with opposition to the government. "True literature," wrote Evgeny Zamyatin, grandfather of the dystopian genre, "can exist only where it is created, not by diligent and trustworthy functionaries, but by madmen, hermits, heretics, dreamers, rebels, and skeptics."
All rights reserved by Rossiyskaya Gazeta.