Nurturing Russia's writers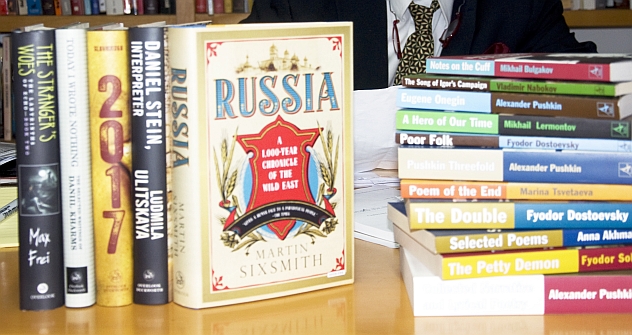 As the head of Overlook Press Peter Mayer is committed to nurturing little-known writers and works. Almost 15 percent of Overlook's authors are foreign writers in translation, including Russians. Source: Mark Grubstein
Overlook Press, whose emblem is a winged elephant, is a safe place for risky books. And what could be riskier than Russian contemporary fiction?
From the outside, there is nothing auspicious about Overlook Press on Wooster Street, where the receptionist buzzes visitors up and the elevator is an uncomfortable squeeze. Inside, the atmosphere is nothing short of familial, with the charismatic patriarch, Peter Mayer, at the center of his staff's attention.


The Soho office seems so intimate that it might as well be the apple shed in Woodstock, N. Y., where Overlook started in 1971. Since then, longtime publisher Mayer has cultivated (with the emphasis on cult) his "it's all about the books" vibe. The result is a thriving, eccentric literary publishing house that releases about 100 books a year. Overlook got its name when Mayer and his father decided to nurture great books that hadn't found the readership they deserved, and ended up being … overlooked.


Almost 15 percent of Overlook's authors are foreign writers in translation. Every year, some of the books Mayer and his small team nurture in their quirky incubator include Russian contemporary fiction, as well as Russian classics — some that were previously out of print. Overlook published Olga Slavnikova's "2017" and Russian novelist and opposition figure Lyudmila Ulitskaya's "Daniel Stein, Interpreter."


When Mayer purchased Ardis Books, the longtime home of Joseph Brodsky, in 2002, Mayer ramped up his commitment to Russian literature. At the end of last year, and with little fanfare, Peter Mayer was awarded Russia's Big Book prize for lifetime achievement in supporting Russian literature — the first time such a prize was awarded to an American.


Peter Mayer was born in 1936 in London; his family emigrated to New York three years later. He earned his bachelor's degree from Columbia University and then went on to Oxford University to continue his studies.
After serving in the United States Merchant Marines, he received a Fulbright grant to study German Literature at the Free University in Berlin. He began his publishing career in New York in the 1960s, climbing the ladder at Avon books. Eventually, he became C.E.O. of Penguin.
"Ever since I met Peter Mayer in 1990, he has has been committed to publishing emerging voices from this part of the world, and he has been focused on larger questions of freedom of expression," said Mayer's colleague Peter Kaufman, president of Intelligent Television and executive director of Read Russia. "His knowledge and expertise and his desire to make a world full of smarter publishers — in these many ways he is without peer."


The Russian Library


Mayer, now in his mid-70s, said he has become more reflective, and is seeking a "legacy project." He decided to make a bold announcement that cold night in Moscow when he received the award: "I am pleased to note it now, here tonight, the first announcement of a uniform series of 100 books called The Russian Library, impeccably translated and produced, annotated and introduced by leading scholars."


In his Wooster Street office, Mayer showed off elegant dummy copies of volumes of "The Russian Library." The project will
officially be launched and discussed during Read Russia at BookExpo America.


"I was always terrifically interested in Russia," Mayer said, "if not always a great admirer of its history." He was at Penguin Books for 20 years, and it was there that he made his first professional trip to Moscow. "I had been to Russia out of my own cultural and social interest. But this time we were there to buy the rights to Anatoli Rybakov's novel 'Heavy Sand.'"


Mayer recalled in those days he had to deal as much with the authorities as the authors. These days, he is busy deciding on writers he hopes will be included in The Russian Library. Unfamiliar but significant works will start the series, like "The Song of Igor's Campaign," the only surviving ancient Russian epic, and "The Primary Chronicle," rich anecdotes compiled around the year 1100. Russian classics will be included, as well as poets like Anna Akhmatova and Joseph Brodsky. Finally, Mayer will also publish Russia's contemporary writers in a volume titled "Read Russia: An Anthology of New Voices".


Mayer said that he believes literature has the potential to support the reset of the Russian-American relationship. "One has to hope that there will be a reset," he said. "And even though I don't carry any political banners, I hope it is in the area of individual freedoms that I think people all over the world crave."
All rights reserved by Rossiyskaya Gazeta.