"Ice Trilogy": Metaphysical masterpiece or empty myth?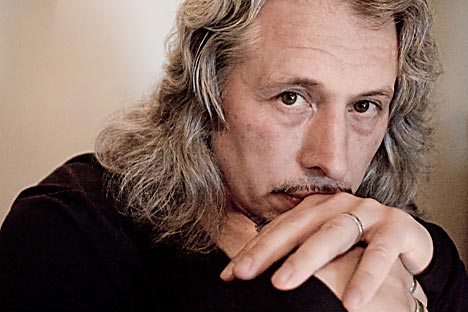 Vladimir Sorokin. Source: Getty Images / Fotobank
Vladimir Sorokin's "Ice Trilogy" is an extravagant and ambitious work, but not without its pretensions.
A huge, frozen meteorite crashes into Siberia. Our hero, young Snegirev, is mysteriously drawn towards it on a geological expedition and becomes the first of the 23,000 Children of Light to awaken and realize his destiny. He and the rest of the blue-eyed, fair-haired brotherhood are really "Light-bearing rays." Endlessly reincarnated, they have become prisoners on Earth, the planet that was "Light's great mistake", violating the harmony of the cosmos. The mission for Bro (Snegirev's new light-name) is to find and assemble the other 22,999 brothers and sisters in order to dissolve the Earth back into Primordial Light.
Vladimir Sorokin's "Ice Trilogy"
This is the premise of Vladimir Sorokin's bizarre "Ice Trilogy," now a three-novel tome in English. The author is a controversial figure: Soviet authorities banned his satirical books and state prosecutors (encouraged by a pro-Putin youth group) once tried to prosecute him for disseminating pornography; the pornographic material in question was the writer's own work. But Sorokin has gone on to win several awards and become a major cultural figure. "Ice Trilogy" is an ambitious and extravagant work but its metaphysical and mythological pretensions sometimes seem a little hollow.
Awakening the rest of the "Ice Trilogy" Light-gang involves smashing each of them very hard on the chest with an ice hammer. When the brotherhood loses the ability to recognize fellow children of light, they resort to whacking every blue-eyed, blond-haired person in the hope of finding "one of ours." The resulting corpses are discarded as "empties."
This searching process, which runs throughout the trilogy, could be seen as an image of the novels themselves: often excessively violent (from the fist fight in the first chapter to the dead babies in the last, violence is Sorokin's obsessive theme), numbingly repetitive, and ultimately perhaps disappointingly empty. But just when the reader is tempted to abandon these unusual books, when the reiterated italics and endless stream of indistinguishable new recruits starts to seem too weird and pointless, Sorokin shifts registers with a thrilling screech of the literary tires. Hardcore sadism and casual prostitution are set next to woven grass blankets and tea made from Altai herbs.
Sorokin is at his best in the detailed evocation of individual psyches. He seems equally at home mimicking businessmen or anarchists, web designers, chemistry professors or members of a new age cult. Translator, Jamey Gambrell has negotiated these varied voices with an impressive combination of precision and stamina. It is clear that the novels' faults cannot be blamed on her admirable translation.
The decision to put the prequel, "Bro," at the start of the trilogy, although it was written two years later than "Ice," is debatable. "Ice," now the second novel, jolts us into a brutal modern day Moscow and continues to fill in the intervening years with a parallel history of the twentieth century.
In Part II of "Ice," the blue-robed sister Khram takes up the narration. At the end of the prequel, she had been sent to the Country of Ice (Russia) which is a crucial setting in all three novels. Russia under Stalin is described as "one large metaphysical hole." As part of the process of revisiting history's most violent episodes, Sorokin alienates us from the conventional worldview; we see "meat machines" driving "iron machines" and wielding "metal-spitting pipes."
The critic Lev Danilkin described "Ice" as Sorokin's first "honest," not-completely conceptualist novel, citing it as part of a resurgent realism in Russian Literature. The author himself has inveighed against critics and philologists, with their tendency to read books only in comparison with other books instead of in relation to real life. "They see life only through texts and are proud of the fact." Instead, Sorokin insists, his novels are no less than a discussion of what it means to be human.
All rights reserved by Rossiyskaya Gazeta.