A rediscovered modernist gem from early Soviet Moscow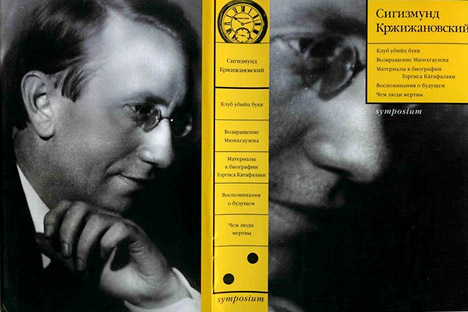 A cover of Sigizmund Krzhizhanovsky's book "The Letter Killers' Club." Source: Press Photo
Sigizmund Krzhizhanovsky's "The Letter Killers' Club" transcends time and place with its experimental versatility.
Every Saturday, a mysterious group of intellectuals gather in a room full of empty bookshelves to tell each other stories that they have decided never to write down. This is the paradoxical premise of "The Letter Killer's Club," recently published by the New York Review of Books (NYRB, 2012) in Joanne Turnbull's ingenious, new translation.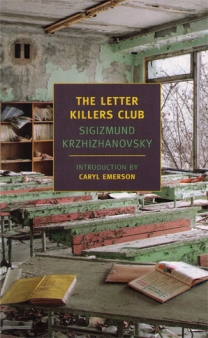 A cover of "The Letter Killers' Club". Courtesy of NYRB Classics.
Most of us will struggle just trying to pronounce Sigizmund Krzhizhanovsky's name, let alone having any idea who he is. The news that he was born in late-19th-century Kiev and died in 1950 in Moscow hardly helps. But don't let his tongue-twisting name put you off. Krzhizhanovsky's experimental stories are pearls of the modernist era, reminiscent of Bulgakov and Bely, or – internationally – of Kafka or Proust. Like Kafka, most of his work was published posthumously; like Bulgakov, his fevered surrealism is a response to life in Soviet Moscow, but also more than that. Krzhizhanovsky's work has a universalism that transcends the politics of 1920s Russia.
In the tradition of Chaucer's Canterbury Tales, each member of the group tells a story. The range of styles, from folk fable to apocalyptic sci-fi to Roman myth is deliciously bewildering. In one simple, quest-style tale, three "merry men" quarrel over whether the true purpose of a mouth is to talk, eat or kiss; in another story, a scientist works to disconnect individual human wills from their bodies and replace them with impulses from a (prophetically wireless) "ethical machine."
One of the novella's many conscious ironies is that it explores a group who want to escape the burden of literary legacy by destroying the written word, and yet it is itself a profoundly literary work. The hero of the play-script-style second chapter is an actor who wants to play Hamlet. In reprising the comically indistinguishable characters of Rosencrantz and Guildenstern, Krzhizhanovsky prefigures Tom Stoppard's 1966 existentialist drama by four decades. Both works share an obsessive exploration of the boundaries of life and art and the same tragic undertone beneath the philosophical playfulness.
The next story centers on a multi-tasking friar-cum-jester whose cassock is stolen between the fairground and the church. In the ensuing dysfunction, Krzhizhanovsky cleverly investigates the role of appearances in human activity. For the defrocked friar, as for the actor who is forced to change places with a literary character and finds himself trapped in the "land of roles," the outcome is unhappy: "the rest is silence." Many of the stories address the question of how far we are bound by external forces.
The great strengths of "The Letter Killer's Club" include its versatility and its evocative use of language. At one point, an aspiring writer sets out to travel the "polyglot, patchwork world" and absorb many people so as to "mottle and multiply" his own experience. These moments of poetic clarity are a tribute to the skills of both writer and translators and leave the reader wanting more.
All rights reserved by Rossiyskaya Gazeta.