Project Moscow Walks suggests city-tours for English speakers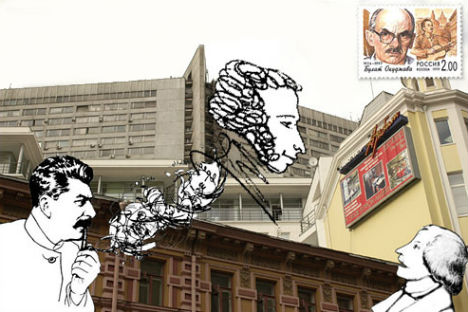 History enthusiasts Moscow Walks invite all English speaking residents and visitors on an inviting interactive excursion through the capital's vibrant streets and pleasant back-alleys. The tour encompasses the city's literary spots, reveals how courtyards looked five centuries ago, and presents absorbing tales about Moscow's residents.

One of the first English language excursions was dedicated to Moscow's answer to Monmartre; the famous Old Arbat street and its environs. RBTH's video clip discusses this informative outing.

Info:

Different epochs intermingle on Old Arbat. Young dancers and musicians are surrounded by historical buildings. In the very centre of the street is the so-called "Tsoi's wall," a memorial to the 90's Russian rock idol. A bit further down is a memorial to 60's poet and composer Bulat Okudzhava, and further still there is a memorial to the classical 19th century poet Alexander Pushkin. Pedestrian-only Old Arbat is neighboured by New Arbat, which was built up in the soviet period. It is a world of shopping, restaurants, bars, and expensive boutiques that is vibrant at any time of day.
All rights reserved by Rossiyskaya Gazeta.