Interview with a Vampire Writer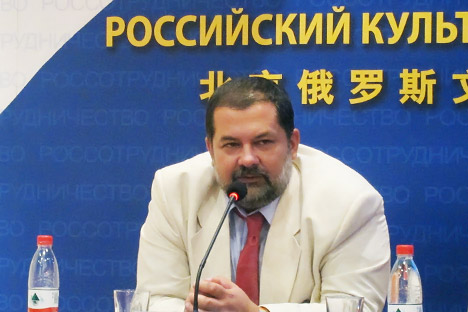 Sergei Lukyanenko meet readers and journalists on Beijing Book Fair. Source: Press Photo.
RBTH correspondent Tatyana Shenkova met with Sergey Lukyanenko, whose supernatural novels have become an international sensation, depicting a gloomy Moscow with vampires, warlocks and werewolves. They talked about his readers, his thoughts on contemporary literature, and whether acolytes can still get a break in the publishing business.
RBTH: How popular are your books abroad?
Sergei Lukyanenko: I sell a lot of books in Germany, the U.K. and the U.S. In France, there was an excellent translation, but the book fell flat for some reason. In the East, I sell surprisingly many books in Taiwan. I've sold about 100,000 copies of my books on mainland China, which isn't bad. In Korea the numbers have also been average, and my books failed completely in Japan. It's a mystery every time: either the translators didn't know what they were doing, or the book simply didn't come out at the right time.
RBTH: What do you demand from a translator, and what are your criteria for an ideal translation?
S.L.: Above all, translators must be native speakers. It's not because they speak the language better – I understand that sometimes a foreigner can learn a language better than native speakers. It has more to do with intimate knowledge of the society for which the book is being translated. Ideally, a translator should come from the country the book will be read and critiqued, yet be closely familiar with the culture of the country where the book was written.
RBTH: Are you happy with screen adaptations of your books?
He lives in Moscow, was born in Kazakhstan in 1968. Before becoming a writer, Lukyanenko worked as a professional psychiatrist as well as a journalist and editor at several magazines. He first became popular two decades ago, after the publication of his novels "Knights of Forty Islands" and "Labyrinth of Reflections." Sergey Lukyanenko has written more than a hundred original works, including trilogies, novels, short stories, and tales. The "Watch" series, which has been adapted into several films and computer games, remains his most popular book collection abroad. He is a recipient of a number of Russian and international literary awards. Lukyanenko's much-anticipated release, "New Watch," is due to be published this year.
S.L.: Adapting a book into a film means translating it from the language of literature into the language of cinema. I wouldn't say that I am totally satisfied with the movies that have been made, but I can't say that they were bad either. I know for sure that the entire film crew tried to do their best. That's why I love all those movies even though they are not without their flaws. It's like the love you feel for your children – even if they misbehave, you still love them because they are your kids.
RBTH: What's your take on the status of Russian literature abroad?
S.L.: Russian authors are being translated into many languages these days. In some countries interest is stronger, and there are other countries where it's hard for Russian writers to make it. China is a rather difficult market for contemporary Russian writers; it's hard to get published there. I think this has to do with the challenges of translation. Russian books are more successful in Europe, particularly in Germany and Great Britain. Germany is the absolute leader in terms of interest in Russian writers – I know that from my own experience and from that of my colleagues.
RBTH: What do you think could make Russian literature more popular abroad?
S.L.: I think government regulations and support – something writers demand occasionally – are of little help here. Of course, the state cannot help authors get published in other countries, or anything like that. I think that everything depends on the writers, because a writer who wants to be translated and published abroad faces a very difficult challenge: first of all, he must make sure that his book is cosmopolitan in the best sense of the word, that it is interesting to a global audience. Nobody is going to read about problems that they don't care about. Secondly, the writer should not be detached from his own society and culture. If a Russian starts writing like an American, for example, he isn't going to get translated in the United States – there are enough American writers there. It's important that writers strike a balance between what's interesting to people of different cultures, while not forgetting their own.
RBTH: You are a professional psychiatrist. Why did you decide to abandon medical practice and dedicate yourself to literature?
S.L.: It's great to be a doctor who is excited to be who he is, and perhaps it's not too bad when there's a writer who likes to write. I started writing books when I was in medical school, and by the time I graduated I had realized that it was more exciting to me than being a doctor. And if I tried to be a doctor and a writer, then both would suffer. The only way I would have become a good doctor was to be a doctor full time, but then I would not have been able to write as many books as I would have liked. That's why I made the difficult decision to quit medicine and focus exclusively on literature. This was a difficult decision indeed, because the writer's job is a lottery, and when you're just starting out there's no guarantee that you'd be able to make a living, and you could well end up being an author that nobody cares about.
RBTH: What's your advice to aspiring authors who are starting their writing careers at a time when books have begun to cede ground to new media?
S.L.: Indeed, being a beginner is very difficult right now. Book publishers are in a crisis, sales are dwindling, and publishing houses are losing money, doing their best to survive. It's a sign of the times, the emergence of new kinds of entertainment – there's nothing we can do about it. I don't think books will perish for good. They could become less widespread, though, falling even further behind movies and computer games. But we shouldn't be afraid of this, because books will always remain the entertainment of choice for intelligent people, of whom there are still many in this world.
My advice to aspiring authors is above all to write, and to try and get objective feedback. I wouldn't go so far as to say that they should be writing at any cost and dig in, because I can't tell how a particular person can do it. You can be totally sincere and spend a lot of energy on something that isn't working out. But it can also happen that it doesn't work out at first, but than some sort of transition occurs and everything comes together just fine. You have to send your texts to publishers. Trust me, they read all the texts they receive. Everybody dreams of stumbling upon a new Joanne Rowling or Dan Brown. Write and make the public aware of your writing – that's the key to success.
All rights reserved by Rossiyskaya Gazeta.