Vladimir Semenikhin welcomes me into his lair with childlike glee, which is fitting since he is fresh from a successful recent exhibition in New York, showcasing the experimental art of Russian children's books.
"This is a lab where we create the books of the future," he explains with a broad smile. "Here we experiment with different forms, electronic and physical."
To highlight his point, he grabs a big wooden box, which opens with a loud twanging sound to reveal labeled drawers filled with pocketbooks on one side, and masks on the other. "You see, this is also a book. People think that a book is just pages and writing, but it doesn't have to be. We decided that a book could be a game, it could be a telephone, it could be a musical instrument. And when you combine it with technology, it can be anything."
Semenikhin's experimentation reflects the spirit of his own collection, which focuses on children's book illustrations from the period 1881 – 1939, charting the move from Russian Art Nouveau under the Tsars to the highly experimental post-revolution forms of Suprematism and Constructivism.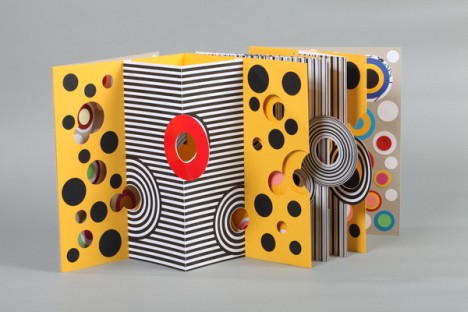 Experimental book proposed by Russian collector Vladimir Semenikhin. Source: Press Photo
"It's a fascinating period," Semenikhin explains. "All norms were weakened and people started to experiment. They were free, in part."
Children's books flourished as an industry under the Bolsheviks as part of a drive to stamp out illiteracy, spearheaded by Nadezhda Krupskaya, Lenin's wife and a former schoolteacher. Their illustrations remained relatively free of censorship until the 1930's, when Stalin became wary of the avantgarde and declared many illustrators "enemies of the people," exiling them and destroying their work.
"I'm an archeologist," says Semenikhin proudly, as he shows me rare works by the likes of Ivan Bilibin, El Lissitzky, and Gustav Klutsis. They range from beautifully detailed forest scenes to brightly colored abstract compositions that have lost none of their modernity.
"As well as being great art, these illustrations provide an important record of our culture and society. Children's books are so vital because childhood is the most crucial period in human life. It's the time when the foundation for everything gets laid. Those images you see in childhood are a window onto the world."
Semenikhin tantalizes me with the idea that the Russian artists and writers of the 20th century would have grown up with these illustrations, being influenced by them and reflecting this through their work. He extends this to émigrés such as Alexey Brodovitch, who transformed Harper's Bazaar, and who Semenikhin names as influential on American typography.
Semenikhin is passionate, not just about the power of illustrations to influence culture and society, but about the importance of physical books on children's development.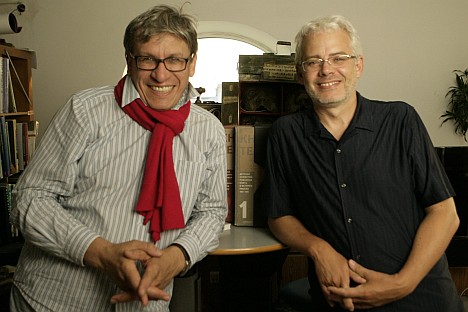 Pictured (L-R): Book collectors Vladimir Semenikhin and Kirill Fesenko. Source: Press Photo
He declares that "only giving children electronic books is like only feeding them Coke or Pepsi; they wouldn't know the taste of water. Books are like water, they're the foundation of everything. There's no way you can say that publishing isn't necessary, that artists aren't necessary."
As part of the exhibition Semenikhin also showed art created by children themselves. He explains that children who draw and sculpt from early childhood are capable of creating works comparable to that of the avantgarde masters. He sees the physical handling of books as vital to this process, suggesting that children who only use electronic books will develop much more slowly and lose the dexterity in their fingers.
"I believe that the government should grasp the fundamental idea that books should be supported. There should be worldwide recognition that those countries that save books will safeguard their culture and the development of everything else. In fact, human civilization should have a global budget for this!"
"Imagine if the government announced they were holding a World Championship for Art, once every four years. Or perhaps an Olympics for books, a global literary gathering. That'd be a genuine investment in the future."
"It's necessary for every supporter of my idea to have their own library. It doesn't have to be big, let it be a suitcase, but everyone has to have a suitcase of books because they are a bank of culture and ideology."
I think he's speaking metaphorically, but he disappears for a moment and returns with a wooden chest.
"See, my suitcase physically exists. When you're moving somewhere, all you need is your passport and your books!"
While believing that physical books should be saved, Semenikhin is a firm advocate of technology, assuring me that he owns an iPad and a Kindle, describing them as "very handy and multi-functional." He is also quick to remind me that technology opens up boundless possibilities for experimentation.
It is at this point that his longtime friend and colleague Kirill Fesenko leans over conspiratorially and invites me to see how they experiment with technology.
Semenikhin and Fesenko are currently working with researchers and libraries to scan thousands of rare publications and have implemented a method of browsing that allows students and scholars in different fields to quickly search through the collections.
As Fesenko states, "this is a project to save and catalogue but also to innovate." He shows me a scanned copy of a rare children's story, complete with thumbprints and an ancient library stamp. He explains that the opportunities offered by technology give it a new life.
He clicks a button and I hear a woman's voice start to tell the story.
"It reads itself." He proclaims triumphantly.
Through such applications, Fesenko and Semenikhin show that technology can in some ways improve on the original, as well as making rare specimens available to a wider audience.
As our discussion draws to a close I am shown more experimental books in paper form, some substituting geometric shapes and cut-outs for words.
Semenikhin explains "some of these books are designed to give you the feeling you can finish them, that you can create poetry. Our aim here is to create art that flies by itself."
All rights reserved by Rossiyskaya Gazeta.