Taking notes on knees in Soviet prison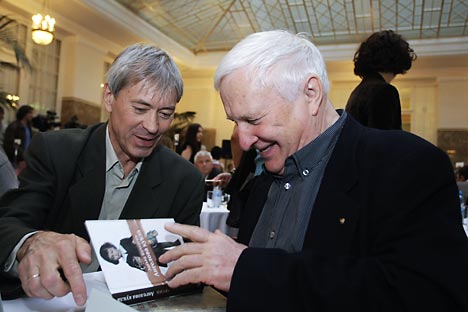 Eduard Kochergin (pictured right) won the Russian National Bestseller award in 2010 for his memoir "Christened with Crosses." Source: RIA Novosti / Igor Samoilov
"Christened with Crosses," the award-winning memoir by St. Petersburg set designer Eduard Kochergin, describes his journey through the brutal orphanage system back to his family.
The story of Eduard Kochergin's childhood is so extraordinary that it does not need linguistic or narrative tricks to embellish the adventure. His parents were imprisoned as "enemies of the people." A political orphan, evacuated to Siberia, young Stepanych (Kochergin) lived up to his nickname "the Shadow" by disappearing from numerous state-run institutions and making his way thousands of miles home. During this Russian odyssey, he works as a fire-stoker, tattoo-artist, maker of playing cards, or even – occasionally - as a thief.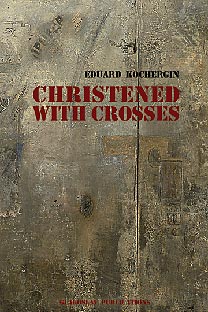 The "Christened with Crosses" cover
Wisely, Kochergin keeps his autobiography simple in both chronology and style and the tale justifies his choice. "Christened with Crosses" won the Russian National Bestseller award in 2010. The title is a slang term used by prisoners, originally referring to the cruciform design of the Kresty (Crosses) prison in Petersburg and it becomes a "capacious and ambiguous" phrase, carrying layers of meaning.
The subtitle, "Notes taken on my knees," is similarly multi-purpose as the author explains in his forward: "these are notes about a time when the system had the whole country on its knees," but also the fragmentary memories of a child, written "in random places, wherever life found me."
The conceit that these chapters are just haphazard jottings lends the book an innocence and immediacy, but it is disingenuous. Part of Kochergin's skill is to make his carefully crafted memoir seem artless and wandering. Each of the three main sections starts with a fragment of orphan song about homelessness and goes on to recall the author's various imprisonments, his escapes and his travels.
As in Solzhenitsyn's famous accounts of Gulag life, "The Gulag Archipelago," there is a matter-of-fact acceptance of brutal conditions, leavened by moments of humor and compassion. Despite the horrors he sees, Kochergin retains his humanity in a world which tyranny and war have rendered almost uninhabitable.
Soviet hypocrisy is a recurring theme. One of the guards in the Siberian orphanage, nicknamed Screwface, re-clothes and rehearses the inmates before an official photograph, "creating the picture he wanted with us." Likewise, the boss is a heavy, vicious painter who specializes in portraits of "Stalin and children"; the kids call her "Toad" and secretly release cockroaches into her office (in the best tradition of children's stories), but they cannot prevent her distorting the truth. Toad paints Stepanych in an orchard among blossoming apple trees, making him "well-fed, pink-cheeked, with an ingratiating little face, holding out a bouquet of flowers to the leader."
Kochergin is drawn to art throughout the book and has, as an adult, become a very successful stage designer. Early on, he steals colored pencils and teaches himself to bend wire portraits; he helps a Chinese artist to decorate houses and learns tattooing from a former Japanese prisoner of war.
A series of friends and teachers are the narrative backbone of this picaresque story. From the brotherly love of the blind singer, Mitka, to a tyrannical choir-master in a Vologda orphanage, each encounter adds a new color to Kochergin's twisted rainbow. Toward the end he finds himself tattooing Stalin's face onto the chest of an Estonian gangster called "Tolya the Wolf." all in a day's work for "a thief, an inmate, a runaway, a hobo."
Relaying the speech of these new characters introduces some linguistic diversity. In one village our hero finds Paraskeva the earthy sorceress minding a baby, whose mother, she complains, "gave her love-hole to some soldier who was whistling by." When Kochergin is finally reunited with his own mother, she speaks to him in Polish, the childhood tongue he has forgotten and tells him "Everything's going to be all right."
"Christened with Crosses" was published in 2012 by Glasoslav.
All rights reserved by Rossiyskaya Gazeta.