Where is Russia's Norton Anthology?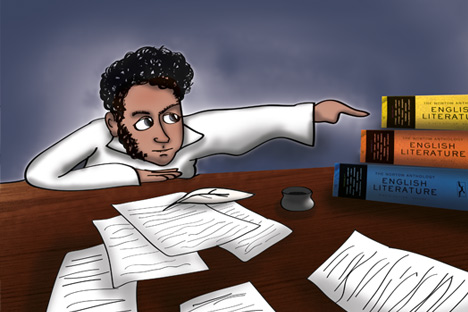 Alexander Genis ponders whether an analog of Norton anthology of literature could exist in Russia.
America universities begin the school year by celebrating the anniversary of its most popular book for students – the Norton anthology of English literature. The first edition was shepherded by the legendary Professor M.H. "Mike"Abrams, the Cornell University professor behind the Norton Anthology first published 50 years ago. (Abrams turned 100 in June.) Since then, it has never disappeared from the college book list. From one year to the next, students learn the nuance and context of the best literature written in English - from Saxon Beowulf to Irish Joyceto Nigerian Achebe. Half a century has passed, but the anthology is still considered No. 1, with eight million sold copies. Many former students use it throughout their whole lives.
The secret of this book is in its volume. Although the anthology is constantly updated, the latest edition has managed to collect literature written over the course of 13 centuries. Of course, a chrestomathy, even a great one like this, would never replace the original unabridged reading, but it does make a course of great breadth possible.
For future literature professors and writers, such an anthology is clearly inadequate, while for others it might seem to be unnecessary. And while more than a passing acquaintance with Chaucer, Spenser or Virginia Woolf may not directly impact the career of a geologist, banker or programmer (although it helped Steve Jobs), many have confirmed that English 201 with the Book of Norton led to a deeper appreciation of literature throughout their lives, and with their children.
"Literature is the most perfect way to preserve and pass on the most valuable in history, i.e. our experience," said Shakespeare scholar Stephen Greenblatt, who edited the most recent anthology.
Along with a certificate or diploma, students should receive a kit of literary knowledge that will allow them to at least distinguish, if not prefer, eternal masterpieces to hectic, empty thrillers. Coping with this problem, the Norton anthology painstakingly explains why the authors are irreplaceable and how and why they differ from one another.
The Norton anthology is possible because there is an accepted canon. Neither postmodernism nor multiculturalism blackmailing could destroy it. In America the canon is saved not by the professors, but by the students who are eager to study the Norton anthology in order to be a well-educated, renaissance individual rather than a politically correct illiterate.
In the 21st century, the issue of an accepted canon is especially relevant for Russia, a country that was left without an accepted literary education program after the collapse of communism. (In hopes of entertaining young people some teachers offer students Three Musketeers, others – Limonov's works).
Meanwhile, the discussion that was initiated by President Vladimir Putin about a list of the most significant books that should be read by all young people seemed to end abruptly, as could have been expected, at the point of listing the authors.
Perhaps, the solution is to end the list at 1917. As long as the Russian blogosphere holds hot and voluble debates about whether Stalin was the father of all nations or not, hardly anything that is suitable for the whole country will come out of the post-revolutionary literature anthology. The Russian classic books are beyond doubt; however, they require proper selection.
I can see an impressive volume that can give anyone who studies it an adequate (but, of course, not exhaustive) understanding of Russian literature. Carefully selected verses and chapters, scenes and fragments familiarize young readers with great books and encourage them to continue their acquaintance. This chrestomathy I long for would not be burdened with the dogma of Soviet textbooks but be replete with brief but captivating forewords written in a language as breathtaking as the words of Likhachev, Lotman, Averintsev and Gasparov.
We may regret the fact that our great philologists did not leave us an anthology but still - today there are people who can do it. First of all those are writers and poets (Let's recall 'Stanzas of the Century" that was collected by Yevtushenko). Every author has collected his own personal chrestomathy for his or her life. Isn't it interesting to know what Bitov and Iskander, Makanin and Tolstaya, Gandlevsky and Zvetkov, Strugatsky and Akunin, Grebenschikov and Shevchuk, Sorokin and Pelevin have on their reader lists? The anthology that includes the best of the best could provide the new generation with a priceless literary language.
Alexander Genisis an author and journalist. He is the host of the weekly radiomagazine 'American Hour' (Radio Liberty) and a columnist for the independent investigative newspaper "Novaya Gazeta."
All rights reserved by Rossiyskaya Gazeta.