Russian writer shakes up conventional literature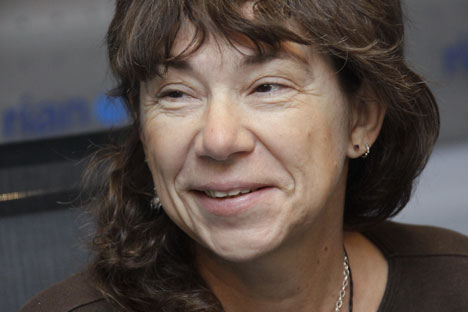 Poet and science fiction writer Maria Galina uses her "split personality" to grapple with the shifting complexity of the modern world.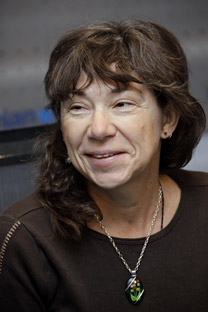 One of Galina's fantasy novels, "Givi and Shenderovich", appeared in English as "Iramifications" (GLAS, 2008). Source: Ruslan Krivobok / RIA Novosti.
A radical movement in women's prose in the early 1990s published as the "New Amazons," among other titles, aimed to shake up conventional literary structures.
This was around the time acclaimed writer Maria Galina's first published poems appeared, and she described the aims of these writers in a recent lecture at Oxford University as "a rebellion against the dominant culture" and an "opposition to the masculine mainstream," marked by deliberate fragmentation and an apparent lack of structure.
Galina believes that "this prose helped to dismantle the rigid image of reality in the mind of modern man," but feels that these days "it is irrelevant what gender you belong to." Several of her novels have male protagonists. "Every writer has a split personality," she said. "It is easy for me to look through a man's eyes on women and on life. I think what is most important is what you want to say."
Galina is married to fellow poet, Arkady Shtypel, and the two of them have been delighting Russophone audiences in England recently with a series of joint poetry readings and presentations. The critic Dmitry Kuzmin has commented on the unique range of styles in Galina's poetry, using everything "from Church Slavonic to the terminology of science, with an intermixture of Yiddish and Ukrainian."
Among Galina's recent and current projects are editing the not-for-profit literary journal "Drugaya Storona" ("The Other Side"), writing columns for "Znamya" magazine, besides her regular work as a critic at "Novy Mir," Russia's oldest literary journal. She was also a visiting professor at the Russian State University for Humanities, teaching contemporary poetry and science fiction.
Her most recent novel, "Medvedki" ("Mole Crickets"), which has not yet been translated into English, was shortlisted for the Russian "Big Book Prize." It tells the story of a reclusive writer, creating personalized pastiches in which his clients can become the heroes of classic literature. Readers' network "LiveLib" describes it as a mystery, thriller, farce and family saga all in one book. According to the author herself, "Medvedki" continues to explore her favorite theme: "a shift of reality, and the parallel versions of reality which exist in one mind."
How do we adapt to a world changing so fast that the structure of reality comes to seem unstable? How can we express our new perception of the world as containing multiple versions of itself? These are the challenging questions that Maria Galina explores in her science fiction, her criticism and her poetry.
One of Galina's fantasy novels, "Givi and Shenderovich", appeared in English as "Iramifications" (GLAS, 2008) and won the Rossica translation prize the following year.
The story involves two happy-go-lucky characters drawn into a mythical world of interlocking legends. The resulting mesh of stories from ancient Greece, Arabic mythology, English occult magic and Jewish mysticism is a far lighter read than this weighty background suggests. Galina wrote in her afterword to the novel that she had read more than fifty books in the course of her research: "from ancient Apocrypha to contemporary guidebooks, I left no stone unturned."
The narrative is held together by the likeable personalities of the two protagonists, Givi and Shenderovich, who turn out to be descendants of Solomon and Alexander the Great, respectively. Shenderovich has "a typically Odessan personality: enthusiastic and full of the joys of life…" Their adventures and misadventures take them to the lost city of Iram ("the eastern Atlantis"), where the second part of the novel is set. In Galina's version this setting becomes the "City at the Centre of the World, where even the slightest event could have far-reaching consequences", hence the English title, emphasizing the "ramifications" of this legendary city.
Born in Tver, north of Moscow, in 1958, Galina grew up in Odessa, where she studied marine biology. In a recent interview with RBTH, she said that her mixed Russian and Ukrainian heritage gave her the outsider status she feels all writers need: "I don't really know what nationality I am. It is easier for me to be just a human being."
Galina also feels that her scientific background helps her writing. She commented on the number of contemporary Russian writers who originally trained as scientists, including the celebrated novelist Alexander Ilichevsky, and said: "When you are educated to be a scientist, you have methods and tools that you can apply to any part of human nature and reality." For Galina, helping change human perception to cope with the demands of the modern world is a crucial role for writers today: "We have to change our consciousness. If we don't, we will quickly go crazy. It's very difficult now to distinguish truth and reality from models of reality. We must change."
All rights reserved by Rossiyskaya Gazeta.